HR Technology
Rethinking HR with Digital Tech
Improving the employee experience is much more than choosing which digital technology to implement. What can HR do in this digitally-driven environment?
Every January in Las Vegas, the CES kicks off the New Year with a view of the strides technology has been making. This year was no different. From the frivolous coffee-making robotic barista to the gasp-inducing self-driving Faraday car, they were all there. Wearables will no doubt move from the wrist band (that is oh-so-2016) to the fitness rings that track everything from sleep, steps, calories, distance and heartbeats. If you thought only humans found robots scary, think again. Robot-birds (Robird for short) are being recommended for airports to keep aircrafts being damaged by bird hits.
Watch the games
If you want to know where technology will move, I suggest you follow games and toys more closely. Gartner predicts that in 2017 Augmented Reality (AR) and Virtual Reality (VR) will grow up a little more. Continuous ongoing digital engagement will get fueled by AR and VR.
Imagine using AR to engage the learners. It has a huge potential to be used in trainings or even for employee onboarding. Being able to overlay virtual electric wires on to walls could be an easy way to train a new electrician. The same principle can be used to train people in different processes whether in an oil rig or in an automobile repair shop.
Virtually anything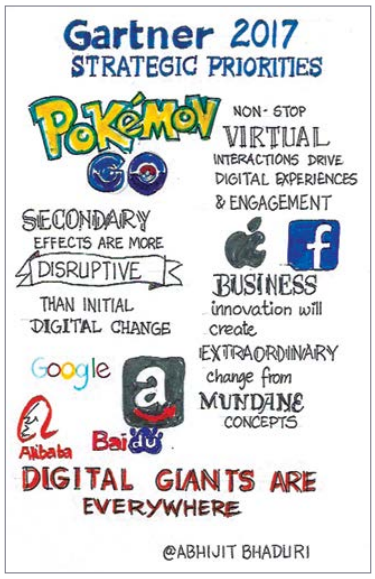 Today several smartphone manufacturers are giving away VR headsets for a notional price. They are all in the race to get consumers hooked to their hardware. But they know that compelling content will be the trigger to drive adoption of VR. VR could be a powerful tool in the hands of the HR. They can create VR-based simulations that give people a feel of what the culture of the company feels like, could create a compelling method of inviting candidates to learn about the job or could be a great assessment tool. Non-stop virtual experiences will be used to engage and educate employees in manners that have not been possible so far.
Secondary effects
The secondary effects of Artificial Intelligence in the workplace will be far more disruptive than the initial technology itself. Expect to see voice-activated digital assistants (like Alexa) in the workplace too that can interpret and execute user commands. They could be used to enhance productivity or even personal learning assistants that can be used to suggest blogs and articles to read, or locate experts in the organization who are available to answer questions on a theme. Room-based screen-less devices such as Amazon Echo and Google Home will be in more than 10m homes. By 2020, 30 percent of web browsing sessions will be done without a screen says Gartner.
Continuous ongoing digital engagement will get fueled by Augmented Reality & Virtual Reality with the secondary effects of AI being more disruptive than the initial technology itself
The Digital Giants
By 2021, 20 percent of all activities an individual engages in will involve at least one of the top-seven digital giants — Google, Apple, Facebook, Amazon, Baidu, Alibaba and Tencent says Gartner. Many of these giants like Google and Apple have already made bold forays in the space of collaboration and education. Khan Academy and hundreds of MOOCs are making content available for free. Letting the voice-activated digital assistant ferret out a piece of information at the right time can be priceless.
Improving the employee experience may be much more than choosing which digital technology to implement. The bigger question may be about having curiosity and the ability to work in large geographically dispersed teams. That is one prediction that will not change.