Leadership
India ranks in top three markets for executive job growth for 2018: Karen Greenbaum, AESC
In an interaction with People Matters, AESC CEO Karen Greenbaum shed light on the state of executive talent in India and the factors driving this optimism.
A recent survey from January through March 2018 of more than 800 senior executives and nearly 600 executive recruiters by the global Association of Executive Search and Leadership Consultants (AESC) reveals that India ranks in top three markets for executive job growth for 2018, along with the US and China. Further, the survey revealed that executives in India are 50% more optimistic about the executive job market in 2018 than they were at the same time last year.
What exactly are the reasons for this optimism? Which sectors are going to witness the maximum growth? Why is succession planning top in-demand service in India? How is technology going to impact the rate of growth of the executive market in India? And more importantly, what are the challenges as far as the executive job market in India is concerned?
In an exclusive interaction with People Matters, AESC CEO Karen Greenbaum sheds light on the state of executive talent in India and the factors driving this optimism.
India one of the top three markets for talent
The survey which received 582 individual responses including 203 firm leaders, noted that AESC members are overwhelmingly optimistic about 2018, a notable change from their outlook just one year ago.
While the US leads the forecast for greatest expected market growth in 2018, it is closely followed by three Asian markets: China, India and Southeast Asia.
Karen stated, "Optimism is extremely strong compared to last year. Around the world, there is really a strong emphasis on leadership. In terms of markets, the three highest growth markets for talent are US, China, and India. India was one of the top markets perceived for leadership and top talent in 2018."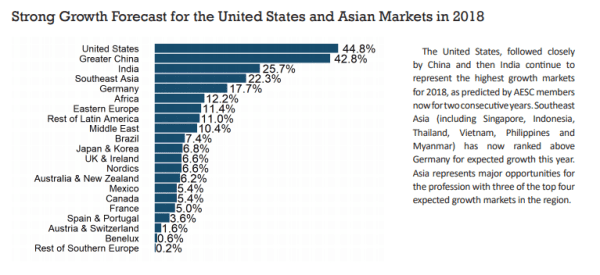 Karen revealed that optimism is running extraordinarily high-almost 62% about the executive search profession. This means executives in India see senior positions becoming available and have a very high enthusiasm for that. This optimism is powered by an upswing in the economy both in India and elsewhere which benefits India. With select business sectors booming, technology creating new opportunities and a lot of investment coming into startups-all this is creating new leadership opportunities.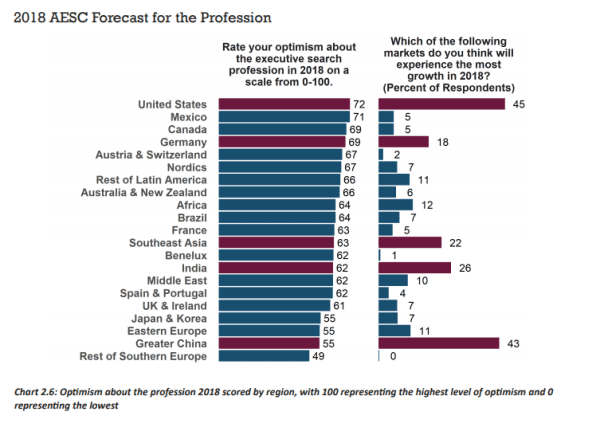 When it comes to which business sectors will witness the most growth, technology, financial services, healthcare and life sciences, and industrial were rated at the top of the list. The technology sector is expected to grow by almost 63.8%, followed by Healthcare/Life Sciences at 47.7%, and Industrial at 47.5%.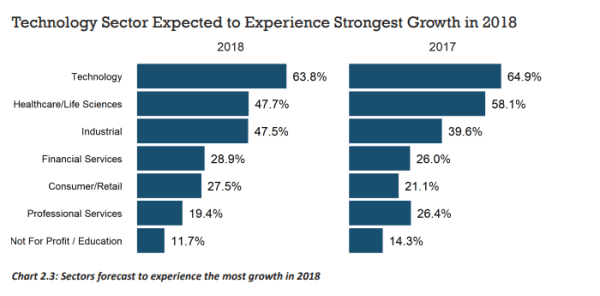 Meanwhile, the most in-demand executive functions in 2018 are expected to be that of the CEO/ Board of Directors, followed by CIO/CTO, Cyber Security/ Chief Information Security Officer (CISO), and CFO.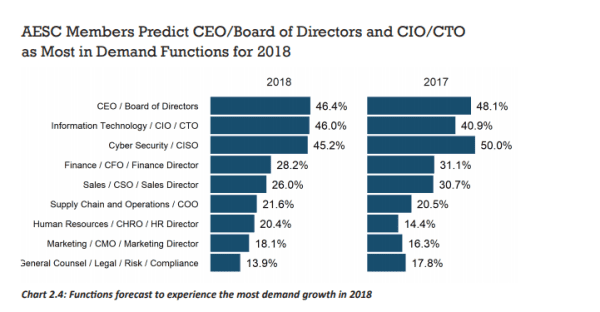 The survey also questioned candidates about the qualities and attributes needed in the executive job market. The five attributes rated on the top were leadership skills, being an agile and adaptable leader, being highly networked, and really focusing on innovation.
Meanwhile, in terms of leadership attributes, top leaders need to have emotional intelligence, adaptability, strategic thinking, is someone who can drive collaboration, and be focused on learning and innovation.
Succession planning or finding top leaders is not the concern of CHROs alone. Karen also pointed out that in another collaboration with The Conference Board on C-suite challenges, it came out the number one challenge rated by CEOs was the failure to attract and retain talent. Similarly developing next generational leaders was rated as the fifth topmost challenge by them, which clearly points out to the fact CEOS are thinking of talent issues as the business issues.
This challenge especially increases in a more open and optimistic job market.
"When economy is down, business is tough, people don't leave their jobs. Because you are worried about the risk of being the last one in and the first one out. When the economy is strong, and business is good, that's when you look to leave as you feel less risk," she pointed out.
Technology driving innovation in jobs and industries
Karen also pointed out that technology is not only driving innovation in sectors but across jobs as well. So firms today are looking for roles that did not exist before. This presents an interesting challenge when it comes to looking for leadership in such roles such as a Chief Digital Officer- because these never existed before.
Data suggests that about 65% of the youth of today will be in jobs that do not exist today.
The other thing that innovation is unfolding is new industries for instance industries such as neurotechnology, regenerative medicine, or autonomous construction. This creates an exciting place for talent and an interesting challenge for traditional industries which are trying to become digital and transform. Organizations now have to think actively about their employment brand to attract such talent as traditional industries might look tired and old to the newt set of talent which has many other options. Also one cannot drive innovation by hiring just one person or chief innovation officer. It has to be an entire culture of innovation to attract
Karen aptly concluded, "It's a buyer's market in terms of talent. Organizations have to think very differently as to how to attract this talent in this VUCA world, as global uncertainty, mass demographic shifts, and technology accelerates the pace of change."
So while the growing optimism among the executive talent is a welcome sign, it's also a sign for top leaders and organizations to reflect how best they can leverage this to attract as well as retain the right kind of talent to their business. Hence attracting, developing and retaining talent and ensuring succession plans are in place is the order of the day.