Leadership Development
Leveraging extended learning to achieve superior customer experience
We live in the age of customers. The discerning customers are well informed and are seeking more from companies in order to make decisions that address their various needs.
Increasing customer expectations have led organizations realize that a superior customer experience should be their primary focus in order to build and maintain a competitive advantage.
From a recent study by Walker Research 1, by 2020, customer experience will be THE key brand differentiator.
What exactly is customer experience?
It's the cumulative impression formed by every interaction that all constituents have with your business. It's not just the result of one or two defining interactions, it is the sum of them all: with your people, products, processes and technology. If superior customer experience isn't a primary focus across your company, you risk losing ground as your competitors embrace the trend and grab market share.
The trend is well underway and growing rapidly as more and more customers make buying decisions based on the overall experience. Not pricing, not product, but the quality of experience your organization delivers.
The key facts about customer experiences – from a list compiled by returnonbehavior.com magazine
It costs six times more to sell to a new prospect versus an existing customer
Customer retention programs result in a 50% potential increase in a company
Repeat customers spend more than new ones


Knowledge is the Foundation of a High-Quality Customer Experience
The connection between customer experience and employee learning programs that increase knowledge, subject mastery, satisfaction and engagement is well known. But equally important to overall quality of customer experience are the various touch points and interactions that your external audiences have with your business and workforce.
That's why it is essential to broaden learning opportunities beyond your employees and across your entire extended enterprise: your customers, partners, vendors, suppliers, consultants and contingent workers.
Easy, anytime access to relevant subject matter expertise and information is a non-negotiable element of a quality experience, so make sure your extended enterprise is as well-equipped as your employees. It only takes a few bad interactions to do a lot of damage.
The question that needs to be addressed is how to MAXIMIZE these interactions for SUCCESS?
Every company has goals to meet. Success criteria differ from year to year and organization to organization. But most stem from a common set of objectives, facilitated by the customer life cycle: generate awareness, acquire new customers, increase revenue, retain clients and so forth. Most businesses are dependent on customers, partners and the rest of their extended enterprise, in addition to employees, to achieve those goals.
Let's look at how a typical customer life cycle facilitates these interactions at each level yielding superior customer experience.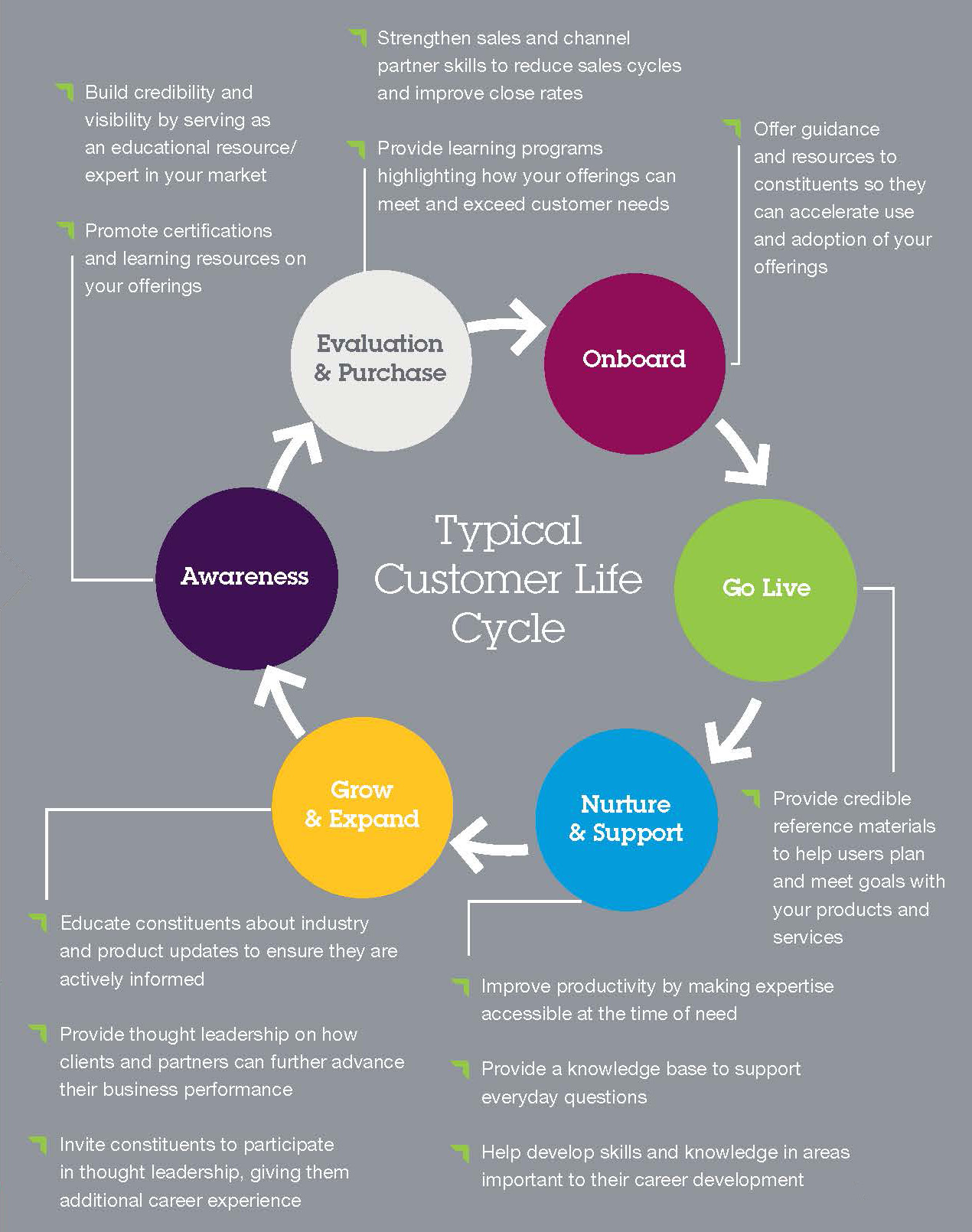 Leverage External Learning to Catapult Business Performance
The key business benefits of leveraging extended learning:
Achieve greater productivity - Ready access to information and subject matter expertise empowers your employees, customers, and partners to work smarter and more efficiently


Reduce operational costs - Effective learning reduces the volume and frequency of costly support inquires, which saves your company time and money


Reduce risk and maintain compliance - Your contingent workers as well as channel and other partners are often required to adhere to the same regulations and requirements as your staff. Proactive and timely training can help you avoid fines and provide exposure


Grow new client acquisition - More knowledgeable, well trained sales teams and channel partners lead to shorter sales cycles and improved close rates on new customer opportunities


Improve satisfaction and retention - Learning programs accelerate product adoption and usage, enabling customers and partners to attain greater speed to value from your offerings


Increase revenue potential: Position learning content, certification programs and continuing education as an add-on service for a fee; also tie learning results to business performance goals to measure the impact of learning investments to overall growth



Businesses too often gives short shrift to investing in learning programs for those very people who make the biggest impact. Big mistake! But for your company, extending learning to external audiences is a great chance to lead, create differentiation, and be positioned to own your market, just as customer experience is crowned king.
Invest in an Engaging Learning Experience
Don't underestimate the importance of quality and ease of use when delivering learning to your network of partners and customers. When it comes to learning content and the technology you use to deliver it, users will be more compelled to participate if it mirrors how they gather and consume information in their personal and professional experiences every day. You may hear few complaints, but their low usage will make their opinions loud and clear.
Be sure to choose right learning platform that allows you to fully optimise your investment in learning to serve your entire ecosystem and drive business performance -- all from a single solution.
---
1Customers 2020: The Future of B-to-B Customer Experience Report. Walker Research