Leadership
70-hour workweek debate: Leaders in favour and against Narayana Murthy
Sudha Murthy, the wife of Narayana Murthy, mentioned that her husband values passion and "real hard work." "He has consistently put in 80 to 90 hours of work per week, so he's not familiar with anything less," she added.
In a world where figures like Alibaba's Jack Ma, Elon Musk, and Tencent's CEO Pony Ma have been known to advocate for increased working hours from their employees, it raises questions about the contemporary stance on work-life balance among today's leaders. Furthermore, Infosys founder NR Narayana Murthy recently added his voice to this conversation, expressing a similar perspective. 
The 77 years old maintained that India's ability to prosper and compete with economic powerhouses like China depends on a substantial boost in the work productivity of its youth, suggesting that they should commit to a 70-hour workweek.
Mr Murthy articulated these thoughts during a discussion with former Infosys CFO Mohandas Pai in the inaugural episode of 3one4 Capital's podcast, The Record. Within their conversation, they delved into the remarkable economic progress achieved by China and the United States in recent decades.
Mr Murthy went on to underscore the current state of India's work productivity, ranking among the lowest globally. He contended that to successfully compete with nations that have made substantial progress, India must address issues such as reducing government corruption, streamlining bureaucratic decision-making processes, and significantly enhancing work productivity.
He also called to corporate leaders, urging them to engage with the younger workforce and stress the importance of diligence and commitment. "I hope our corporate leaders will be able to address our youngsters and say - for the first time India has received certain respect. This is the time for us to consolidate and accelerate the progress. And for that we need to work very hard and improve our work productivity," he said.
But, are the leaders of today in favour of a 70-hour workweek? Let's find out.
Anupam Mittal, a judge on Shark Tank India and the founder of Shaadi.com
The entrepreneur posted a selfie alongside his fellow judges from Shark Tank India, captioning it with, "Even after all these years, I'm still putting in 70-hour workweeks." In the photo, you can spot Aman Gupta, the CEO and Co-founder of boAt, Amit Jain, the CEO and Co-founder of CarDekho, Namita Thapar, the Executive Director of Emcure Pharmaceuticals Limited, and Vineeta Singh, the CEO and Co-founder of Sugar Cosmetics.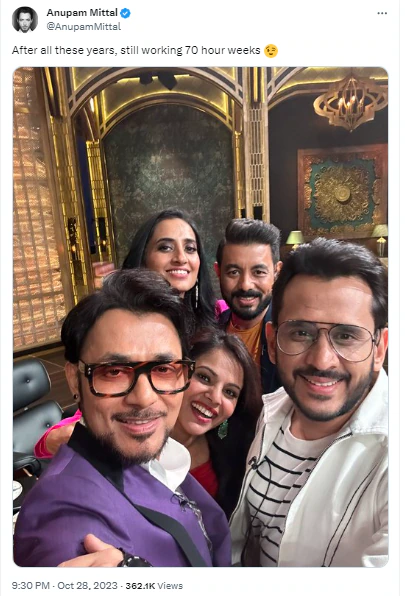 CP Gurnani, Tech Mahindra CEO
CP Gurnani offered his perspective on the issue, clarifying that Mr. Murthy's intention wasn't solely about working 70 hours for a company but encompassed dedicating 70 hours to personal improvement and contributing to one's nation. Mr. Gurnani encouraged young individuals to commit the 10,000 hours necessary to achieve mastery in their chosen field. 
In a post on X, he expressed, "Have been reading about the outrage to Narayana Murthy's 70-hour work statement. I believe when he talks of work, it's not limited to the company.. it extends to yourself and to your country. He hasn't said to work 70 hours for the company - works 40 hours for the company but work 30 hours for himself.'"
He went on to say, "'Invest the 10,000 hours that make one a master in one's subject.. burn the midnight oil and become an expert in your field. That is 70 hours of work which can differentiate you as a youngster and in the process your country."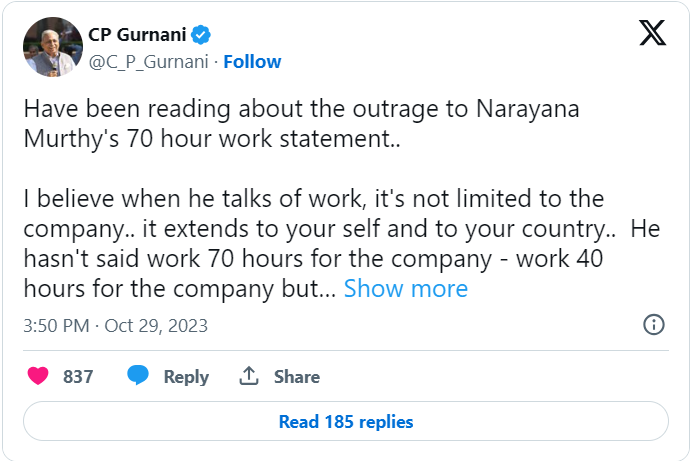 Mohandas Pai, Former Infosys CFO
On X, the former Infosys CFO, Mohandas Pai, came to Mr. Murthy's defense and presented statistics on the weekly working hours of urban men in various states. According to the data, the national average is approximately 61.6 hours per week. Mr. Pai emphasised that the data clearly illustrates that "Prosperity requires diligent effort."
Sajjan Jindal, JSW Chairman
A day after Narayana Murthy proposed a 70-hour workweek, JSW Chairman Sajjan Jindal expressed his strong support for the Infosys co-founder's viewpoint. Mr. Jindal believes that India's unique circumstances, different from those of some developed economies, necessitate the country not adopting "shorter work weeks" as the standard.
"I wholeheartedly endorse Mr. Narayana Murthy's statement. It's not about burnout; it's about commitment. We must work towards making India an economic superpower that all of us in India can take pride in by 2047," Mr. Jindal stated in a post on X. 
He further added, "A 5-day week culture is not suitable for a rapidly developing nation of our size."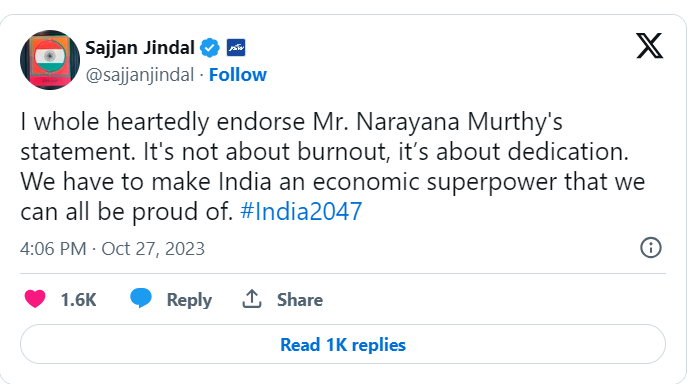 Radhika Gupta, Edelweiss Mutual Fund CEO and Managing Director
Radhika Gupta shared her perspective on the issue, highlighting the long-standing commitment of Indian women who have consistently worked over 70 hours a week for many years. Speaking on X, Ms. Gupta commented, "Between offices and homes, many Indian women have been working many more than seventy hour weeks to build India (through our work) and the next generation of Indians (our children). For years and decades. With a smile, and without a demand for overtime. Funnily, no one has debated about us on Twitter."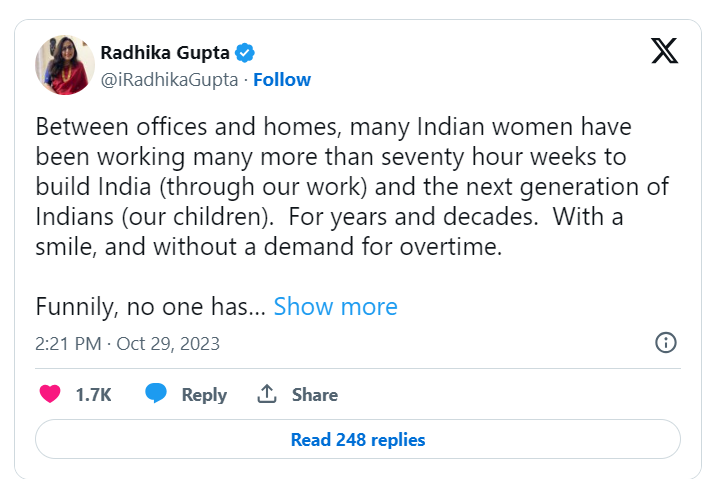 Bhavish Aggarwal, Ola CEO
Aggarwal expressed support for Murthy's statement regarding the dedication of Indian youth to a demanding 70-hour workweek. In a recent tweet, Aggarwal intensified the sentiment, proclaiming, "Putting in the hours. Not just 70, more like 140! Only fun, no weekends!"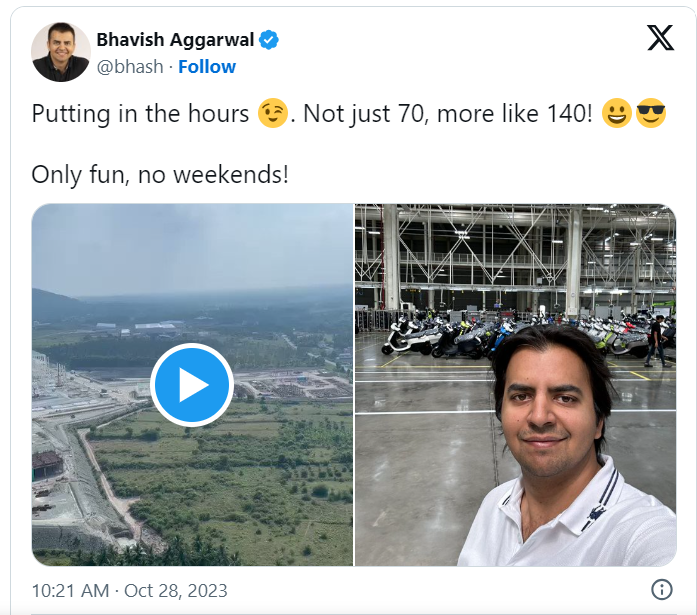 Harsh Mariwala, Founder and Chairman of Marico
Billionaire Harsh Mariwala has disagreed with the advice given by Infosys founder Narayan Murthy to young people. The founder and chairman of Marico expressed his viewpoint, emphasising that both employers and employees should prioritise the quality and passion invested in their work rather than simply focusing on the number of hours worked.
In a post on X, he shared, "Reflecting on the recent sentiments expressed by Mr. Narayan Murthy regarding young people working 70 hours a week, I feel compelled to share my perspective. Without a doubt, hard work is fundamental to achieving success, but it is not synonymous with the number of hours logged. It's about the excellence and enthusiasm one brings to those hours."
The industrialist further noted that to truly engage and motivate the country's youth, it is crucial to place them in roles that not only challenge them but also foster growth and learning. "When an individual envisions a path where diligent effort leads to a promising future, they are naturally inclined to give their best," affirmed the head of Marico.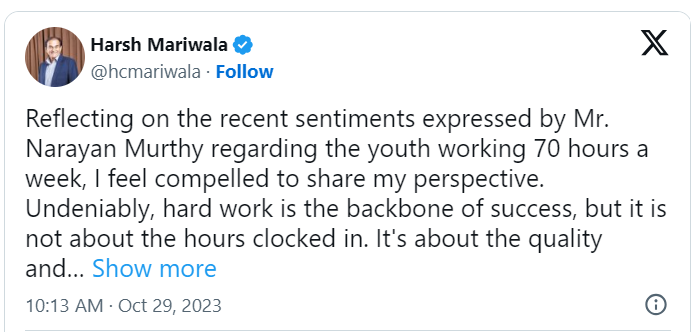 Ashneer Grover, Bharat Pe CEO
Bharat Pe CEO Ashneer Grover humorously critiqued Murthy's perspective, highlighting the prevailing emphasis on measuring work by the number of hours rather than the actual outcomes. Grover's post on X has sparked a multitude of reactions and revived discussions about work culture.
In a whimsical post, Grover conveyed, "I believe people took offense here because the prevailing measurement of work is still 'hours' rather than 'results.' Additionally, it seems like some believe that the only thing hindering India's development is the perceived laziness of its youth. Ironically, getting offended appears to unite us more than cricket, religion, caste, or language."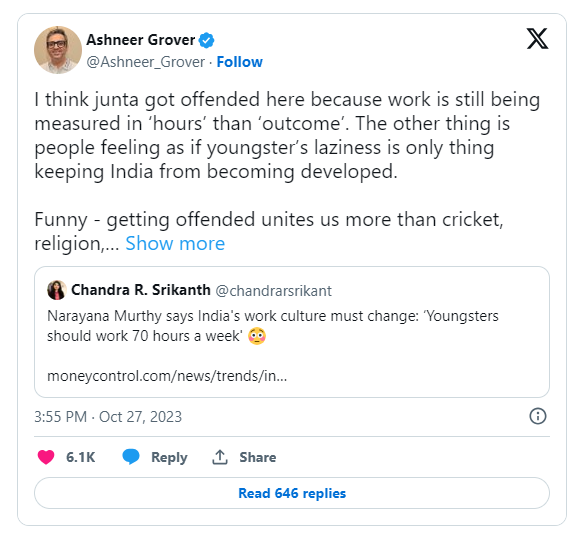 Meanwhile, during her visit to Mumbai as an author at the recently concluded 14th Tata Lit Fest, Sudha Murthy hosted a packed talk session at the National Centre for Performing Arts (NCPA) on Sunday. In a conversation with News18 about her books, philanthropy, and her life with Narayana Murthy, she shed light on her husband's belief in the value of passion and genuine hard work.
When asked about her perspective on the ongoing debate regarding work hours, she stated, "He has personally experienced working 80 to 90 hours a week, so he may not be familiar with anything less than that. He places a strong emphasis on real hard work, and he has lived his life that way. Therefore, he has expressed his views based on his personal experience."