Leadership
Great ideas can come from anyone, anytime and anywhere: Deep Kalra, Founder & CEO, MakeMyTrip
In a candid conversation with People Matters, Deep Kalra, Founder & group CEO of MakeMyTrip, shares his thoughts on leadership and effort.
An IIM Ahmedabad graduate, Deep went up to start his career in banking where he spent three years before seeking his first entrepreneurial pursuit- setting up bowling alleys in India to tap into the expected boom in family entertainment. Not tasting much success, Deep decided to go back to the corporate life, joining GE Capital as VP of Business Development. Deep decided to take the plunge into entrepreneurship again, and in April 2000,- MakeMyTrip (MMT) was born.
Deep Karla, Founder and CEO of  MakeMyTrip have revolutionzed the travelling segment of the country. Today, the company has become the go-to-site for majority of Indians looking to book flight tickets, hotel reservations, rail and bus tickets.
In a candid conversation with People Matters, he shared his thoughts on leadership and effort. 
Q: Who is the one leader you look up to?
Sanjeev Bikhchandani – a true reflection of a leader, mentor and friend
Q: What is the one leadership lesson you learned on the go as a People Leader?
Paying it forward
Q: How digitally ready are you as a leader on a scale of one to ten?
9 on 10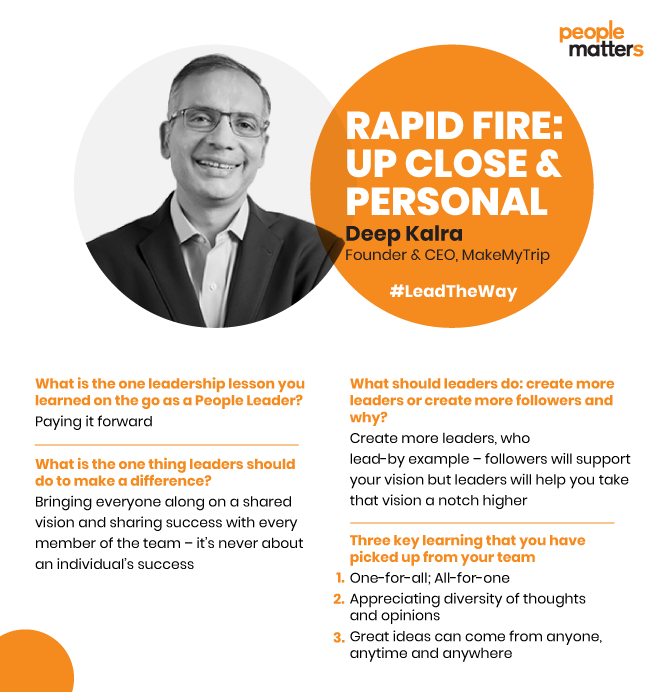 Q: Which was the last book you read on leadership?
A: Not the last but one of the most impressive ones -- Nuts by Kevin & Jackie Freiberg
Q: What is the one thing leaders should do to make a difference?
Bringing everyone along on a shared vision and sharing success with every member of the team – it's never about an individual's success
Q: One step that you are taking to develop a leadership culture in your organization?
Encouraging 'entrepreneurial spirt' across all functions and at all levels
Q: One thing that you consider as your strength and one thing that you would like to improve on?
Strength: Staying constantly curious and inquisitive
Area to improve upon: Push the self-confessed workaholic in me to take out more 'me & family' time  
Q: What should leaders do: create more leaders or create more followers and why?
Create more leaders, who lead-by example – followers will support your vision but leaders will help you take that vision a notch higher
Q: One thing that makes you passionate about your work?
Solving real problems of travellers with tech-enabled solutions
Q: What matters to you most, effort or outcome?
Effort
Q: Three key learning that you have picked up from your team
One-for-all; All-for-one
Appreciating diversity of thoughts and opinions 
Great ideas can come from anyone, anytime and anywhere
Q: What sort of leader would your team say that you are?
A people-person