Leadership
IWD 2023: Commitment to equity and inclusivity starts at the leadership level, says Captain Radhika Menon
Captain Radhika Menon emphasises the need for a collective effort to create a more inclusive and equitable workplace culture. According to her, men need to be encouraged to be allies and advocates for gender equality, and hold them accountable for their actions and behaviors towards women in the workplace.
On this International Women's Day, Radhika Menon, the first female captain of the Indian Merchant Navy, shares insight on how organisations can bring gender equality to the traditionally male-dominated profession.
Menon is the first lady Master of India who has been shipping and sailing with the shipping corporation of India LTD for 26 years. In 2015, she conducted a rescue operation that saved the lives of seven fishermen in stormy weather in the Bay of Bengal. For her act of courage, she became the first woman in the world to be conferred with the International Maritime Organization's Award for Exceptional Bravery at Sea in 2016. She served as Vice President of the Maritime Union of India for two tenures.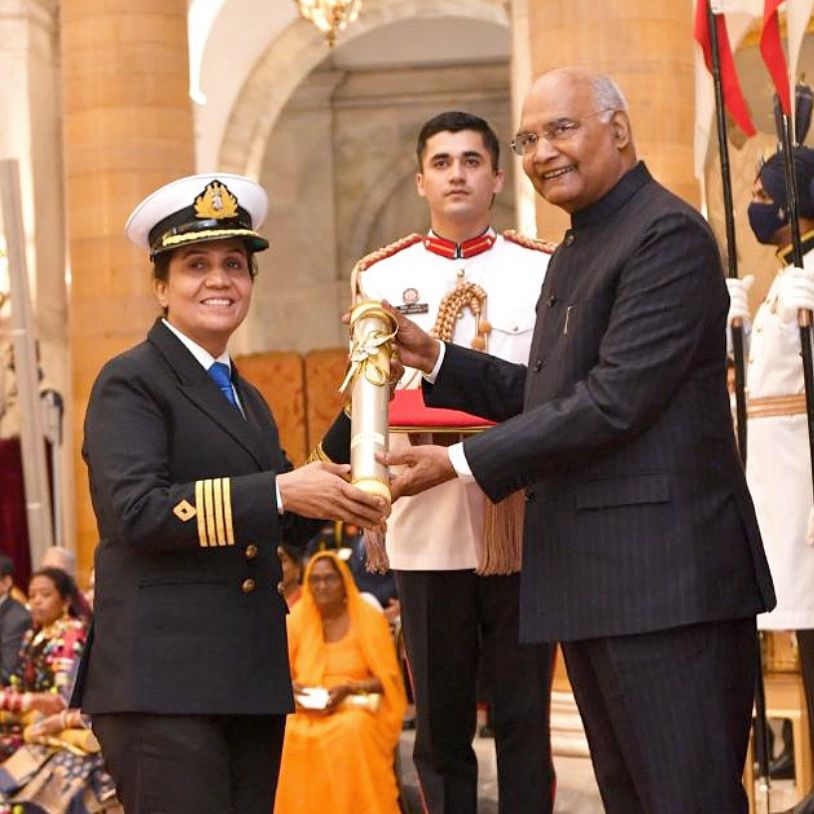 On what made her opt for an unusual career back in the early 1990s, Menon reveals that it was her passion to take a road less traveled. Born and brought up in Kodungallur (Kerala), Menon's journey to the deep blue sea started soon after joining the Shipping Corporation of India as a radio officer in 1991.
Different problems require different solutions. What according to you can bring gender equality to the traditionally male-dominated maritime profession?
Gender equality begins by creating a culture of respect and inclusion that values diversity and different perspectives. Encouraging and supporting women to pursue education and training for seafaring as well as providing equal opportunities for advancement and recognition is another important aspect. Then comes the mentorship and networking opportunities for women, and promoting their visibility and leadership within the profession. We need to encourage men to be allies and advocates for gender equality, and hold them accountable for their actions and behaviors towards women in the workplace.
Creating a more inclusive and equitable workplace culture requires a collective effort from everyone involved, including seafarers , their employers, and industry leaders. And I am happy to say that all the stakeholders are actively working on these aspects. For instance, DGS has made gender sensitisation training mandatory for both pre-sea and post sea course , they have set up a Compliant Committee for harassment and also promoted training for women who aim to take up seafaring as a profession. And we the senior women seafarers, from our side are working on mentoring the aspirants and women seafarers from our IWSF platform.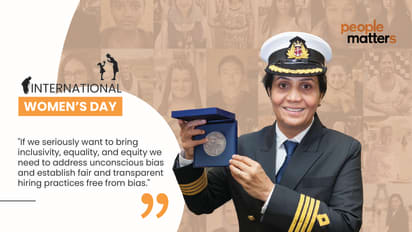 The International Women Seafarer's Foundation (IWSF) founded by you in 2017 has been mentoring women to sustain themselves in the industry. How has been the response so far. Are you getting women from all backgrounds and circumstances?
Well, the response has been phenomenal. We have more than 1200 members now from India and abroad. More than the numbers, what pleases me the most is the trust the members have in us. And that trust was not built overnight. We work hard on the full spectrum of issues, be it mentoring them, guiding and assisting them on their shipboard placements to taking care of their grievances.  We are committed to helping and guiding women seafarers and as the numbers show the family is growing. We have queries coming from far-flung areas of the country and I believe that awareness is growing regarding the seafaring profession amongst the girls/women.
What are the challenges women candidates face opting for a career in the maritime sector?
Things have changed. When I took up this profession there were many challenges like limited access to training and education, under-representation (particularly in positions of leadership and decision-making), Gender bias and discrimination (right from recruitment to promotion), lack of role models and mentorship, and Safety concerns. I would hesitate to say that all these factors cease to exist now, but I am sure many of these have been addressed.
On this Women's Day, what is your piece of advice to bring inclusivity, equality, and equity for women in the maritime sector?
If we seriously want to bring inclusivity, equality, and equity we need to address unconscious bias and establish fair and transparent hiring practices free from bias. For example, blind resume reviews and structured interview questions reduce the impact of unconscious bias considerably. Provide training to all employees to recognise and overcome their unconscious biases. We need to encourage dialogue between seafarers and their employers/regulators.  My advice to aspiring women would be to research more about this noble profession, talk to seafaring professionals and move forward with confidence. We are there to support and mentor you.
Advancement in digital technology offer immense opportunities to address development and humanitarian challenges. How has technology helped the maritime sector to overcome the challenges?
Of course, digital technology has transformed the shipping industry in numerous ways. Digital technology has enabled the automation of various shipboard processes like cargo handling, navigation, documentation, communication etc resulting in increased efficiency, reduced costs, and improved safety. Another aspect is data management, shipping per se sits on huge amounts of data. Digital technology has made it easier to manage and analyse large amounts of data in real-time which has led to optimised routes, reduced fuel consumption and thereby improving vessel performance and improving the sustainability of the shipping industry.
Being an industry veteran, what tools and strategies do you prefer to have to challenge a lack of equity?
Challenging a lack of equity at the workplace requires a comprehensive and sustained effort, involving multiple tools and strategies. First and foremost is leadership commitment because leaders play a crucial role in promoting equity in the workplace. This could be by providing resources to support equity initiatives, and promoting inclusive behaviors can help create a more equitable workplace culture.
Then comes accountability and transparency. I remain transparent and hold my team members accountable for equitable practices. Lastly, let's not forget the training and education. Providing training and education on topics such as unconscious bias, cultural awareness, and inclusivity help your team to understand the impact of their actions and behaviors on others. This promotes more equitable and respectful workplace interactions. In short, a commitment to equity and inclusivity starts at the leaders level will result in long-term success.
 What does a workplace where DEI is embedded, look like?
In shipping you would find that in your crew you have seafarers  from different countries, culture and backgrounds. I would tend to believe that a workplace where you have equity, and respect fordiverse individuals, where everyone feels valued, respected, and supported would have an embedded DEI.
A place where the leader practices and promotes model inclusive behaviors, that is a DEI embedded workplace. If the workplace fosters a safe and respectful environment, free from discrimination, harassment, and bias then you know that DEI is embedded. Overall, a workplace where DEI is embedded is one that values and prioritises inclusivity, equity, and respect for all employees.