Leadership
Leaders need to change for the future and not the present: Amogh Deshmukh, DDI
Leadership is like any sport; unless leaders practice and get feedback, they cannot get better at the skill of leadership, believes Amogh Deshmukh, Managing Director DDI.
The pandemic has brought about significant and lasting changes in the world of work. And leadership has also not remained unaffected. DDI's recent Global Leadership Forecast 2021 report highlights the direct impact of the rapidly transforming workplace on the retention of critical leadership talent and reveals worrying trends about leadership in post-pandemic India. 55% of CEOs say that developing the next generation of leaders is their top challenge. 
We spoke to Amogh Deshmukh, Managing Director DDI, to gain a deeper insight into the challenges facing leadership in India and ways in which organizations can develop the leadership pipeline and retain top talent. 
Here are a few excerpts. 
As per the Global Leadership Forecast 2021, what is keeping CEOs up at night post the pandemic?
The Global Leadership Forecast 2021 was all about talent and developing the next generation talent. Talent has been the number one priority area keeping CEOs at night. While the C-suite has their strategies in place, they do not have the right kind of people to run or execute them. 
What are the focus areas highlighted by the report to build next-gen talent in leadership?
The report highlighted a couple of focus areas, the first one being developing the next generation of leaders. Global recession and slowdown was another focus area-while a recession was just around the corner, the pandemic just accelerated it. Attracting and retaining top talent has been a concern across industries. Though you hear about this mostly in the IT industry, but the challenge spans across all boards.  
Another major focus area is driving product innovation as well as succeeding with emerging technologies. We wake up every day with new technology being pushed into our lives-so how should organizations embrace that?  CIOs have to be far more agile and nimble in today's world.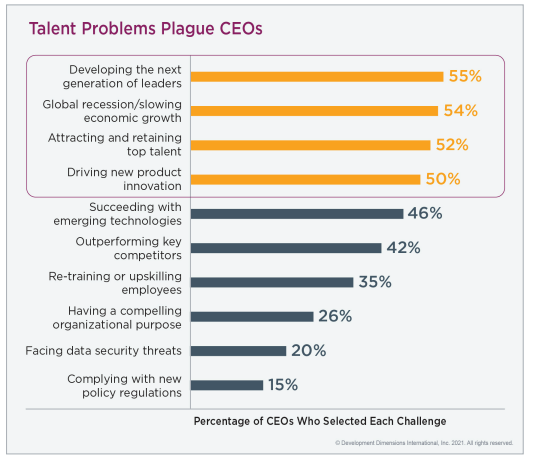 What are some of the insights around the leader quality gap? What are its implications for organizations?
The insights from the report show that CEOs are more confident in the leadership quality of the senior level but when it comes to the mid-level and junior-level, their confidence is low.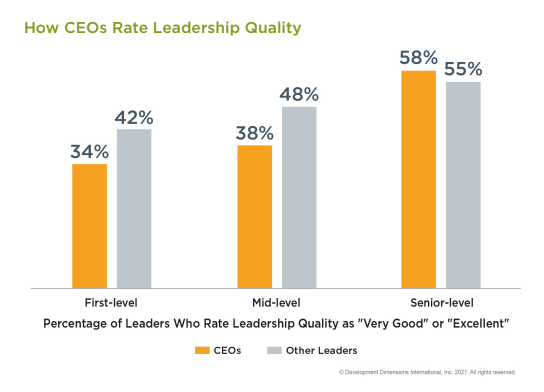 The statistics show that more than half of organizations feel that they don't have the right kind of leadership quality.
This has been a concern for a long time. We have been tracking the bench strength of organizations over many years and that has gone down from 18% in 2011 to 11% in 2020. And that is a worry because if you look at the investment every organization is making in leadership development, pretty much all of them are investing more and more. Yet the bench strength remains weak.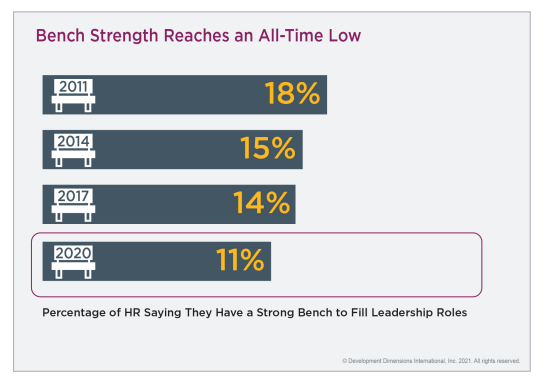 This is what HR needs to take as their opportunity. Instead of running after the next shiny thing and focusing on bringing the new initiatives in, HR needs to focus on sustaining the initiatives. It takes time to build a bench. While HR ends up getting blessing and budget, are they able to get the commitment of the leadership in making the initiative a success? Hence they need to ask if the leaders have skin in the game and a definite answer to when does the leadership want to build the next-gen pipeline. Then they need to build a roadmap and see if the organization is doing all the necessary things to build that talent rather than just bringing in new initiatives.
What are some of the things leaders need to learn and upskill for the future?
While the context of change will differ from industry to industry, the first thing that leaders need to do is acknowledge that they need to change. And they need to change for the future and not for the present. As most KRAs focus on the here and now, everyone is busy in the immediate gratification game. And not trying to build a skill that they require for the future. 
The second step is committing to making that change happen. Leaders need to develop that self-insight-what are they good at and what are they not good at. And only then can they make this shift happen.  
What as per you are the most important key takeaways from the Global Leadership Forecast 2021 for developing leadership pipeline and retaining top talent?
Organizations need to take into cognizance that the leadership quality is declining and they have to do something to really change the game.
Secondly, on account of the pandemic, employees are experiencing a burnout. Our study showed that even the high performers are looking at exiting organizations on account of this. So it's important that organizations help leaders to manage this exodus.
The next piece that deserves attention is the whole online to offline equation. I think there's a gross misbelief that if we throw content at leaders, they will become knowledgeable and will change by default. What's happening is that there's a problem of plenty. Our research shows that leaders are getting sunk due to overload of information. Of course, in the pandemic we saw that the percentage of leaders who acquired online content was high. But that does not mean HR can assume that by absorbing that content, leaders have become better at their jobs.
Leadership is like any sport; unless leaders practice and get feedback, they cannot get better at the skill of leadership.  That's where O2O is going to become very important and organizations need to focus on how they can engage in an online to offline model to ensure that they are creating an environment where development can happen for leaders as they work.