Leadership
Rapid Fire with Birlasoft's Global Chief People Officer
In a conversation with People Matters, Samit Deb, Global Chief People Officer shared his thoughts on leadership and how digitally ready is he as a leader.
Who is the one leader you look up to?
In the sports arena, a leader I admire is former Indian Cricket Captain, Sourav Ganguly who in my opinion changed the paradigm of Indian cricket. He believed in his personnel, brought in a killer instinct within all, and created a world-class team, without resorting to any unethical practices.
On the corporate front, I have been a fan of Nandan Nilekani – a sublime strategist, who has world-beating Point of Views, great clarity of thought, and a spectacular customer facing person. His work at Infosys and even on the Aadhar scheme is commendable.
What is the one leadership lesson you learned on the go as a People Leader?
You are what your team is. As a People Leader, I must be an enabler for the teams' overall performance. I must be one of them, to ensure great outcomes. It is important to play to their strengths, and create a team that is non-hierarchical, and maintains a great vibe.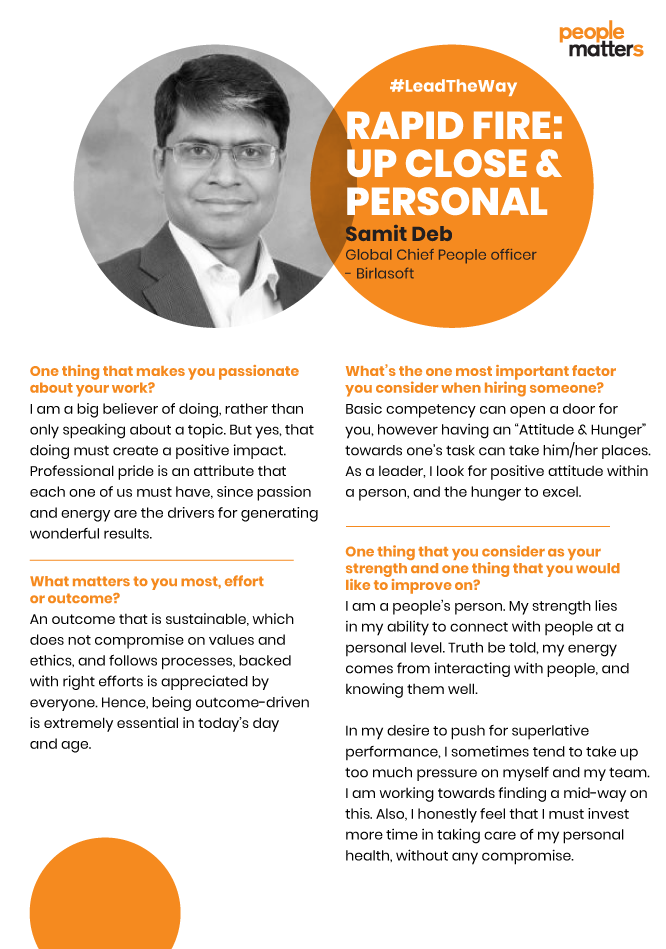 How digitally ready are you as a leader on a scale of one to ten?
Most of the companies today are positioned midway through any rating scale, when it comes to digital readiness. As a leader, I feel having a thought process towards becoming digital is prima donna. This can happen when each one of us has a bent of mind towards adopting digital in our lives, and by building a culture of being analytical in our output. 
People Analytics – where an analytics frame of mind must be cultivated within to gain deeper insights about people; and 
People Experience – having the right set of tools and technology to harness the benefits of digital, without however losing out personal experience, which every individual seems to associate with
Which was the last book you read on leadership?
I sincerely wish I could take time out to read a book, considering my day-to-day schedule; however, I make it a point to invest time daily in reading Newspapers, Business Magazines, Business Editions of dailies. I am also an admirer and regular reader of Harvard Business Review Articles, which hold a special place in my reading regimen. As a leader, I thrive on byte-sized information, which helps me in gathering rich perspectives and staying abreast with the latest in the business world.   
What is the one thing leaders should do to make a difference?
Leaders must facilitate in Ordinary People doing Extraordinary things. They must give vision, encourage their teams and personnel to keep their aspiration levels high, develop a camaraderie that binds thought processes together, thereby enabling people to be successful in their endeavors.
One step that you are taking to develop a leadership culture in your organization?
We, at Birlasoft are looking at the bigger picture by developing programs that help us identify leaders at all levels. Instead of a prescriptive approach of popular leadership topics, we are following an assessment led approach of identifying development area which are relevant at a "We" and "I" level.  At career transition and role transition levels, at an organization level, we have scientifically curated programs such as 
Young Guns (Fresh Joiners) – with tie-up with leading management development institutes like SJ Mehta School of Business and our own leaders and facilitators, we put our high-potential employees through a career enhancement program. These employees are typically in the 5-7 years work exp. category and through the program are able to identify and move to career streams of aptitude.
PMAspire (Mid-level Managers) – our multi-step Project management program provides a robust set of project management and leadership workshops
MSF (Multi-Stakeholder Feedback) Mechanisms – help us identify our leadership development opportunities basis a set of leadership competencies and independent psychometric assessments
At the Group level, a program termed as the 'Chairman's Circle' provides an opportunity to senior management leaders to identify an impending gaps and address them. 
One thing that you cons ider as your strength and one thing that you would like to improve on?
I am a people's person. My strength lies in my ability to connect with people at a personal level. Truth be told, my energy comes from interacting with people, and knowing them well. 
In my desire to push for superlative performance, I sometimes tend to take up too much pressure on myself and my team. I am working towards finding a mid-way on this. Also, I honestly feel that I must invest more time in taking care of my personal health, without any compromise.
What should leaders do: create more leaders or create more followers and why?
It's important for leaders to walk the talk and have the ability to get the best out of his team; while also helping in the development of others. In a concept similar to brand congruence, leaders must have congruence with themselves and their teams, without ever being lenient on organizational core values. Lest, leaders too make mistakes, and showing vulnerability is not a weakness. Getting people to co-create for larger goals must always be on the mind of a leader. So, leaders must strive to support and mentor more leaders for the future.  
One thing that makes you passionate about your work?
I am a big believer of doing, rather than only speaking about a topic. But yes, that doing must create a positive impact. Professional pride is an attribute that each one of us must have, since passion and energy are the drivers for generating wonderful results.
What matters to you most, effort or outcome?
An outcome that is sustainable, which does not compromise on values and ethics, and follows processes, backed with right efforts is appreciated by everyone. Hence, being outcome-driven is extremely essential in today's day and age.
Three key learnings that you have picked up from your team
People are different. Encouraging diversity in thoughts, ideas, opinions helps any organization in the long run
Everybody has strengths, and opportunities must be meted out to everyone to reap the benefits of good team work
Break silos, and notice how the inherent potential in people can create magic
A well-oiled, non-political, common-vision and motivated team is a boon for any leader.
What's the one most important factor you consider when hiring someone?
Basic competency can open a door for you, however having "Attitude & Hunger" towards one's task can take him/her places. As a leader, I look for positive attitude within a person, and the hunger to excel while hiring/having my team member's hire talent within our organization.
What sort of a leader would your team say you are?
My team members would say that I am an exceptionally driven person, and believe in doing my best at everything I lay my eyes on. I like being performance oriented and always suggest my team members to keep their level of performance at work, very high. My assertiveness can, at times be construed differently, but going an extra mile is what challenges me, and keeps me motivated!