Leadership
Rapid Fire with RNAM's CHRO, Rajesh Derhgawen
In a candid conversation with Rajesh Derhgawen, CHRO, Reliance Nippon Life Asset Management Ltd. (RNAM) reveals some personal and professional secrets.
Rajesh Derhgawen, Chief HRO, Reliance Nippon Life Asset Management Ltd. (RNAM), a senior HR professional with rich and diverse experience in the entire gamut of HR across Financial Services, FMCG, Manufacturing – Chemicals, Tiles & Paints and logistics industries. He has been in HR leadership roles for over 10 years with strong track record.
Rajesh shares with us one leadership lesson he learnt on the go as a People Leader and many more.
Up-close
One thing that makes you passionate about HR?  
The fact that all my actions have an organization- wide impact and the ability to positively connect with people across the horizon.
What was the turning point of your life as an HR professional?
Joining RNAM in 2005 which brought along a wealth of learning and a big canvas to experiment and do things from then to now. On the way, we have managed to register some great milestones like, RNAM becoming the largest fund house, the first AMC to get listed and AON Best Employer thrice in the last 4 years, which have been truly satisfying experiences!
One tech/innovation that will transform HR? 
AI with EI- "High tech. & High Touch"- both on how we work & develop the HR landscape for future and how we help people grow.
One perception you wish to change about the HR function?
That HR is not just a support function or execution partner but the strategic partner impacting both top line and bottom line of the business
What's your learning mantra? 
Learning every day from everyone! Learning is a way of life and should not be restricted to workplace. "Learn to evolve"
Quick choices
Gig Workers or Permanent Employees?
Both will co-exist as at different times you need different models. In my opinion, "Project Teams" model will eventually take centre stage.
Flexi work or 9 to 5?
Flexi all the way! 
HR as a business partner or HR as a business driver?
Business Driver 
Self-paced learning or guided (organization-lead) learning?
I believe that you need a "mentor support" model so that you focus on the "best suited" and hence organizational intervention is helpful. However, the willingness and learning ability must come from within! 
Appraisals based on rating or rating-less performance management?
Its not just appraising for performance but also rewarding for performance and drive meritocracy. For the same, some rating brings clarity and helps people to develop the drive to bridge the gap between "Expected" and "Actual".
Tech in HR
How do you make decisions when you don't have all the necessary information?
Experience, intuition, business and people knowledge help me decide the best course of action in the absence of a "factual compass". 
What percentage of decisions (approx) taken by HR heads are based on insights?
 Always have facts and historical precedence to back up the decisions. Never really based on "just insights".
Things HR professionals must keep in mind while implementing tech in any HR process?
Tech. should not be implemented for technology sake.
Will it free up people's time for the strategic things? 
Will it lead to lack of connect and alienate people?
Next big HR deployment RNAM is working around? 
Hear about it in the upcoming HR innovation summits! 
One HR tech trend you look forward to?
Virtual Workplace and AI support for "hi- touch" and social hiring.
Core HR competencies no technology can replace?
Empathy, change management catalyst, Adaptability and resilience, coaching & mentoring to name just a few!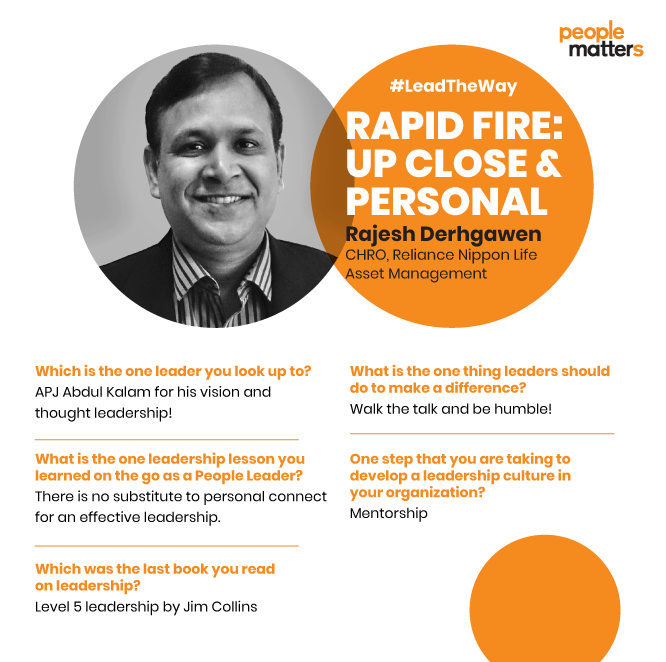 Leadership lessons
Which is the one leader you look up to?
APJ Abdul Kalam for his vision and thought leadership! 
What is the one leadership lesson you learned on the go as a People Leader?
There is no substitute to personal connect for an effective leadership. 
Which was the last book you read on leadership?
Level 5 leadership by Jim Collins
What is the one thing leaders should do to make a difference?
Walk the talk and be humble! 
One step that you are taking to develop a leadership culture in your organization?
Mentorship
What should leaders do: create more leaders or create more followers and why?
Followers don't create Legacy! 
What matters to you most, effort or outcome?
Outcomes which can be sustained is what matters! 
Three key learnings that you have picked up from your team
Change with time!
Challenge the status quo!
Work hard, party harder! 
What's the one most important factor you consider when hiring someone?
Attitude and passion
What sort of a leader would your team say you are?
Empowering and fun to work with! 
Expert-take
One must-read book for CHROs and HR leaders
Good to great is still the go-to classic for leadership and business excellence 
Your advice for aspiring HR professionals?
 Know the business you are in. There is no substitute to personal connect for an effective leadership. Always Stay Hungry, stay foolish! 
One question you ask in every interview?
Who are you beyond your resume?
In the fast-paced world full of disruptions and challenges at every corner, what keeps you going? 
The adventure and unpredictability of a world, in continuous flux!
Personal
What's your favourite holiday destination?
The Himalayas
What do you think about when you're alone in your car? 
Music, mindfulness and messages! 
What's the last thing you watched on TV and why did you choose to watch it?
ISRO moon landing because we were creating history and I could not miss the "impossible "becoming a reality!