Leadership
Rapid Fire with Tata Chemicals Ltd.'s R. Nanda
In a candid conversation with People Matters, R. Nanda, CHRO & Chief Ethics Counsellor, Tata Chemicals Ltd. shares with us his views on leaders and leadership.
Who is the one leader you look up to?
I must say that I have had the privilege of working with many bosses during my career. Each of them was great in their way and all of them have contributed to my development in no small measure. However, the one person who really shaped me in the initial stages of my career was P Ramababu of Parry Group with whom I had worked very closely on several assignments. Not only did he put you onto tasks that stretched you to your limits but was also someone who gave many opportunities to experiment and make mistakes but never allowed the same mistake to be made twice. 
What is the one leadership lesson you learned on the go as a People Leader?
That the world has 3 types of people – the first type is those who are mostly solution-oriented, the second type is those for whom most of the time something is a problem and the third type are those who refuse to be in either. The third type is the one you should always be watchful about.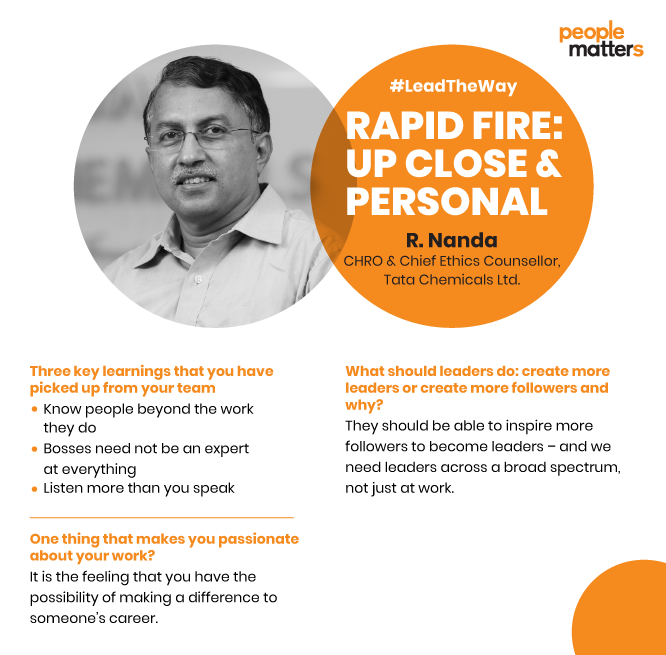 How digitally ready are you as a leader on a scale of one to ten?
I would fantasize and say 8 – but most immediately thereafter encounter a situation where my digital illiteracy would show up in a very profound manner so overall I think it is around 4 with a long way to go.
Which was the last book you read on leadership?
There are many books and articles that I do read. However, the one book that I came across while attending an MDP during the mid-1990s, which still stays in my mind is 'The Possibilities of Organization', by Barry Oshry.
What is the one thing leaders should do to make a difference?
Delegate but don't abdicate. They need to be there and yet not be there. Allow the teams to carry out what they need to do once the outcomes are understood, but be available when they run into issues and need help.
One step that you are taking to develop a leadership culture in your organization?
Spotting leadership potential at much younger levels and giving them roles and tasks that can quickly shape their attitude and thinking in a broader dimension while picking up the skills and capabilities required to lead in the future. 
One thing that you consider as your strength and one thing that you would like to improve on?
I consider the ability to be optimistic irrespective of the situation as my strength and to be able to spend more qualitative time with the frontline workforce as the area for improvement.                                                        
What should leaders do: create more leaders or create more followers and why?
They should be able to inspire more followers to become leaders – and we need leaders across a broad spectrum not just at work. 
One thing that makes you passionate about your work?
It is the feeling that you have the possibility of making a difference to someone's career.
What matters to you most, effort or outcome?
One should focus on putting in the right efforts to derive the expected outcomes. But there would still be situations when this may not happen – just take it as a signal that something was missing in the effort put in - go back to the drawing board and start all over again. 
Three key learnings that you have picked up from your team
Know people beyond the work they do
Bosses need not be an expert at everything
Listen more than you speak 
What's the one most important factor you consider when hiring someone?   
Does the person display the spark of curiosity and inquisitiveness to see what can be done to make the role more enriching and fulfilling both to oneself and the organization?
What sort of a leader would your team say you are?
Isn't it better that you ask them this directly?