Leadership
Twitter's new CEO Parag Agrawal has a tough and challenging road ahead
Having proved his immense capability and dedication to the company ever since he became part of it in 2011, Parag's journey as the new CEO of Twitter is rife with its own unique set of challenges ranging from thorny political issues to increasing the revenue growth of the company.
With Parag Agrawal being appointed as the new Twitter CEO after Jack Dorsey stepping down, multiple challenges present themselves with this leadership change. Although there has been faith placed in the credibility of Parag by the former CEO himself, it will be interesting to see how he pushes forward in writing the new chapter of Twitter. 
Building the future of Twitter since 2011: 
Former CTO of Twitter since 2017 and having been a part of the company since 2011, he has played a critical role in not only raising the company's revenues through targeted advertising but has also reviewed and improved upon several company projects. 
On Mr. Dorsey's return to Twitter as chief executive in 2015, Parag was one of his key people who helped refocus the company's efforts on the "timeline" that feeds tweets into a user's Twitter app. As CTO, he rebuilt the company's infrastructure and helped it shift to using cloud computing applications from Google & Amazon thereby streamlining its operations. He has also managed Twitter's efforts to incorporate cryptocurrencies into the platform along with supporting efforts for greater transparency of Twitter's algorithmic mistakes, even urging the company to reveal its findings that a photo-cropping algorithm it used was biased. Agrawal also placed a lot of emphasis on product development which insiders believe could help elevate the company's success. 
With a growing user base, Twitter has been under pressure from shareholders who wanted to see the company monetise the activity of at least 315 million daily active users on the platform. Although this social media channel has remained popular among netizens, it has lagged behind others, like Snap Inc. and Meta's Facebook and Instagram, in capitalising on their audience. It is expected that Parag's appointment could help make a turnaround. In his latest tweet, Parag shared the note he sent to his company on this occasion.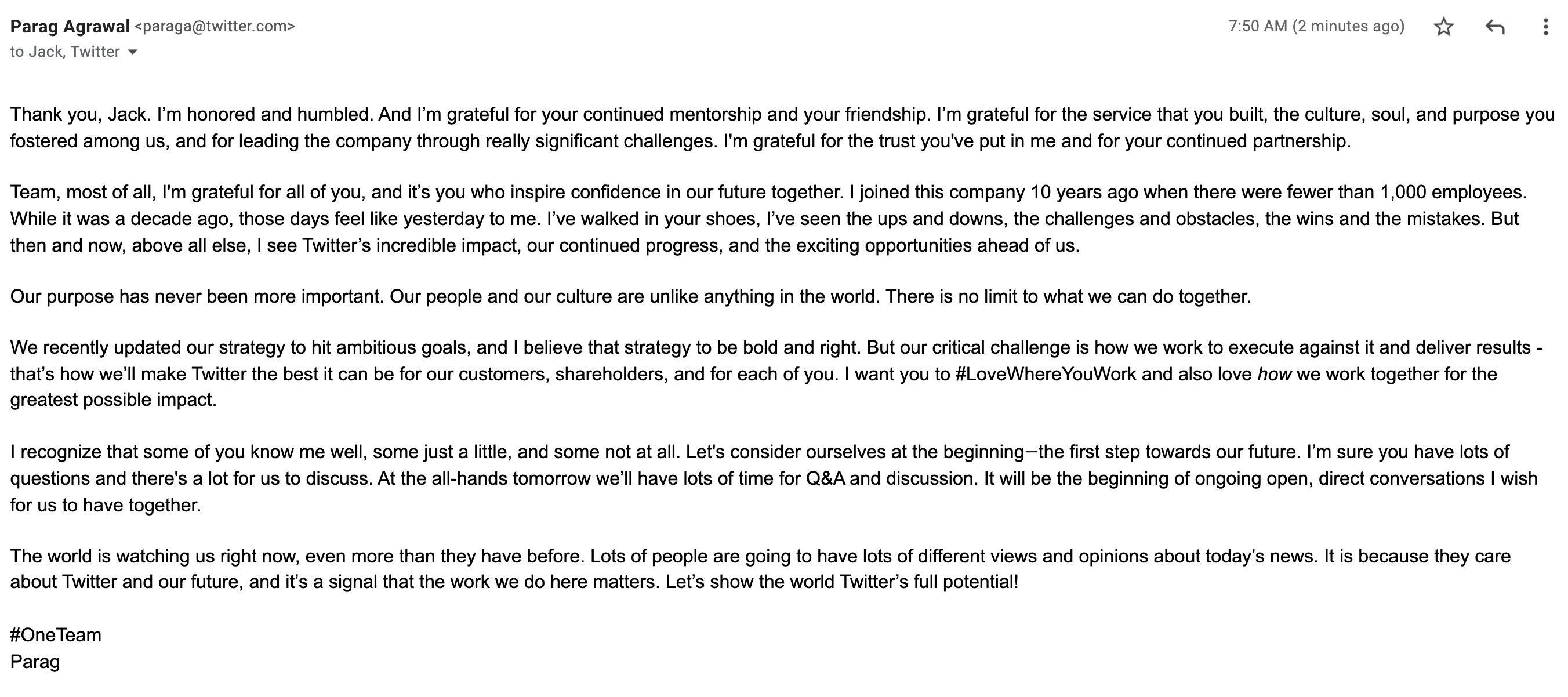 Challenges that remain for the CEO moving forward: 
However, in spite of the renewed hopes and celebrations, Parag has started drawing criticisms from conservatives as old social media posts and interviews led people to question how he would handle censorship, especially of far-right sources, on the platform.
From tweeting a quote of Aasif Mandvi in 2010 which was; 'If they are not gonna make a distinction between muslims and extremists, then why should I distinguish between white people and racists' to telling MIT Technology Review in 2020 that Twitter, like other private companies, isn't "bound by the First Amendment," conservatives have speculated an increased censorship of right-wing sources. 
The company has already been a target of right wing politicians who believe tech companies have too much power. It is routinely criticised for the way it manages misinformation, hate speech and other forms of objectionable content on its platform. Twitter's widespread reach makes it a space bustling with several polarising viewpoints. Several times, it has been accused of censorship by those whose tweets are removed or marked with a warning, and criticised by others for failing to protect its users from abuse or hate speech when it leaves some posts up.
Along with these political issues and the challenges of monetising its massive user base which involves following through on its goals to double its annual revenue by 2023 as well as increase its user base by 20% every year, Parag's capabilities will be put to the test. However, having a focused leader who can change the company's culture to ensure faster implementation of new strategies and products is the first step in the right direction and if Parag can manage that, an exciting turn of events is bound to be witnessed. But simultaneously, the politics of Twitter and the repeated criticisms against it as well as against Parag is bound to have an impact. What remains to be seen then is which area of concern Twitter's new CEO tackles first.