Leadership
When even your rivals shed a tear: Leadership lessons from Roger Federer's career
In light of his recent goodbye to competitive tennis on Day 1 of The Laver Cup, let us look at what we, and leaders across industries, can learn from Roger Federer's glorious career and his retirement.
It was the moment so many tennis fans had been dreading for so long. Over the last few years, every time Roger Federer pulled out of a tournament, we knew the retirement announcement was right around the corner. Every time he took a press conference, it was inevitably the number one question he was asked. 
And so it has happened. Roger Federer, that man whose cross court backhand is nothing less than a piece of poetry, retired from competitive tennis last week. While Federer's career is full of one milestone after another, one of his greatest is perhaps the reaction of his rivals, his fiercest competitors, as he said goodbye to competitive tennis. 
As tributes and accolades poured in from across the world, there wasn't a dry eye in the room as Federer gave his farewell speech at the O2 Arena in London, on Day 1 of the Laver Cup.
What makes Federer's career so great? It is the inherent leadership qualities that he seems to possess. Here is a list of the top 5 leadership lessons to be learn from the Roger Federer:  
Acknowledging support from your team, family and friends
Behind every successful person is the support of the proverbial village. You could be the owner of the biggest company, a multiple award-winning artist or the greatest tennis player in the history of the game, you cannot do it alone. Whether it is an extraordinary C-suite team, support artists or a team of physiotherapists and coaches, it takes a village for one person to be successful. Understanding this simple fact is crucial to becoming a true leader. Throughout his career, Federer held a lot of press conferences and spoke of many things that helped him become the player he is. One thing that he consistently mentioned was the support of his family, his friends and his entire team. Even in his farewell speech, Federer spoke about how the immense support of his wife Mirka directly contributed to the longevity of his career. It is easy, especially when successful, to feel like everything is your own doing. It rarely is, and acknowledging that is a sign of true leadership.
Being a team player
Tennis is often referred to as the loneliest sport in the world. Just like a lot of C-suite jobs. While it is true that the onus falls on the player, or the leader, for a lot of the key decisions, it is important to always acknowledge the immense amount of hard work put in by your colleagues and peers. In the thousands of on-court interviews Federer did after a win, there was hardly ever a time when he did not acknowledge the contribution of his team - his coaches, his physiotherapy team and all the support staff. Great leaders never belittle the contributions of those who have helped them become who they are, instead they put them on a pedestal and let the world know. 
Be gracious in defeat, humble in victory
You cannot always win. Many times whether you win or lose is out of your control. But what is in your control is how you deal with a loss. And Federer's career has been a masterclass in always being gracious in defeat, and humble in victory. Inscribed right above the entrance to Wimbledon's Centre Court are lines from Rudyard Kipling's If. "If you can deal with both victory and defeat, and treat those two impostors just the same." That seems to have been Federer's mantra throughout his career. Be it when he won his record eight Wimbledon titles, or when he lost an epic 4-hour thriller to Nadal at the Australian Open, Federer's conduct has been balanced, humble and gracious. Good leaders end up becoming a kind of a moral compass for everyone around them, both in good times and bad. Humility and grace are essential. 
Knowing when it's time to go 
Retirement is something that leaders across professions struggle with. Especially when one has been on top, has been in a position of power for a considerable amount of time, it is easy for one's judgment to get clouded vis-a-vis retirement. Federer understood the toll both age and his injuries had taken on him, he also understood that delaying retirement is like delaying the inevitable. So he decided to go out with a bang, as opposed to being forcefully relegated to the lowest-ever rankings and louder whispers of "It is high time he leaves the circuit". Knowing when it is time to retire contributes to keeping your legacy intact instead of watching it get diluted when you just cannot put your a-game forward. Awareness of one's own limitations is another true sign of leadership. Passing the mantle forward at the right time is how everything progresses. And it is important to not stand in the way of that.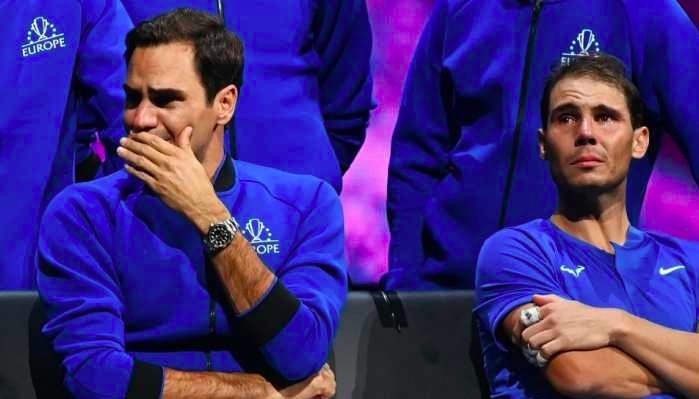 Don't let toxic masculinity weight you down 
We have all seen the image of Federer crying inconsolably at his retirement and his long-time friend and biggest on-court rival Rafael Nadal holding his hand, himself in tears. Many have commented on the iconic nature of the photo and everything it stands for – that toxic masculinity has no space in today's day and age. That it is okay for men to cry and express emotion. Leaders across industries would do well to take a leaf from the Federer handbook and not get bogged down by the arbitrary and impractical expectations from "men". Showing emotion, expressing how one is feeling, not getting needlessly aggressive all go a long way in making one a true leader. Of the many stereotypes that need to be smashed, expectations of toxic and hyper masculinity are perhaps the first that need to be addressed.