Learning Technology
How QuoDeck enables enterprises to deliver game based learning
QuoDeck relies on using gaming as a natural behavior of the learner to drive enterprise learning.
Experience indeed is the best teacher. Having experienced their share of boring mandatory trainings in their 15-year-old careers, Kamalika Bhattacharya & Arijit Lahiri thought something needed to be done about the kind of training which was literally being forced down the throat of employees. While a lot of this learning is needed as it a functional understanding, but the way in which it is delivered does not evoke any sense of excitement or feeling from the employees that it is being done for their betterment.
But over the last few years, people have picked up mobile as the primary device through which they consume content. So while people were clamoring for more content through new age formats on Google or Wikipedia, but somehow enterprises could not get into that mind shift. Enterprise learning remained very boring, stale, and desktop oriented. Says Kamalika, 
"That is when we thought that there was a need for enterprises to adjust to the new millennial generation used to consuming on mobile, in interesting and interactive formats."
When the duo started looking at millennials, they realized that apart from browsing on social media, a large chunk of their time is spent on online gaming. A lot of these games were simple games like Candy Crush, Angry Birds which fall in the category of hyper-casual gaming. The duo started looking at how to marry these thoughts together and that's when QuoDeck was born in 2010. 
QuoDeck is a SaaS product catering to the enterprise learning market, using interactivity and games to engage enterprise learners and use that to capture data, which in turn gets used to improve the learner experience and effectiveness. The product relies on how to use gaming as a natural behavior of the learner to drive enterprise learning.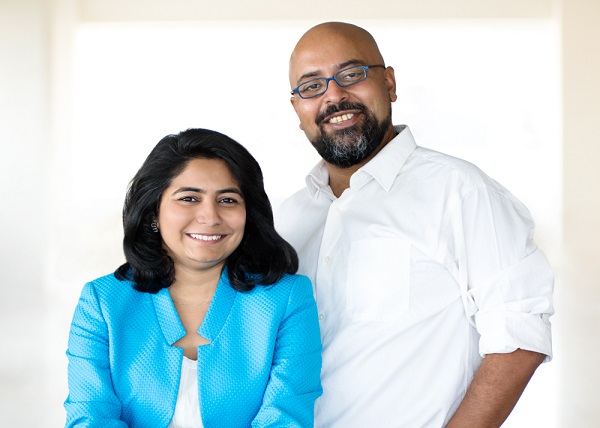 How does Quodeck enable enterprises to deliver learning
Kamalika believes that the thing with LMS is that they tend to think of themselves as just a delivery vehicle. They don't give much thought to what content they put in it. But QuoDeck cares as much about the content as much as the format in which it is delivered to the learner. The platform has a delivery app along with multiple products under the same room-such as an authoring tool, an entire game library-so all the tools are embedded in this platform. 
Organizations can easily upload their content in predefined templates and create content in a simple way on the platform. All enterprises have to do is enter content in text and the product platform renders it in beautiful formats for the mobile app. The DIY platform is also enabled with big data tracking. 
The platform allows enterprises to create a pull-based learning.
So from gamification to game-based learning to storyline based games which can be used to create an entire course, the platform goes on to offer simple hyper-casual games; documentation simulation which teaches people how to do documentation- a big requirement in insurance, banking, pharma, and retail; conversation simulations which teach people how to talk by simulating a chat with a customer, which is used a lot for sales training as well as customer service training. Moreover, the full-featured platform can address a small company of 30 people to a large company with thousands of people with a complex environment. 
35 companies, half a million learners
The product which was released in 2014, has seen steady adoption in the four years hence. Today, the platform boasts of almost half a million users on the platform across more than 35 companies including global clients as well. This number is expected to grow to 600000 over the next 3 months on the back of the current deployments in progress.  Unilever, Star India, eBay, SBI Life, Aditya Birla Group, Axis Bank, are some of the companies which are big clients of the subscription-based SaaS platform. 
Kamalika attributed this growth to the fact that the product spans an entire gamut of what you could do with gamification to simple gaming complex gaming to create a pull for learning. Companies like Reliance, Unilever, Aditya Birla use the platform to train their ecosystem advisors such as advisor network, distributor network as well as their salespeople. Thus the platform is being used to deliver a level of impact which actually drives business for them and not just for training them. So effectively, she believes that QuoDeck counts with pretty much every LMS out there. 
The future of game-based learning
A report by US-based learning technology market research firm Metaari states that the worldwide five-year compound annual growth rate (CAGR) for Game-based Learning products and services is a robust 37.1% and revenues will more than quadruple to reach well over $17 Bn by 2023. While revenues will more than triple in all eight global buying segments surveyed in the report, over the forecast period, the corporate segment will see the maximum rise in demand, driven by the booming demand for pre-employment assessment and evaluation games.
Kamalika avers with this trend of the corporate segment poised to post the highest growth rate out of all eight segments. She adds that upwards of 50% of companies in the world are looking to change their existing learning systems. One of the main reasons they look to switch is because of the lack of interactivity and mobile capability in these systems. So gaming, mobile learning, social learning are the new trends which no enterprise can afford to stay away from given their audience has changed completely. Added to the fact that they are no more dealing with traditional learning problems anymore. With a globally scattered employee base, companies can no longer get their employees to sit in a classroom for learning. 
More so as the audience demographics changes to millennials, who live in a digital world, enterprises are starting to realize that very strongly that they will start to fall behind if they are not using digital means for disseminating learning. So they are moving from traditional learning to digital learning. This change is very much essayed by the fact that compared to 2010, when QuoDeck would have a hard time convincing companies of game-based learning, today it is no more a challenge.
Kamalika aptly concludes, "Moving away from traditional learning is more a question of companies coming out of their comfort zones. Gaming is no more as bad a word as it used to be anymore!"