Life @ Work
51% of women are less optimistic about their career: Deloitte Global Report
The report shows a small proportion of companies are supporting women through the pandemic and creating a more inclusive workplace leading to vastly more positive outcomes.
According to a new Deloitte Global report, "Women @ Work: A global outlook," released yesterday, the pandemic has had a significant impact on women and work, creating a "perfect storm" of more work, increased caregiver duties and non-inclusive behaviours in the workplace. The global survey of 5000 women across 10 countries reveals that 51% of those surveyed are less optimistic about their career prospects today, noting a 35-point drop in mental health and a 29-point drop in motivation at work compared to pre-pandemic times. Unsurprisingly, these conditions are having a detrimental effect on retention, turnover, productivity, motivation and overall satisfaction. Only 39% of those surveyed feel that their organization's commitment to supporting women has been sufficient since the pandemic began. However, the report shows a small proportion of companies are supporting women through the pandemic and creating a more inclusive workplace leading to vastly more positive outcomes. 
"The last year has been a 'perfect storm' for many women facing increased workloads and greater responsibilities at home, a blurring of the boundaries between the two, and continued experiences of non-inclusive behaviors at work," says Emma Codd, Deloitte Global Inclusion Leader. "While the adverse impact on women's wellbeing, motivation, and engagement is obvious, our research also shows that some employers are getting it right: The women who work for these organizations are more engaged, productive, and satisfied with their careers. As we start to rebuild workplaces for the future, we have a golden opportunity to get gender equality and inclusion right and avoid setting back years of progress."
Wellbeing & Women on the Wane 
The pandemic outbreak has led to an increased workload for 77% of women. This surge in hours and tasks overlaps for many women: 59% report that they're spending more time on domestic tasks, 35% more time caring for children and 24% spending more time caring for dependents other than children. More broadly, 66% of women report they have the greatest responsibility for household tasks. As a result, quality of life is starting to suffer, with many of the more social aspects of everyday life falling by the wayside. In fact, women report significant decreases in things like the quality of their relationships with their friends (45%), the amount of time they have to pursue hobbies and interests (47%) and the quality of their relationship with their partners (30%). 
These conditions have serious implications for wellbeing. Pre-COVID, 68% of women rated their mental wellbeing as "good" or "extremely good." Now, that percentage is just 33%. There are similar drops in numbers for "good" or "extremely good" work-life balance (70% pre-pandemic vs. 33% now) and physical wellbeing (68% pre-pandemic vs. 41% now)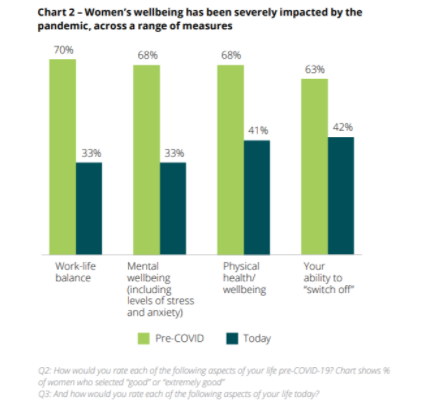 "Always On" Culture Causing Harm 
With almost a third of women (31%) feeling like they are unable to "switch off" from work, there is a dangerous environment of fear of being left behind or missing out driving increased levels of stress. Over half of respondents are worried that switching off will affect their career progression (52%), while a third (33%) say they're concerned about being excluded from important projects or that their organization may care less about them. 
Despite the global transition to a more virtual or hybrid way of working, presenteeism is still a persistent problem, with 63% of respondents saying their employer judges them for the amount of time they spend working online everyday.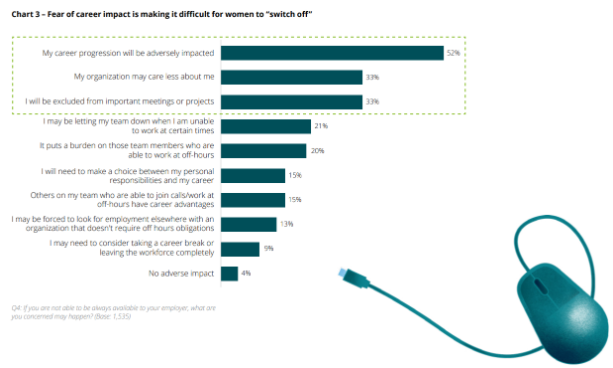 Non-Inclusive Behaviours Driving Women Away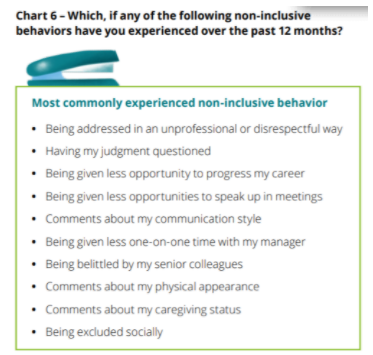 Another worrying trend is the ongoing occurrence of non-inclusive behaviours experienced at the workplace. According to the report, over half of women surveyed have experienced harassment or non-inclusive behavior in some form at work in the past year. These experiences include unwanted physical contact, comments about communication style, comments about physical appearance and being given less opportunity to progress in their careers. Nearly a quarter (23%) of women who did not report non-inclusive behaviors said they did not think the behavior was serious enough, while 14% said they didn't think their complaint would be taken seriously. 
Marginalized groups were more likely to have experienced non-inclusive behaviours at work, demonstrating the importance of an intersectional perspective on building a more inclusive workplace. The results show that LGBT+ women are nearly five times more likely to have experienced belittling gender-related comments. Furthermore, one in 10 women of color say they have experienced race-related comments in the workplace and are more likely to have experienced comments about their communication style than white women (15% of women of colour vs. 5% white women).
What can be done? Look to the "Gender Equality Leaders." 
While these results paint a fairly pessimistic picture of the current state of women and work, there is a path forward. As part of the report, Deloitte researchers have identified a group of employers they call the "gender equality leaders" who have successfully supported their workforce through the pandemic and created an inclusive environment. While these gender equality leaders represent only 4% of respondents, the benefits of creating a more psychologically safe, trusting and inclusive atmosphere at work have been striking. In fact, women who work at these organisations say they: 
"Feel confident about reporting when they have encountered non-inclusive behaviors, without concerns of adverse impacts on their careers
Feel supported by their employers in their efforts to balance their work responsibilities with other commitments
Believe that their careers are progressing as fast as they would currently like, and that their employers are offering them development opportunities."
Compared to less inclusive companies - which Deloitte researchers class as 'lagging' organisations - these gender equality leaders show amazing results when it comes to productivity, retention and satisfaction. Specifically, 70% of women who work for leading organisations list their own productivity as "good" or "very good," compared to just 29% of lagging organisations; 72% of women who work for gender equality leaders rate their job satisfaction as "good" or "extremely good," versus 21% of women who work for lagging organisations; and, most strikingly of all, 70% of women who work for leading organisations intend to remain with their current employers for two or more years, compared to just 8% of women at lagging organisations.
These results speak for themselves, but what are some of the specific features of these gender equality leaders? Crucially, they have women in top leadership roles. In fact, 38% of the women respondents at leading organisations report that their leadership team is gender diverse. Only 6% of the women at the lagging organisations say this is the case for their leadership. 
"Our survey respondents are clear about what needs to be done to reverse the pandemic's disproportionate effects on working women," says Michele Parmelee, Deloitte Global Deputy CEO and Chief People and Purpose Officer. "As organizations look to rebuild their workplaces, those that prioritize diversity, equity, and inclusion in their policies and culture and provide tangible support for the women in their workforces will be more resilient against future disruptions. Additionally, they will lay the groundwork needed to propel women and gender equity forward in the workplace."
As these results show, the pandemic has taken a heavy toll on women and this is reflected in the more pessimistic outlook many now have on their careers and futures. Leaders will need to look to the example of the "gender equality leaders" and strategize to make significant interventions, offering better support and preventing these women from leaving their jobs or dropping out of the workforce altogether.
To download a copy of the full report, click here.