Life @ Work
Expats find settling in India easier but Indians find it tough to belong abroad
Relocation has a strange correlation in the context of India and Indians. While it takes about an year for 80% of expats to settle down and feel at home in India, 33% of Indians who relocated abroad feel they don't belong in their new communities.
International citizens relocating to India experience a higher level of ease when it comes to settling in and feeling a sense of belonging, HSBC's latest research has found.
Of the surveyed expats who moved to India, 80 per cent felt at home in less than a year, with an average settling-in period of 7.4 months - shorter than the global average of 8.3 months. Thirty-six per cent felt at home almost instantly, 23 per cent in less than 6 months, and 21 per cent in six months to a year.
However, the study also highlights the difficulties that a number of Indians (i.e. those born in India) face when moving abroad, with 33 per cent of Indians who relocated abroad feeling like they don't belong in their new communities.
According to HSBC's research on international citizens, although the primary motivation for relocating abroad is the prospect of a better lifestyle for nearly one-third of global respondents (29 per cent), the road to feeling settled with a genuine sense of belonging is not always easy.
The study, which surveyed over 7,000 individuals who have moved or are planning to move abroad for work, study, or living purposes, found that the average time it takes for international citizens to feel at home in a new country is approximately eight months. However, for almost a quarter (23 per cent) of those surveyed, it takes more than a year to feel settled.
The study also reveals stark differences between generations and their ability to settle in a new location.
Gen Z respondents were less likely to say they feel like they belonged in their new location, with only 56 per cent reporting a sense of belonging, compared to 70 per cent of those aged 35 to 64.
When asked about strategies to help them feel more at home, putting in the effort to connect with others and experience local culture comes top.
Surprisingly, learning the local language did not make the top five strategies, suggesting that language proficiency is not necessarily a barrier to belonging, although more than a fifth (22 per cent) of international citizens globally still embraced it.
In India, expats with families found it easier to settle down by finding a suitable school for their children, with 69 per cent reporting success in this regard. Participating in school activities and events emerged as the top factor that helped expats feel settled in India, with 29 per cent agreeing that it contributed to their sense of belonging.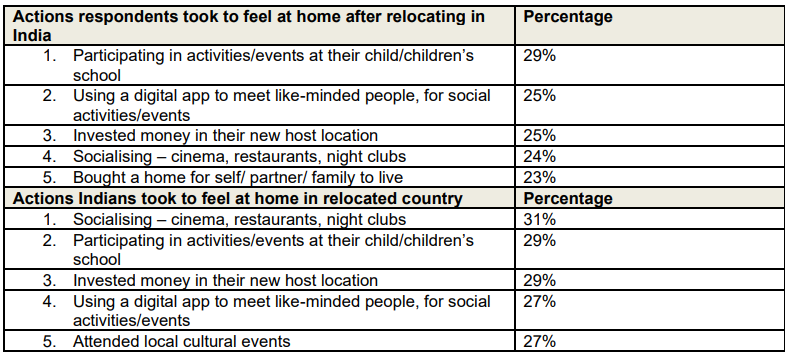 The study also delves into how personal circumstances can affect the length of time it takes for someone relocating abroad to feel settled.
Among the global respondents, over a quarter (28 per cent) of solo expats (those travelling without a partner or family) took more than a year to feel at home, compared to a fifth (21 per cent) of those travelling with their partner/family.
In contrast, digital nomads tend to feel settled much faster than solo expats, with more than half (55 per cent) feeling at home within six months, compared to 45 per cent of solo expats. This could be due to their ongoing connection to their support network of family and friends back home, with the majority (72 per cent) of digital nomads having this in place, compared to 53 per cent of solo expats.
According to the study, some locations are more welcoming to those relocating from their home country.
The United Arab Emirates and India are among the places where respondents reported settling in quickly, with 40 per cent and 36 per cent respectively feeling at home "almost instantly." In both locations, business networking plays a significant role in helping international citizens feel settled, with 36 per cent in UAE and 22 per cent in India citing it as a key factor.
Sandeep Batra, HSBC India's Head of Wealth and Personal Banking, says he has  personal experience of the challenges that come with moving to a new country, and despite the enriching experiences and friendships gained, empathises with others making the change.
"Drawing on the experiences of our colleagues and friends who have lived abroad for work and/or study, we were inspired to launch the 'Unforeign Exchange' initiative. This initiative seeks to facilitate a sense of community and belonging for those going through a similar transition by providing a platform for sharing stories on social media and seeking advice from our partners and colleagues on how to acclimate and connect with others in a new environment. We want them to feel at home, with a sense of belonging when they relocate abroad."
The Unforeign Exchange draws insights from HSBC employees, influencers, and celebrities who have personal experience relocating abroad and offers a collection of local tips and recommendations that cannot be found through conventional online searches.