Life @ Work
Flexible workplaces: Empowering the workforce
A look at why on-demand workplaces increases productivity and how HR leaders can foster a flexible workplace.
Business work models across the globe are changing and how. Thanks to the rapid development of technology, changing priorities of the workforce and a competitive talent pool, flexible workplaces are undoubtedly the future. It's no surprise that flexible workplaces are changing the way we attract talent, and this trend became evident as early as 2016. According to a study released by Aspen Institute's Workforce of the Future survey, "...over 60 percent of companies are said to use on-demand or contingent workers, and 70 percent of employers predict that more companies will move toward a gig-based labor model in the future". Cut to 2019 and this trend has intensified and evolved to an even greater extent. 
Given long commuting time periods, poor road infrastructure, traffic snarls and unreliable public transport, conventional work models are increasingly no longer viable. This rings true not just for employees, but for companies as well. Traditional work models and unrealistic expectations from the workforce are costing companies talent and slowing down their pace of growth. 
What is a flexible workforce?
With more people opting out of traditional work models, the definition of a flexible workforce is ever evolving. Having said that, this type of workforce typically includes a mix of part-time employees, contingent workers, freelancers, independent contractors, and gig workers. The work may be seasonal, project-based, or contracted and is usually done remotely. According to a 2016 article in Fortune magazine, "… flexibility isn't a collection of policies or programs. It's a way of doing business, one that is attuned to a particular workplace, that cares for and trusts employees, and that is tied to strategic goals." That is precisely why it is essential that companies realize the potential of flexi-professionals and the many benefits they bring onboard.
The HR point-of-view
It has now evident that traditional job structures will soon be a thing of the past and our workplaces are heading down that way. With a rise in the number of freelancers, remote workers and contract-based professionals, human resource professionals need to look at retaining talent across all work models: full-time, remote or freelance. This will not only allow companies to hire talent from across the globe but also help save expenses on payroll, healthcare, and PF, among others; thereby, making the decision to hire flexi workers an excellent business decision as well.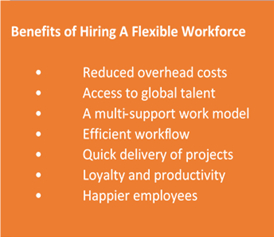 Furthermore, research also indicates that contract and freelance professionals are well-suited to businesses with high fluctuations in demand – for instance, event management, hospitality, and retail. One of the critical issues these industries face is that of the high cost associated with the constant turnover of staff. The expense of recruiting someone, onboarding them, setting up their payroll only to have them switch companies in a matter of a few months or years, can be a cash flow burdensome businesses don't want to bear.
It is crucial that companies adapt to this emerging trend and consider diverse models of employee
Flexi-hoursengagement. As highlighted in a recent article on Entrepreneur.com, a few large businesses are already thinking outside the box. For example, the US-based supermarket giant, Woolworths' new business - WooliesX - that combines its digital, e-commerce, data, and customer divisions. The brand has not only re-organized around the customer, but has also has natively built-in lean, agile work practices. Among the lessons that the article contains for other companies to learn from such organizations, it states "while having the digital tools in place is important, having executive leadership promoting robust cultural transformation, alongside disciplined execution is equally as essential." Here are a few methods HR professionals can adopt to help retain talent in the age of flexible workplaces:
Giving employees the option of choosing their work hours can go a long way in increasing productivity. Except for meetings and critical project deadlines (that require all team members to be present in the office), companies must offer their employees with flexi-hours. A strict 9-to-5 routine does not necessarily promise productivity, and it is high time companies realize the same. Creating a new culture of work by letting employees choose their own work hours and maintain a work-life balance make a world of a difference to the employees. For example, rather than spending an hour commuting to work during rush hour traffic every morning, an employee can come in by noon and choose to leave a little later in the day. Or even come in much earlier, say 8 a.m. and leave by 4 p.m. to attend to personal errands. 
Remote working/Work-from-home
A quick search on Google reveals that high employee retention and a happy workforce are results of a flexible work environment. Recent studies (https://www.inc.com/scott-mautz/a-2-year-stanford-study-shows-astonishing-productivity-boost-of-working-from-home.html) have indicated that giving employees the freedom to work from where and when they feel the most productive, rather than forcing them to stick to a certain schedule, delivers much better results. This option is especially beneficial for women with children (and with no family/professional support) and those with specific health concerns; reasons that otherwise restrict them from engaging in a full-time role.
Quirky workspaces
Tying up with on-demand service providers across cities is a great facility to offer the freelancers you bring on board. Such spaces are cost-effective, give workers easy access to Wi-Fi and other work-related features, and provide employees with a dedicated workplace with like-minded individuals. They improve networking opportunities and give people a complete office experience minus the structured workflow.
Autonomy at the workplace
We all know that breathing down someone's neck isn't going to get them to work; in fact, it reduces productivity and enhances the chances of a conflict. Leaders and managers need to understand that consistently monitoring and managing their team pick their schedule is exhausting and counterproductive. What HR professionals need to ensure is an office with minimal hierarchies and a flexible structure in place. Allowing employees to structure their time and plan their vacation time is essential to make a workplace truly flexible. Ensuring that they don't take their work back home or work post the set work hours (for freelancers), and aren't forced to work when on vacation is also equally crucial.
Tools and training 
Ensure you provide your workforce with the tools that help them grow at work. Get on board with new-age digital solutions and encourage them to sign up for online learning programs in their line of work. You could also look at hiring professions to organize in-house training programs, workshops, and similar activities. When an employee knows their company encourages learning at the workplace, they are inclined to give better results.
Conclusion
In a nutshell, it's now evident that Indian employers must look at alternative workflow patterns that allow for flexible working. The benefits are immense - at the managerial level and at an employee level - and it's definitely the way to go. To all the employers out there - rethink your work policies and give your workers a convenient and positive work atmosphere. Growth is then a given, not an option.