Life @ Work
Is finding a job of convenience the key to solve talent crunch?
There is a need to focus on a combination of competency and interest to crack employee engagement.
The shortage of talented manpower has been a key challenge area for employers.
According to survey by Manpower Group, the shortage of talent is on a 12 year high and recruiters find it difficult to fill skilled positions. Data indicates that there is also a shortage of applicants. These jobs require hard & soft skills. In India, the talent shortage is about 56% whereas the global average is 45%.
Companies are already identifying various methods of upgrading their employees' skills – using OJT (On-the-job training), ODT (Outdoor training) sessions, Seminars and hiring an outside agency.
On the other hand, nearly half of the world's employed population are unhappy in their jobs, according to a study by Kelly Services. While there may be many reasons for this, the macroeconomic environment has forced companies to deal with fluctuations in the headcount. According to the survey, almost half of the respondents changed their employers in the past year where personal growth and advancement was regarded as most important reason.
These findings indicate a hassle between shortage and retention of talent.
A parameter that could help closely link the shortage of talent with retention of talent is what I'd like to call a job of convenience (JoC)". When there is a convergence of factors such as job satisfaction, competence and personal growth, this would result in positive impact, while these factors diverge, it leads to a negative impact. The role of the leadership in establishing culture of reward for performance employers will be key in setting a conducive work environment.
Here are a few tools companies can use to bring these factors together:
Career lattice involves giving your employees an opportunity to not just move up a fixed career ladder, but also take advantage of other parallel opportunities. There are a set of pre-defined guidelines to check eligibility to fill a vacant position from the available in-house talent pool.
STEP 1: In this method, employees are scrutinized based on the past performance in their present job role, which could be assessed from a performance management system (like Weight standard approach, 360 degrees, Management by objectives, Balanced Score Cards etc) adopted by the organization.
STEP 2: These employees are then be nominated for advance functional and cross-functional training where the employee has a leverage to attend or not to depending on his interest type of training method adopted here is OJT.
STEP 3: Employees are trained depending on the skills required for the position they are going to fill tenure of training may vary from organization to organization generally it is one year at least. This training is closely monitored where 360-degree feedback (i.e. from subordinates, superiors from customers, suppliers, and present department) is taken about trainee.
STEP 4: Based on results training may extended/ canceled or close successfully.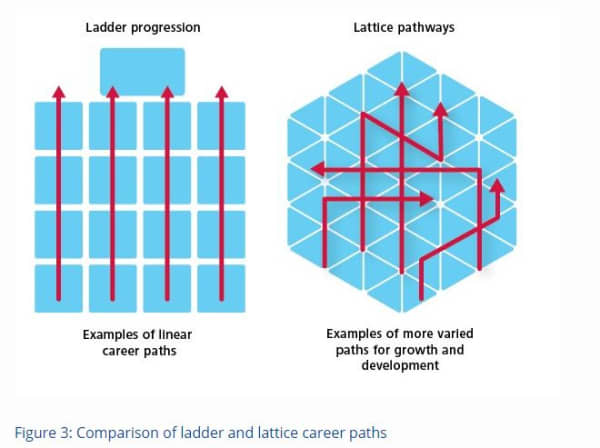 Credit: Deloitte Report on the Career Lattice
Career Lattice is a continuous process for generating talent pool within the organization for future requirements, this method should be executed with precision. to assess himself and know his limitations and interest.
Other ways of assessing a job of convenience is through:
Psychological assessments that are conducted to check the emotional and professional development of employees. There are a number of online tools are available like SHL, Thomas etc.


Competency mapping + Job analysis could be conducted if job analysis is done for every designation in the organization where a fresh feedback from the departmental head is taken on a pre-defined scale for behavioral and professional parameters.


Promotional interviews, jury members interview shortlisted employees who fulfill after all assessments for the final conversation before making the final decision.


The role of leadership is crucial understanding the importance and timely adoption, implementation of above-mentioned techniques will give you the upper hand over global factors effecting talent. By generating "Positive JoC" hassle between shortage and retention of talent could be efficiently addressed.