Life @ Work
Is the 70-hour workweek fundamentally incompatible with employee wellbeing?
Where does employee wellbeing and holistic care feature in the 70-hour workweek debate? Let's find out.
The debate around Infosys co-founder Narayana Murthy's opinion on the 70-hour workweek is refusing to subside, with business leaders, health experts, academicians and professionals voicing more opinions and providing more context. Critics have pointed out that data from the International Labour Organisation (ILO) shows Indians are already among the hardest workers globally. According to ILO, Indians contribute an average of 47.7 hours per week per employed individual as of 2023. Furthermore, when this number is compared with the ten largest economies in the world, India has the longest average workweek. 
Others have sought to highlight the findings of a recent survey from the McKinsey Health Institute conducted across 30 countries. The survey results show that Japan lags the world when it comes to employee wellbeing, as it scored only 25% in the poll, the lowest among all nations surveyed. While India scored 76% and was placed second in this regard, Japan's performance gained prominence as Murthy gave the example of Japan and Germany while suggesting that young professionals work 70 hours a week.
So, where does employee care and wellbeing figure in this discourse?  
Harsh Goenka, Chairman of RPG Group, touched upon a vital aspect of the conversation, sharing that the 5-day office week is dead and flexibility is worth as much to people as an 8% raise. He further explained that in the hybrid work model, wellbeing takes on a different meaning, adding that 'we value most is skipping the daily commute and the sense of flexibility'. He emphasised that the number of working hours does not matter, but individual ambitions, purpose and productivity are more important. He summed up his comments, saying, 'It's time to prioritise what truly matters in your work life!'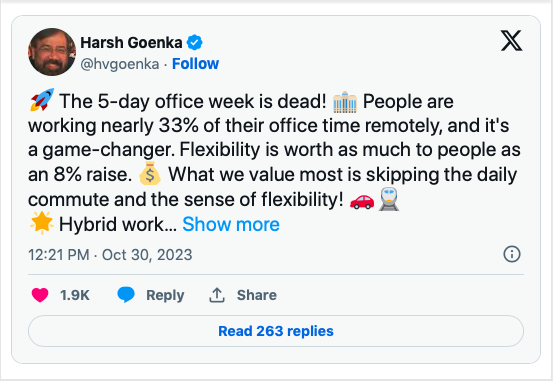 Mukesh Bansal, founder of CureFit and Myntra began his LinkedIn post by saying that the number of working hours and life priorities are a personal choice for individuals. He wrote about the importance of health, wellbeing, family and peace of mind, besides having a career. While he touched upon increasing the remuneration proportionally for longer working hours, he also brought to the spotlight aspects like productivity and learning, ending his post with 'we can't virtue signal or shame people into putting in more hours.'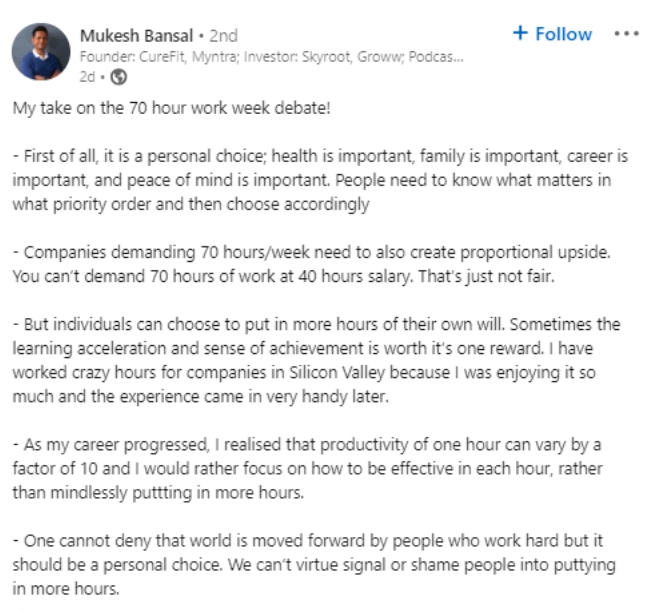 After her Shark Tank colleague Anupam Mittal endorsed Murthy's comments, Namita Thapar, Executive Director of Emcure Pharmaceuticals Limited shared a different take, directly addressing Mittal. Sharing glimpses of her Halloween celebrations, she brought to light the fact that working 70 hours every week, in addition to the time spent commuting to and from the office, will leave no time to be with family and care for mental health.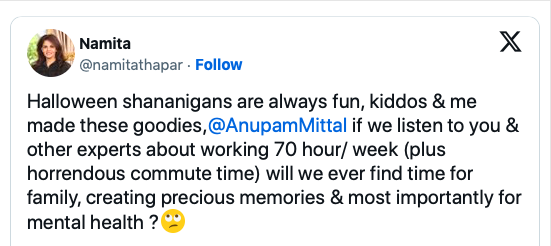 Adobe's Shantanu Narayen, while interacting with students at the Osmania University, shared, "People should do what they want without taking the victim mentality – that I am being told what to do. You are more in control of your career, your destiny, than you give yourself credit. At the same time, you only have yourself to blame if you don't like what you do." 
Dhriti Prassna Mahanta, VP and Business Head at TeamLease, also stated that a 70-hour workweek could potentially raise compliance issues as it violates existing labour laws.
Beyond the business world, people like Dr Deepak Krishnamurthy, a Bengaluru-based cardiologist, have also tried to dissect the 70-hour workweek to give a breakdown of the time spent doing different activities. On X (formerly Twitter), he wrote that such a working environment will leave no time to socialise, exercise, recreate or even talk to family members. He also connected this viewpoint to the rising cases of cardiovascular health problems in the younger population of the country.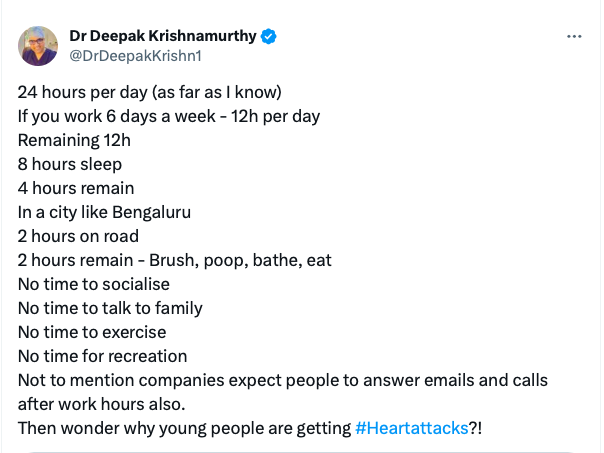 On a lighter note, stand-up comedian Vivek Muralidharan gave a similar breakdown in a now-viral video, which left many people wondering how such a work schedule will impact the health and wellbeing of working professionals.
It might also be helpful to get the perspectives of professionals in industries that non-negotiably demand gruelling working hours with unpredictable schedules and little chance of stability. Medical healthcare professionals have long complained of unrealistic working hours and pressure and were recently pushed beyond their limit during the pandemic. Kinshuk Gupta, a medical student, describes the harm that long working hours have caused doctors in the medical industry. In his opinion, "Such a proposition ignores the logistical challenges of transportation, stilted work-life balance, reduced time to sleep or socialise, and poor quality of relationships. Moreover, it makes the already skewed equation far more challenging for working women who have the additional responsibility of tending to their homes and children." 
Similarly, another field that requires workers to submit to extended working hours is the entertainment industry, where actors and production crew members can put up to 20 hours of work on set in a day. Actors, particularly those working in the TV industry, have raised concerns about hectic work schedules, lack of work-life balance and unhealthy ways of working, although this conversation is at a nascent stage.
To sum up, Murthy's comments have ignited a fierce debate in and outside the business community on the best approach to maximise employee productivity. Additionally, it has elicited a variety of perspectives highlighting the importance of providing a healthy work environment to employees and forced leaders to consider how they can best care for their workforce. 
To get a more nuanced understanding of the issue, join us at the People Matters Total Rewards and Wellbeing Conference on 7th November 2023 at Leela Ambience, Gurugram and participate in insightful sessions led by industry pioneers and experts. Register now!