Life @ Work
What is slowly killing the Indian organizations from inside?
The mismatch between the decision-making capacity of the person and the decision-making requirements of the role is the biggest malaise that is ruining Indian companies.
What is going to separate the progressive companies from the laggards? Why with change of leadership suddenly a sluggish company picks up pace and starts to grow?  Have you seen companies which were great once but slowly inspite of having all the resources and financial muscle they dwindled to obscurity? Well one of the key reasons for all of the above would be that the company failed to take the decisions at the right time. Such decision could have been about restructuring the organization, diversifying, launching new products, executing projects, product development and so on & so forth. So the question is why highly educated and trained executives fail to take timely decisions. What is stopping them? 
In our years of working in corporate world and now being deeply involved with the psychology of employees, we have found that the mismatch between the decision-making capacity of the person and the decision-making requirements of the role is biggest malaise that is ruining Indian companies. And this problem has now become genetic – it has got hard wired into the genes of the companies. The employees take this virus from one company to another under the garb of process and systems. We observe that this virus is sometimes missing when the organizations are very small but creeps in as the organizations starts to grow and they hire experts from other big infected companies. 
Unfortunately, today organizations do not even know what is the speed and style of decision making that is required in a particular job role. Their whole focus is on the technical qualifications and experience an incumbent should for performing a particular role. Decision-making style is not even mapped. For example, in one of the companies, the job role was for a leading retail function for a new division in the company. It was a new role. As the position was critical so the management hired a very experienced person who was a convincing talker. There was nothing done to ascertain the decisions making style of the person. After 6 months, the person turned out to be a disaster. So in retrospect when the Predictive Index behavioural analysis was done for both the position and the person, it turned out that while the role required a quick independent decision maker who could take calls with limited information, the incumbent was a person who would take a lot of time to deliberate on things and often needed assistance of his manager for guidance in final decision making especially when faced with unfamiliar situations. So the net outcome was procrastination, to and fro movement of emails, meetings, discussion but no actual decisions.  
Today, organizations have been on an overdrive to provide fancy designations to its employees – such as Head of xyz, Partner, Director, VP Sr. VP – but they have not accompanied it with 'real decision-making' powers that should come with increase in responsibilities and broader work profile. Companies talk about entrepreneurial spirit among its workforce – but just check out the independence they have provided to their workforce to make real decisions and own the outcome. 
Now what do we mean by real decisions? Well it means that how much freedom a company delegates an employee, in terms of making financial commitments without having to run it through their superiors. I am sure we all often come across people with huge designations and workload in companies but not having an iota of independence to spend even a few thousand bucks on their own! All the trust, responsibility, credibility and leadership qualities of a person vanishes ones it comes to taking the decisions which have even a minuscule financial outflow associated with it. The outcome of all this is that there is no experimentation that happens in these organizations, no new ideas are implemented, everyone plays safe like a government bureaucrat, only novel ideas with no cost implication are permitted and appreciated because even if such decisions go wrong – the company has not lost anything explicitly! 
I remember a classic example of indecisiveness. This happened many years ago, when the purchase and legal team negotiated a carbon credit agreement with me for almost 1.5 years on retainer fee and legal clauses. By the time everyone said yes from their side, the project was no more viable! Even though the technical team knew the necessity to move fast but they had no power to grant the project due to finances involved in it. Normally this decision should have taken about 6 to 8 weeks, and had they done it, it would have given them a huge profit, many times their investment! Did the company lose anything explicitly? No. Did they lose a huge opportunity to make money due to indecisiveness? Yes.  
With this conservative mindset, companies over the years – have made processes to make sure that the money is not being irresponsibly spent by otherwise well paid, highly educated and fat designation carrying executives! As a result organizations knowingly or unknowingly have stifled & burdened the quick decision making roles with complex processes, purchase department, finance department and loaded it with number of unrelated decision makers – who have the veto to say no but not to say yes.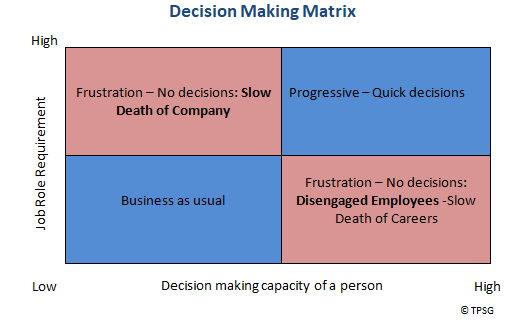 Companies have shackled themselves with heavy chains and simultaneously they daydream of competing with the hyperdynamic new age competitors that they will be confronted with in near future. As a result, as shown in the graph – companies would have faced either attrition of good people or slow death of its operations and profitability. Worst thing to do is placing a slow or thorough decision maker in roles that require quick calls or vice versa. Either of the case directly or indirectly destroys both company and the individual's career.
Companies who are able to place right people in the right quadrant, will be the ones who will survive the onslaught of technology-driven competition in near future. Speed would be pivotal for not only progress but even survival of companies. A quick learning from bad decision will be much better than no decision. 
So how do organizations transform themselves? Well, to start with they can follow the following 3 steps:
Step 1: Do an audit of how much time did recent decisions take from the ideation table to implementation. Where were they stuck? How many stakeholders are involved in making a single decision? Benchmark the current as-is situation in your company. 
Step 2: Analyze the decision-making requirements of all the unique roles in your company. Determine the decisions making style and speed of the individuals. Match the two using behaviour and cognitive assessments such as Predictive Index, Hogan, Wonderlic, Strength-Finder etc. apart from the skill/knowledge requirement.  
Step 3: Provide freedom and room to their decisions makers to make mistakes and let them learn from it. Hold them responsible and answerable for the decisions but do not stifle them. When defining the process for big expense items too, make sure precedence is given to speed than conservativeness.
Overall the organizations will end up making much more profits by virtue of taking decisions vis-à-vis losses it can avoid by not taking wrong decisions. Even more importantly, the speed to decisions making is what is going to differentiate between companies which will exist and the ones that will perish in spite of having a good product or service offering.