A Brand Reachout Initiative
Payroll & Benefits Administration
How RazorpayX Payroll is innovating solutions for your payroll needs
Investing in the right payroll solution is critical for the smooth functioning of HR and ensuring that your employees have easy access to self-service tools. Razorpay Payroll software is built for startups and offers payroll services that empower businesses.
Processing payroll is one of the most challenging HR functions yet hidden in the backdrop. However, due to the recent rapid digital transformation, payroll business solutions are rising in demand. These solutions also cater to compliance needs and several employee benefits ranging from leaves to health insurance. 
While most major corporations have found it easy to implement these, for SMEs, the struggle remains to find technologies that can adapt to their unique needs and context. An exclusive Neobanking report for SMEs in India has pointed out that businesses lose about 113 hours per year and Rs. 4.5 lakhs in the payroll process alone due to continued dependence on traditional systems.
This is where RazorpayX Payroll comes in as the payroll software designed explicitly for startups. Having served over 2000+ companies, its payroll services have fulfilled its goal to 'manage, pay, and insure employees.' 
Razorpay's CTO and Co-founder, Shashank Kumar, also highlights the vision of RazorpayX Payroll by talking about the fragmented market in India for payroll solutions. 
"There are 57% of Businesses in India who still rely on paper or excel sheets for payroll management and processing. This has led to multifold errors and is a tedious process for the finance and payroll teams in any organization, and this is exactly what we are working towards changing through the RazorpayX Payroll product suite. With an intelligent technology solution, we are fast-tracking a few years by making the entire payroll process simple, easy and efficient for businesses", said Kumar. 
As businesses rework their strategies to adapt and thrive in the hybrid workspace, investing in a payroll solution that takes care of all the backend processes efficiently reduces the pressure felt by HR while simultaneously improving the employee experience. In addition, it meets organisational needs and empowers HR functions to become more strategic and streamlined. 
Greater efficiency in HR Management
From onboarding to exit management, RazorpayX Payroll makes HR operations easier by offering a single dashboard for managing leaves, attendance, and reimbursement. In terms of leaves and attendance, one can customise their company leaves and shift timings and make their unique holiday calendar. 
There are also features for uploading & managing employee documents online to access employee payslips, salary, and tax declarations. In just three clicks, the software also automates calculations and compliance payments such as PF, PT, TDS, & ESIC. 
Moreover, along with executing payroll in less than 10 minutes, it also gives insights into the entire payroll process by preparing several reports that detail various things such as:
Salary Register: details of past and upcoming payrolls
Master CTC Report: employee CTC break-up
HR Register: past & current employees and contractors
Variance Report: view & compare payroll, compliance, and employee count trends
And more.
These features help modernise HR functions in hybrid working conditions when most virtual activities.  
"As a small team, we do not have an HR or Accounts Team. RazorpayX Payroll has allowed the senior management to perform HR and a bulk of the payroll, reimbursements, and contractor payment functions with ease. The support has been excellent," shared Sachin Ravi, Founder of Walnut Knowledge Solutions.
Automated compliance processes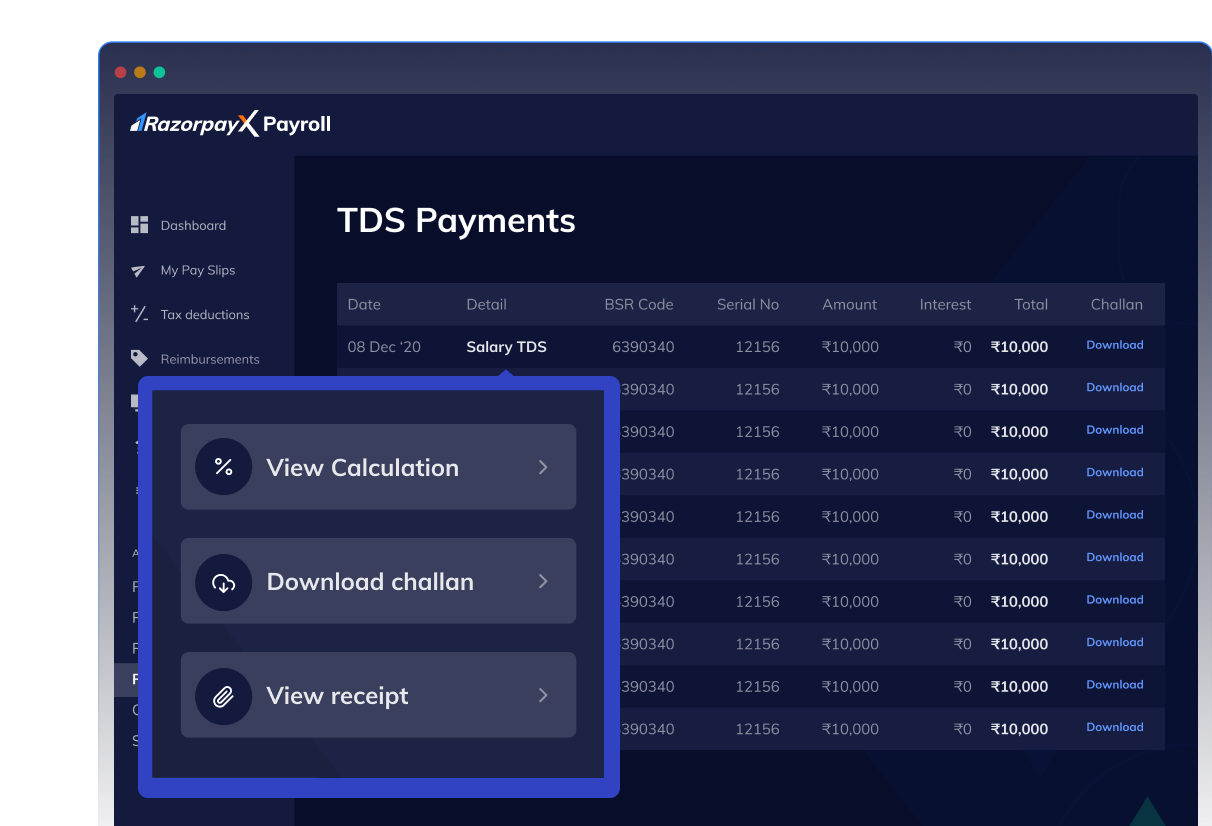 Jaisal Mariwala, Founder & CEO of Mindt, said, "RazorpayX Payroll's interface is so intuitive and automated that a seven year old could run payroll for a business every month in just minutes. The time and administrative headache it saves for businesses vs what I've seen in my past experiences is comical. No bulky excel sheets, no deduction calculations, no manual compliance filings. Not only does this all enable you to run lighter, it also let's your HR and operations functions focus on the strategic things that matter."
Compliance functions add stress to the HR unit because it mandates strict protocols and complicated calculations. Therefore, a critical asset is a tech solution that automates compliance payments like TDS, PF, ESI, and PT and their periodic return filings. 
This software performs this very task along with recording a compliance report; however, it is the software's flexibility towards changing compliance & tax laws (e.g., dual tax regime) that deserves the most attention. In this rapidly evolving workspace, a business needs a flexible payroll solution to keep up with unprecedented changes. 
Best-in-class yet affordable insurance
Insurance is one employee benefit that is a must for any organisation to attract & retain talent. Still, it isn't always easy to find good insurance plans when your business is a startup. 
RazorpayX Payroll offers group health insurance to companies with as few as two members. Thus, it makes it easier for SMEs to have employee insurance plans. No matter how small or big your organisation, ensuring that your employees are taken care of and have a backup for any emergency is something that every company must fulfil.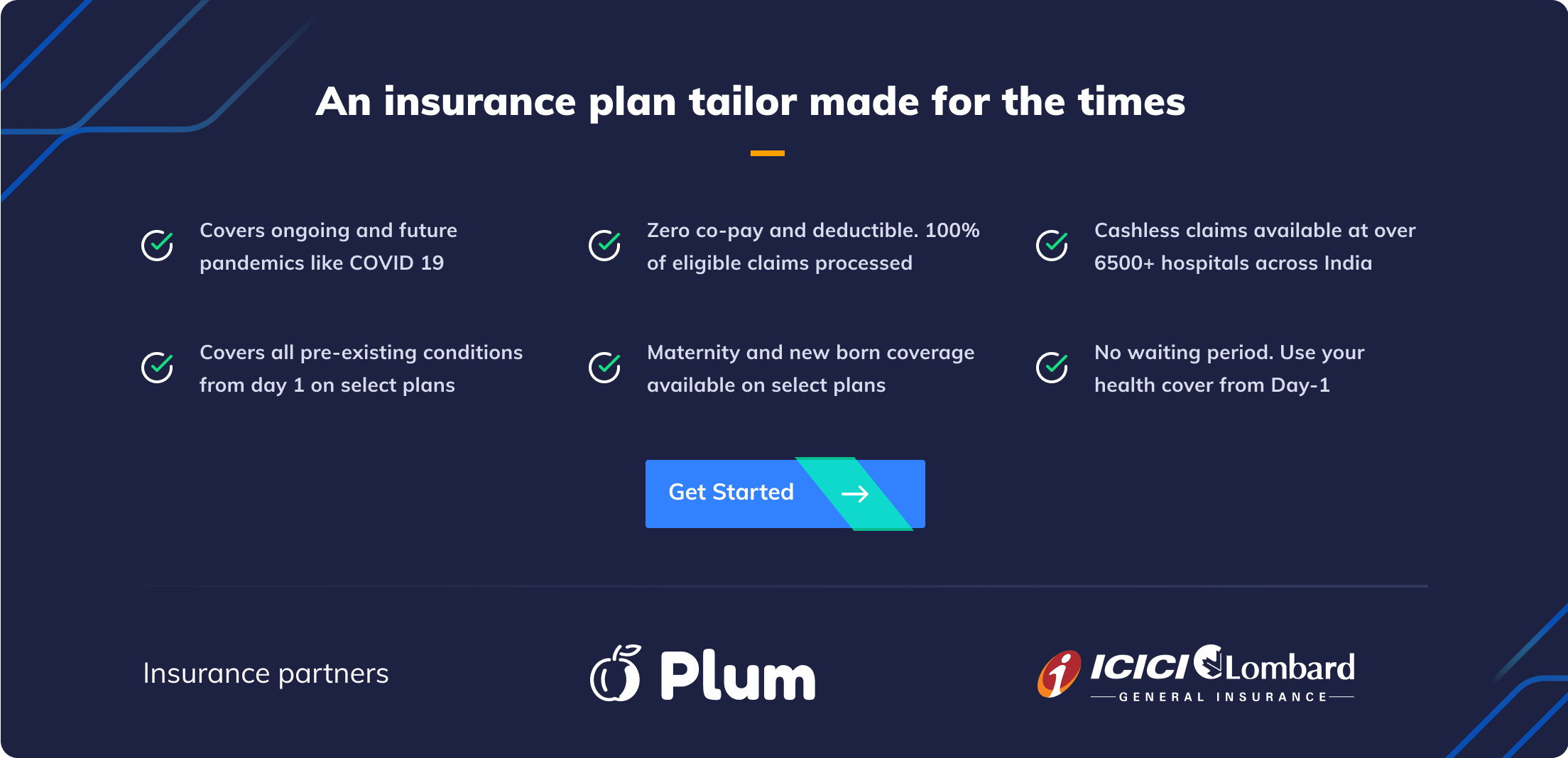 Simplifying self-service for employees
The necessity of payroll software is not simply limited to the HR department, but it also makes it easier for employees to self-serve. This solution takes care of most hard labour with just a few clicks, from applying for leaves to filling their attendance to applying for insurance and even reimbursements. And because it is also integrated with Slack, all these tasks can be carried out within the Slack workspace, making the entire process hassle-free and less time-consuming. 
Akashdeep Bansal, Co-Founder of I-Stem, commended RazorpayX Payroll for its wide variety of services and prompt response to any queries raised. He also highlighted the feature of accessibility as it easily works with screen reader services, becoming user friendly for employees with visual impairment. 
The future: cloud-based payroll services for modern workplaces
The rapid pace of digital transformation is a reality for all organisations, and as workplaces become hybrid, no organisation can move forward without investing in HR Tech. But this investment is also associated with realising the business goals and aiding in employee well-being by automating HR functions and enabling a smoother employee experience. 
Finding the right payroll solutions for startups is even more critical as they are in their growth stage. By choosing a platform that efficiently carries out all the tedious tasks associated with HR and offers employees an avenue to perform self-service and offer benefits such as insurance easily, RazorpayX Payroll paves the way for the growth of SMEs.