Performance Management
Fostering collaboration & contribution with continuous feedback
With most organizations transitioning to remote and/or gig working models, both employers and employees will need a communication channel that helps them create a continuous feedback loop in the 'flow of work'.
It's been almost five months since Seema, a Digital Marketer sat with her manager to discuss her goals, performance, and career development plan. They have had some conversations on and off, yes. But they have not been able to discuss it in depth and record it. She hasn't even had a lot of chances to speak to her peers as everyone, including her, is too occupied in juggling responsibilities at work and home. 
Seema who has a high potential is presently anxious and stressed as she is uncertain about the value and the impact her work is creating. And just like her so are many other employees. 
When employees appreciate how their individual work helps to advance goals they support and find meaningful, they are likely to be more engaged, motivated, and perform at a high level, as also stated by Deloitte's Human Capital Trends report 2020. 
In the new physically disconnected world of work, it is critical that the talent feels connected to the people they work with and the teams they are a part of. And they should feel that they contribute to meaningful work outcomes—understanding how their unique strengths are helping their teams and organizations achieve common goals. But how does one enable this culture of collaboration and contribution virtually? 
"Trust doesn't come easy to lots of managers and especially in instances of remote working.  That can make employees feel that their contribution isn't valued or appreciated. To provide employees greater clarity in performance measures, expected outcomes, defined timeframes and ownership deadlines, requires serious investment in digital tools and establishing processes," said Mandeep Maitra, Leadership, Transformation & Design Thinking Coach. 
The same thought was echoed by Co Founder & Partner, emotionally.in, Anita Belani. In conversation with People Matters, she said, "Remote or disconnected working has impacted the physical aspects of time and space but more importantly it has a greater impact on the softer aspects of interdependency, collaboration or the affinity that employees feel in the workplace."
To foster more collaboration and contribution among a geographically distributed workforce, what organizations need is a common platform, and app where employees from across the globe can share, organize, and analyze feedback, regularly and on a real-time basis. 
"Any platform or app that enables team fluidity where people can organize themselves in projects, recognize good work realtime, give contextual inputs on deliverables and collateral, would work wonders to build a culture of contribution and collaboration," said Ritesh Malik, Founder & CEO Innov8. 
The traditional feedback systems are holding back collaboration & contribution 
Currently, the feedback at work is scattered across various platforms such as emails and chat messages, the employee requires feedback curated in one place that can be used for performance and development conversations. Managers and peers usually end up sharing feedback retrospectively at the year-end appraisal. Feedback is barely actionable. But the pandemic has catapulted organizations into a new hybrid work structure, where some employees go to the office space, factories and/or on field, others work from their home. Additionally many have also opted for gig-working models. 
The older feedback systems need to be thrown out of the window as they no longer make any sense in the new reality of work. It is time to embrace the simpler ways of having development conversations that drive more collaboration and contribution.
"To address this challenge business heads, CEOs and HR need a software which can help them get relevant data on employee performance and feedback across various clusters of project teams," shared Samarth Masson, Co-Founder, Dockabl & Clink in a conversation with People Matters. 
To ensure that the entire workforce is aligned, and contributing and collaborating towards a common business goal, business heads and HR will now seek a software that can help them get relevant data on employee performance and feedback across various projects and tasks being delivered virtually.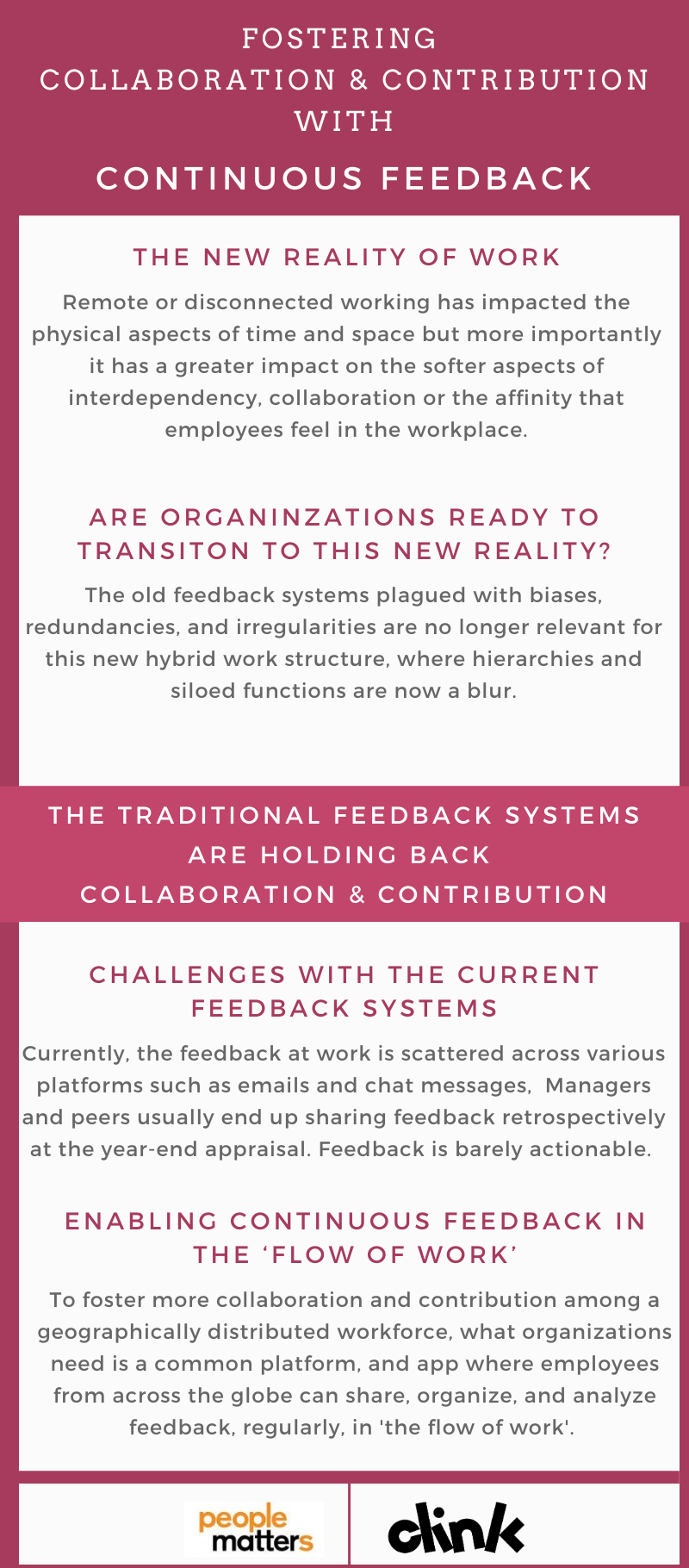 The good news is that as the way of working changes and the organizations across the globe embrace the new reality of work, the HR and work tech market is also evolving and more innovative solutions are emerging. The latest innovation is led by Dockabl, a leading HR tech firm digitizing performance management experience for over 30 organizations since two years. 
Enabling continuous feedback in the 'flow of work'
Performance management isn't only about the rating and comments you get from your manager. It is contextual and timely feedback across work, projects, interactions, meetings etc. which take place on a daily basis. This daily feedback and regular conversations is what guides, directs, and inspires employees across the board and job functions become better at their job. With this thought in mind, Dockabl's team went on a nine month journey to innovate their solution and help organizations enable continuous feedback in the 'flow of work'. 
"We've gone through over 30 implementations with some of the most progressive customers. As we moved from one implementation to the next, we always asked ourselves, what can we do differently on our tool that can drive higher adoption and engagement for individuals and teams? What is that solution that can just seamlessly fix itself to the already overly tool overloaded lives of our target customers? What can we build that is so invisible and yet so impactful that it could probably replace any formal review and assessment system or tool globally and become that disruptor, the new norm of enabling individual and team performance," said Masson. 
After much iterations, many discussions, and days and nights of hard work, came the breakthrough. An insight which is now driving the development of Clink. 
Masson reminisced, "They say that one of the toughest things to do is to simplify and solve one more problem really well. We dropped all our preconceived notions and for a couple of months, forgot about what our competitors are doing, approached the problem by the very first principles. Our product team got into an intense product war room and built a prototype." 
The prototype has now come to life. Named Clink, the feedback sharing app by Dockabl is here to help share, organize, and analyze feedback. 
Here's how Clink enables continuous feedback in the 'flow of work' and helps in fostering collaboration and contribution:
Changing the art of giving feedback
Clink enables employees to share recognition and constructive feedback in the framework of a 'Cheer' & 'Boost' respectively. Its functionalities like 'Cheer a peer' on work well done or 'Boost a peer on a skill' they can sharpen brings the team closer together. 
These features have the potential to simplify the art of giving feedback, make it more real-time, and enable the distributed workforce to help each other contribute and collaborate towards a common goal more effectively. It can also enable their personal growth and strengthen their bonds with peers.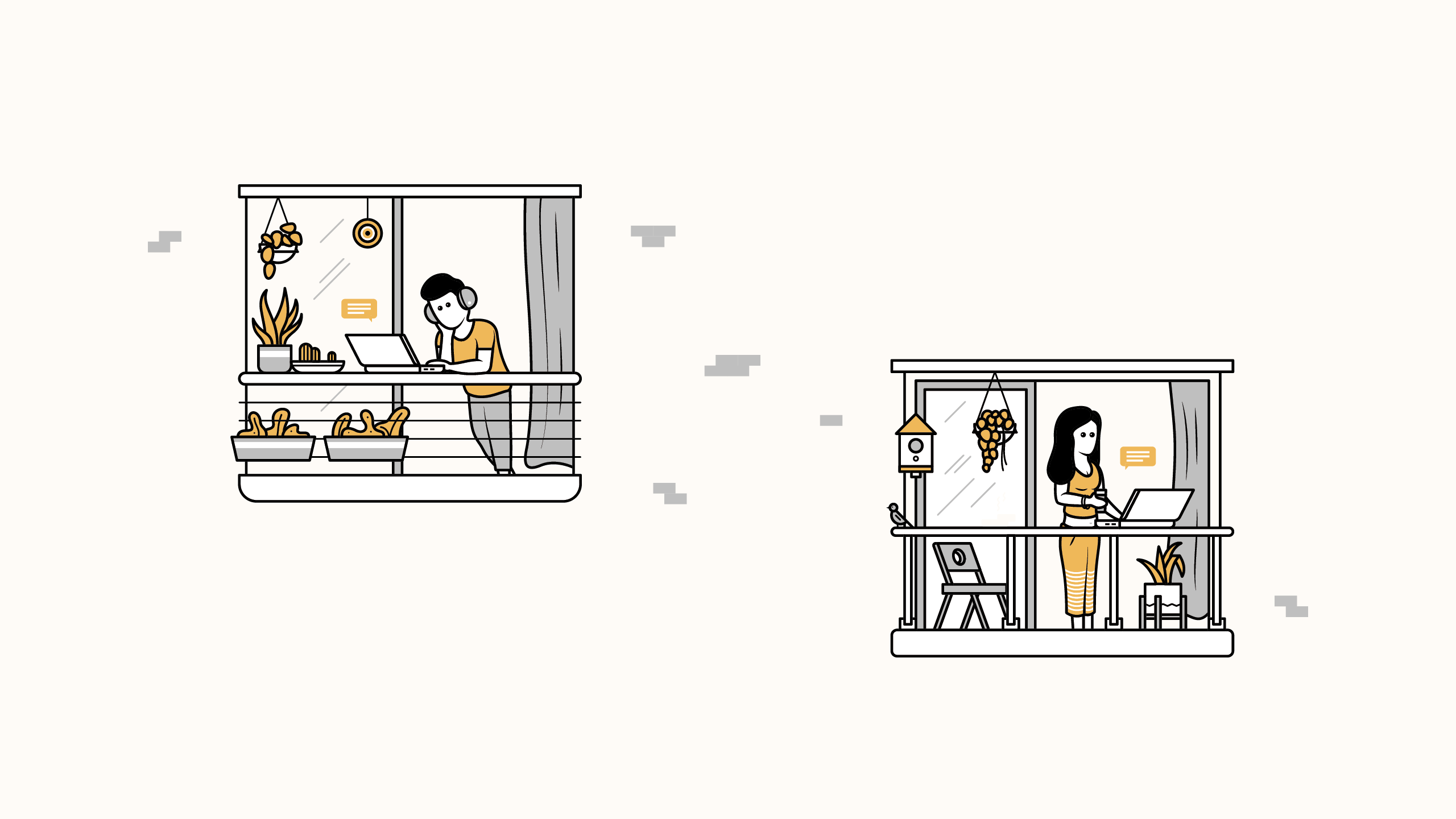 Integrating with work tools: Bringing all scattered conversations at one place
Clink integrates (deep API integrations) with the following work tools: Jira, Gmail, Google Calendar, Slack and Zoom to enable automatic curation of scattered feedback and point in time feedback from peers on completion of projects and tasks.
Masson said, "Our product plug-ins, like the one we've built for Gmail and Jira make Clink deeply integrated into the worklife of an existing user, we are building more such plug-ins, E.g. Google Docs, Office 365 etc."
Building a better future with actionable insights
Clink interprets feedback to give actionable insights to individuals, managers, HR and the organization using AI and ML frameworks. It also allows the workforce to: View insights for themselves, for their projects and organization; Analyse performance trends and action on them; and Grow professionally and personally guided by WorkLife philosophy. 
The analytics & insights are based on algorithms and also use NLP and AI to give customers accurate & actionable feedback, enabling them to perform better and develop themselves. Clink also offers an unique feature called Worklife score which can lead to more efficient talent management. 
"Think of the worklife score as a 'credit score' for people management. The idea here is to use AI to dynamically update the work life and its breakdown for every user. This dynamic profile can be used internally in the organization, or even carried from one organization to the other. The organization can use the worklife score data to make important decisions about their projects and individual talent," shared Masson. 
Are you ready for the present & the future of performance management?
As experts predict the nature of ways to continuously evolve and become more and more unstructured, organizations also need more agile ways of working. In addition to leveraging digital solutions, HR and business leaders have to also transform their ways of working and culture. They have to prepare for the present & the future of performance management that is more purpose driven and built on the pillars of collaboration and contribution. 
As Maitra shared, "HR needs to work with businesses to provide employees greater clarity in performance measures, expected outcomes, defined timeframes and ownership deadlines."
This requires not only serious investment in digital tools but also a strong commitment towards establishing processes and building a dynamic culture. So are you ready to make that investment and commitment for the present & the future of performance management?
Click here to learn more about Clink & begin your journey of building a more collaborative and productive workforce.
NOTE: *As most of the organizations across the world work virtually right now, Clink extends free membership to their first 10,000 users for Clink's team++ plan to organizations all across India & Southeast Asia to help them enable continuous feedback.