Performance Management
GCPL emphasizes on leveraging technological tools by employees
Recruitment practices at Godrej are channelized towards inclusion and the company ensures that employees are provided facilities for unhindered work
Recruitment practices at Godrej are channelized towards inclusion and the company ensures that employees are provided facilities for unhindered work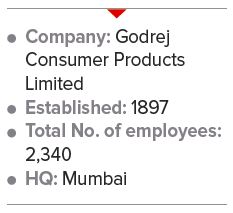 As part of the 120-year 'young' Godrej Group, Godrej Consumer Products Limited (GCPL) is fortunate to have a strong legacy built on the values of trust, integrity and respect for others. At the same time, the company's exciting and ambitious growth ambitions allow it to offer unparalleled career opportunities relatively early on in one's career. Core to GCPL's employer brand, is the philosophy of tough love. They expect a lot from team members, differentiate on the basis of performance and potential through career opportunities and rewards and lay particular emphasis to developing, mentoring and training.
GCPL leverages social platform Workplace by Facebook to engage people across geographies

Being an employer of choice is a very important part of GCPL's overall ambition of being an emerging markets FMCG leader. The company has a growing presence in Asia, Africa and Latin America; two-thirds of their team members and a significant number of consumers are now based outside India. As a result of all these changes, GCPL is now navigating through diverse geographies, diverse cultures and diverse brands. So, becoming more diverse and inclusive to stay competitive is an increasingly critical imperative. In line with this, GCPL has been ramping up its commitment to become more diverse and inclusive – whether it is around gender, the LGBT community or differently-abled team members.
GCPL believes in offering unique propositions for different segments of its team. For example, when hiring from business school campuses, the company launched Godrej LOUD – "Live Out Your Dream". LOUD encouraged students to live out their unfulfilled dreams, offering sponsorship and mentoring and a pre placement summer offer. As part of the "Learning Café", young managers ideate with the India Business Head on organizational issues. This participation encourages ownership and an appreciation of challenges, while looking for solutions. 
Last year, GCPL adopted social platform, Workplace by Facebook, which is transforming internal communication and engagement. It has helped break down boundaries, improve access and connect people across geographies, functions and businesses. Recognition, information sharing, cross-learning, collaboration on ideas and feedback now happen real time.