Performance Management
How Dockabl wants to make performance management a continuous process
In an exclusive interaction with People Matters, Samarth Masson & Sanjeev Grover share their experience of founding Dockabl to crack the continuous performance management challenge.
Samarth Masson & Sanjeev Grover believe that the entire space of HRIMS and within that talent management is so untapped, that a good tech solution makes a lot of sense. That's what seeded the thought of finding Dockabl - an employee experience platform that enables organizations to drive business performance and culture.
Says Samarth, "If you look at HR in an organization, they tend to operate too much in a silo, and for an employee, it's a very clinical, transactional experience. On the contrary, talent management is supposed to be very humane and high touchpoint. Our thought was-can we build a tech solution to bring all aspects of people management in a single continuum and make it a continuous process?"
The second reason that goaded them was that performance appraisal exercise is a very old world practice and very ceremonial. The founders wondered if they could make a solution that can make performance management a lot more real and continuous, where one can have continuous goal setting, continuous check-ins, continuous feedback and multiple touchpoints of assessments and recognitions intertwined with this process and then use smart analytics and AI corroborate this data to have a much more meaningful performance conversation.
Thirdly, the founders wanted to do away with the depressing user interface and experience with such existing products, and create a product that is centered on the consumer's experience, not the HR's workflow.
Adds Samarth, "What Slack is to communication and Gmail is to email and Facebook to social, why can't Dockabl be to performance management?"
From OKRs to Recognition-all in one continuum
Founded in April 2017, the platform offers four distinctive offerings for an HR person. The first feature is the OKR or the objective setting feature that helps people set their goals and break them into KRAs and tasks and share with other teams. It enables cross-functional cohorts, collaborative goal setting in teams as well as a traditional business where classic top-down cascades work. It also allows for frequent conversation and check-ins on how you are doing as well as give feedback and recognition quickly.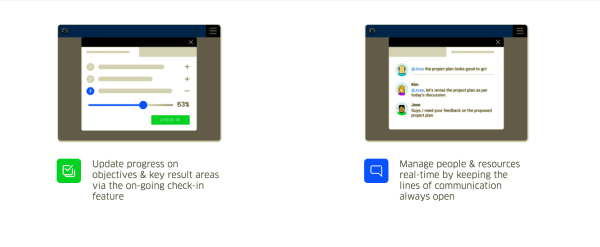 The reviews feature enables assessments of multiple kinds-annual appraisals or leadership 360 or competency-based reviews. Reviews and objectives make together for continuous performance.
The next feature offered is the recognition feature. In the past, recognition has been an annual process but most millennials want instant gratification for a job well done. So the entire product is focused on that. You do a good a job and be recognized through the recognition app and earn points which can be redeemed for Flipkart/Amazon vouchers or something more tangible like buying mentor hours with your CEO. The features thus make possible gamification and crowdsourcing of recognition.
The fourth feature is the feedback feature targeted more towards managers and teams where the platform gives managers a tool of their own to be able to have their own formal check-ins with their teams in order to give and solicit feedback in an ongoing manner. And this dovetails into performance conversations at the end of the year very well. The idea here is not about waiting till the end of the year for getting a rating. Course correction and inputs need to be given throughout the year to understand where you and your team are headed.
In addition, the team is also building a plug-n-play product by 2020, which will be a typical off the shelf product for smaller teams, startups and distributed teams for day to day work management, collaboration and communication, and learning and development in the context of their work. Instead of being a heavy-duty kind of product, it will be a lightweight phone first kind of product.
25 Clients, $1.26 Mn in Funding
Within a year of market operations, Dockabl has added 25 clients to its list ranging from 250 employee base company to bigger organizations such as PolicyBazaar which has 12,500 people onboard. Other companies include Flipkart, Becton Dickinson, SIDBI, Bajaj Finserv, Tata Realty, Innov8, 91Springboard, Bajaj Capital & Hero HFL to name a few. 
Says Sanjeev, "We have seen much steeper traction as compared to other HR tech startups as we are tapping into a problem that has been stated but not yet solved."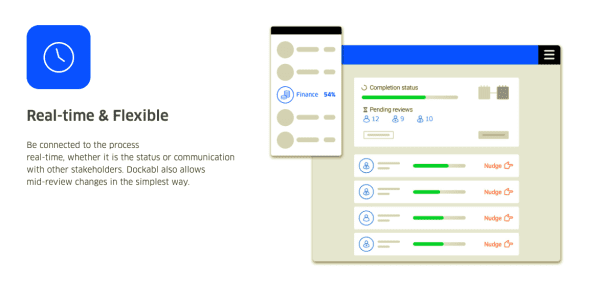 For the firm, the typical buyer is an evolved HR function, an evolved leader function with a very clear focus on talent management irrespective of the size or sector of the organization.
Since its inception, the startup has raised funds to the tune of $1.26 Mn in its Pre-Series A funding round led by a pool of marquee investors including Aditya Berlia (Apeejay Group of Companies), Ritesh Malik (Guerrilla Ventures), Sanjay Kapoor, Angad Singh Malhotra, Arun Kapur, and other angels. 
Dockabl competes with the many legacy products in the Indian market, however, it claims to be the first of its kind product in this part of the world at least from the product functionality and design sensibility point of view. Similar products in the US such as Betterworks, Lattice Manpower Solutions, 15Five, and Reflektive are competitors operating in the same space. 
The road ahead-tapping the $10 Bn market
Though the employee experience space has many players globally, yet the founders believe that where the platform scores over other competitors is the recognition module which could be the next big thing for sales, rewards, and recognition.  They feel where they need to cover more ground is the OKR piece.
For the next five years, the startup has its sights set on growing its revenues by 5x-6x every year given the market base it is targeting. The startup is also planning a foray in Southeast Asia in the next month, with the US and the Middle East planned for the next financial year. It also plans to close the year with an ARR of $1 Mn.
As an HR Tech startup, there is the challenge of very long sales cycles, the corporate indecision, and the fact that the Indian market thinks very little of thinking about preparing for what's coming in the future.  Hence it is a very reactive market when it comes to planning for the future. The founders feel that the HR community in the country is still very traditional, lost in the past, not very risk-taking or progressive, and are very comfortable with the status quo.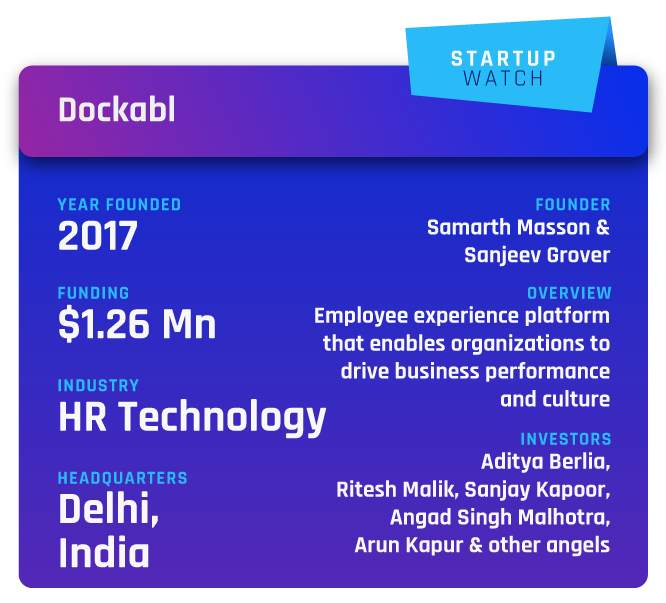 Yet undeterred by this scenario, the startup is gung-ho about the employee experience market which is expected to reach $10 Bn by 2025. To prepare for this opportunity, in its 2.0 version, the platform will also encompass a career development module along with fairly advanced analytics piece which will enable in-context decision making. The idea is to build deep verticals across performance, rewards and recognition, development, engagement, careers, and stitch it all together seamlessly so that it becomes a wholesome experience for the employee and the client does not have to look for any other tool. 
Adds Samarth, "The future of SaaS is all about integrations and not about trying to build every damn thing and this is what Dockabl is also heading towards- integrating seamlessly with four to five deep solutions to transform the performance management space."
With employee experience becoming a potent factor is determining whether an organization will be able to attract and retain employees, Dockabl is standing at the cusp of a big opportunity.
Sanjeev aptly concludes, "Organizations will either have to shape up or shape out as employee experience has become very important.  Work today in organizations is a byproduct of the employee's presence. People are not just joining for work, they are joining for learning and work happens as a byproduct. Organizations will have to provide a differentiated experience in order to hold on to the best of their best."
And this is what Dockabl is banking on. How far it is proven true will be something to look out for.