A Brand Reachout Initiative
Performance Management
How to slingshot growth by making employee the owner of performance management?

SmarterWorkLife Read similar articles
One of the key problems for enterprises today is - What is the right performance management?
Did you know?
81 percent of HR Leaders have made changes to the existing Performance Management system. However, only 18 percent of HR Leaders feel that Performance Management is meeting its primary objective.
In a workplace as dynamic and as multi-generational as today, the processes have become more employee-centric and lead by the individual himself. Policies and talent philosophies are being re-engineered to make the employee take ownership of their career, performance and more.
In a recent webcast by People Matters and Darwinbox, Namrata Gill, Vice President Human Resources at Dr. Reddy's Laboratories, and Himanshu Kumar, Director - Customer Success, Darwinbox offers strategies and uncovers solutions that can enable organizations to effectively shift ownership of performance to their employees to slingshot growth, drive improved engagement and curb attrition.
Here are the key takeaways from the session:
The tug of war between accountability & development:
Namrata shared that the primary focus for Dr. Reddy's has always been employee development. She further went on to share that any organization cannot introduce a system without motivating employees to use it. It's not just about what an employee is doing for the company, but equally about how the company is contributing to the employee's growth as well.
The transformation: From accountability to development-oriented
Dr. Reddy's carried out a pulse check to understand how their employees feel at work. This survey helped the HR team realize that normalization is helping neither the employees nor the organization, rather, showing trust and believing the employees potential and making them accountable for their work helps them stay motivated and happy, Namrata shared.
Employee-owned performance management systems:
According to the Gartner survey on Performance Benchmarking, organizations can increase performance management adoption by 19% by making it employee-owned. Furthermore, inspired by David Pink book 'Drive: The Surprising Truth About What Motivates Us', here are the three things Namrata feels helps an employee stay motivated at work:
According to Namrata, employees will remain highly motivated if they know that they are solely responsible for a fixed set of tasks and have the freedom to take decisions pertaining to their scope of work. Moreover, the human motivation theory (I am not about what I do but who I get to be), is focused on giving employees the ownership of performance and is believed to be a must for every organization.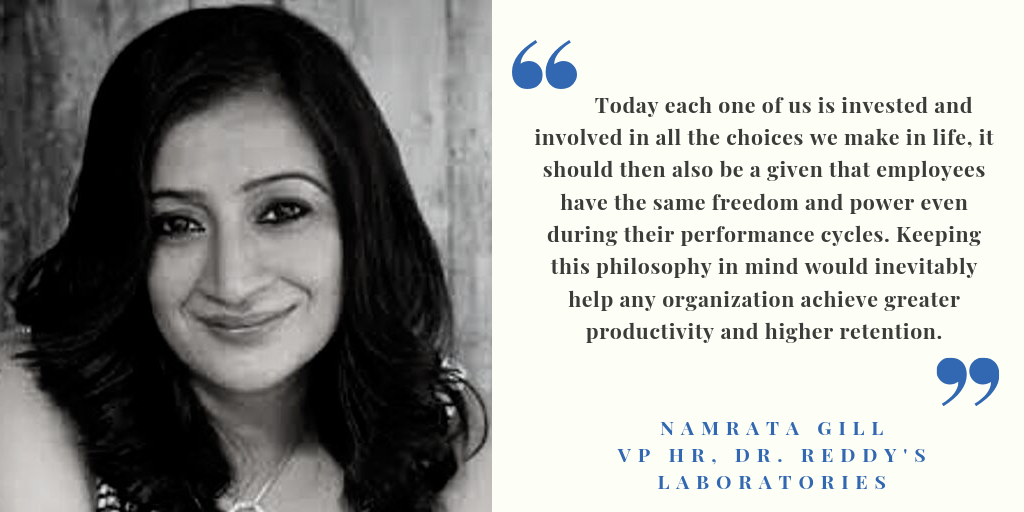 Yielding efficiency from an implemented process:
The need of the hour is for HR to offer strategies and uncover solutions that can enable organizations to effectively shift ownership of performance to their employees. Some of the key actionables laid down by Namrata and Himanshu were:
Run a pilot and measure it well with a design thinking approach. Eg: Deep dive interviews with managers and employees
Ensuring implementation of immediate feedback across the organization
Cost effectiveness of the system in use
Engagement & retention should be the prime focus of the goal.
Concluding the session, the experts acknowledge the fact that it is always advisable to take the senior management's buy in before initiating the process.  
"People don't understand process but if a process is systematically driven by tech or is mobile and voice enabled it is always easier to adopt."
 To discover more about creating a successful employee-owned performance management read this article on 'How to empower employees to take ownership of their own performance.' To get access to more such content, follow #SmarterWorkLife