Leadership
Objectives and key results: For executing your CEO's priorities
The best way to achieve excellence in execution is a ongoing debate. But the discussion is becoming more and more relevant as every industry is on the verge of being disrupted by new age companies, digital solutions and fourth industrial revolution of AI and robotics. In this article, we will discuss OKR, one such tool to achieve excellence in execution.
The major challenge for any CEO is to manage short-term objectives based on long term plans. As organizations grow, the speed of execution decreases. And at a same time duplication and inefficiencies around planning and resource allocation increases.
As Andy Grove, Intel's former CEO said, "I have seen far too many people who upon recognizing today's gap try very hard to determine what decision has to be made to close it. But today's gap represents a failure of planning sometime in the past."
Objectives and Key Results (OKR) is a management tool that brings in the discipline to achieve excellence in execution aligned with organization and CEO's priorities. OKR is a goal setting framework originally created by Intel and later adopted by Google in the way back in 1999 when it had had not even celebrated its first birthday. OKR has supported Google's growth from 40 employees (when it first started using OKR) to more than 60,000 today, proving that it can be used by small organizations as well as large corporations. Today, both technology and non-technology companies are moving fast to leverage OKRs to enable a high-performance work culture.
What is OKR?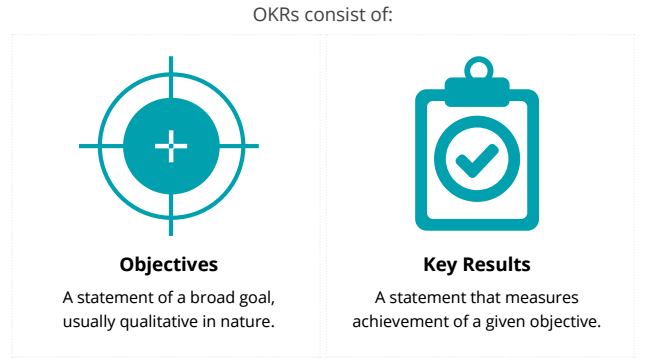 Here are a few examples of what could be objectives:
1) Reduce the variable cost in production by 2.5 %.
2) Increase revenue from product X by 10%.
3) Become a more effective sales machine.
4) Move to the new office by December end to provide a happy environment to employees.
5) Solidify brand and position as market leader.
And following are some example of 'Key Results' with respect to above-stated objectives. There can be more than one key result(s) that can define how one will achieve one's objectives.
1) Hire a consultant to review and improve the six-sigma process.
2) Ensure at least 75% of the sales team members achieve their quota.
3) Hire three sales managers by end of June.
4) Identify an office that facilitates company and employee growth for 250+ employees.
5) Hire a new branding agency by end of Q1.
Benefits of OKR
OKR improves alignment with organizational priorities and helps business leaders identify what is important to be achieved and how to achieve it. It brings in accountability and ownership among employees and helps in achieving operational excellence.
Implementing OKR

Once you are convinced that OKR can help you get to the next level of business growth, the question that you should be answering is, 'What is the best approach to implement OKR in my company?'
One of the biggest challenges in implementing OKR is not having a clear approach to implementation. You can't adopt what worked for Google or Intel or Twitter or Sears. Your organization is unique and your challenges are different from another. You need to understand that OKR is not a methodology, there is no step-by-step guide that you can follow. Instead, OKR has a set of practices that you should understand and customize according to what works for you and your company.
Usually, OKRs are set on a quarterly basis and progress is measured weekly or monthly. But again, it depends on your business priorities and you can set them at a calendar that works for you.
You can start implementing OKR in incremental steps, one role or one business unit at a time.And research shows that it makes more sense to start the implementation at the top of the organization. Start creating objectives (what needs to be achieved) on a monthly basis. Don't create individual objectives at the start of the implementation. Once that is done, start creating Key Results (how you will achieve the objective) involving team members from same or different business units. This will also help in breaking organizational silos and enhance business communication.
You probably will fail at first attempt, don't stop there. It takes 2 to 3 quarters to understand how you should structure the objectives for your organization and how it can help you achieve your organizational priorities. The effort spent is worth as it gives the organization and leadership visibility on where the organization is going on their priorities, every week. Teams and individuals will adopt this because it's linked to their day to day work, and help them see the big picture of their work.
At the end, please remember that OKR is not a tool to measure employee performance. It's a management tool to align execution with organizational priorities and track the progress of execution for those priorities. As Intel's Andy Grove, wrote, 'It is not a legal document upon which to base a performance review, but should be just one input used to determine how well an individual or a team is doing.'
(Images used in the article have been provided by the author.)