A Brand Reachout Initiative
Performance Management
Reinventing performance management for the new world of work
The business value of traditional employee performance management models is collapsing. While these legacy systems still form the basis for decision-making around compensation, promotions, terminations, and other compliance-mandated functions, they have not made a major impact on actually improving performance or its management. People do not believe that these measurably
In the traditional approach, managers set employee goals in the beginning of the year and do an annual review towards the end of the year, rate them/score them and put them in a bucket and use "forced" normal distribution for downstream activities such as compensation, promotion, etc.  
These outdated systems and the old "annual review" approach, target employees and make people feel alienated. Even most managers don't like sitting down for a review to tell someone how they're doing or where they need to improve.  Even though the concept is fine, application of concept and execution has failed to meet the ultimate purpose which is increasing performance and development.
Today, more and more organizations are changing their performance management systems.  They are fundamentally looking at how the model can be changed and used to reach its intent.  Progressive organizations are making following changes:  
Having frequent manager/employee performance conversations: This really helps in reviewing the progress, talking about the support required to meet the goals, etc.  This is a change in culture for many organizations and HR is driving this change. Manager is changing towards a coach in this case.  Benefits everyone and brings in real impact on the performance.
Application of bell curve: Fundamentally, bell curve is a statistical phenomenon and you cannot change that.  The moment you put people in 5 different groups, it will form some kind of bell curve.  Change is how you use this bell curve.  Earlier, the bell curve was used to identify and remove the bottom x% of the employees.  Nowadays, a lot of organizations are using this to see how to develop skills for their employees, equip them in meeting their targets, etc.  
Rating/Scoring: One of the biggest challenges is getting "meaningful" feedback from managers.  Managers hate the performance review discussions and they simply rate the competencies or goals on the scale to 1 to 5.  Companies are removing the rating and asking their managers to provide qualitative feedback which will be useful to have meaningful conversations.
Aligning the employee goals with business/organization goals:  This is critical for the success of the organization.  You do not want a situation where every employee is rated "fantastic" and collectively team/business did not meet the targets.  Lot of work is going towards bringing in this alignment through online/offline means.  OKR is one model which is gaining a lot of popularity.
Go beyond Performance Appraisals: Often times, performance appraisals end with salary revisions.  Progressive organizations use the appraisals to learn more their about employees, understand their career aspirations, figure out the learning and development needs, understand the potential and critical skills, etc.
How COVID-19 accelerated the shift in how we assess and manage performance?
A recent Gartner poll showed that 48 percent of employees will likely work remotely at least part of the time after COVID-19 versus 30 percent before the pandemic. As organizations shift to more remote work operations, explore the critical competencies employees will need to collaborate digitally to meet their responsibilities, and be prepared to adjust employee experience strategies. Consider whether and how to shift performance goal-setting and employee evaluations for a remote context.
The research also finds that 32 percent of organizations are replacing full-time employees with contingent workers as a cost-saving measure. While gig workers offer employers greater workforce management flexibility, HR leaders will need to evaluate how performance management systems apply to these workers and determine whether they will be eligible for the same benefits as their full-time peers.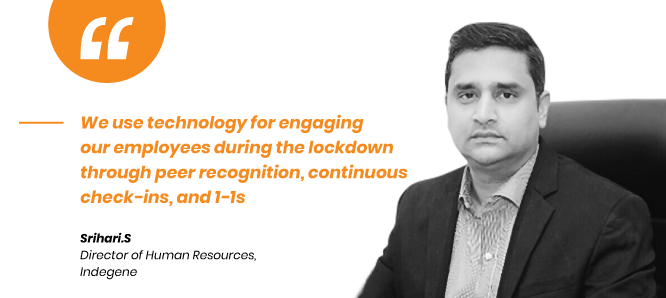 He further shares, "Managers mentor their team members with the unique 'Focus Area' feedback to measure their progress. It increases the team bonding.  As a 'Great Place to Work' company, we believe that our business is driven by the growth and success of our employees.  We invest a lot in our human capital quotient."
How can we rethink our performance management practices- digital is the new norm
Digital transformation, changing nature of work, and a great level of uncertainty surrounding the market, has all enabled and created a demand to approach performance management in a novel way. The technology-based future of performance management through employee engagement is an essential component of leading successful digital transformation. 
The ongoing change in the way work is done and the kind of performance is expected from an employee has led to the change in the way performance management is perceived.  More agile, goals framework such as OKR, SMART Goals help in providing more meaning to the work through clear objectives and metrics.  Plus, the fundamental truth -> only engaged employees can deliver higher level of performance.  So, the purpose of performance management is shifting, structurally, and dramatically.  
With these digital tools designed to uplift performance, leading companies are using performance management to measurably improve performance, develop skills, engage and retain valued employees.  For these companies, the heart of performance management is performance, not compliance. With blurring lines between performance management, engagement and talent development, executives will have to consider how to balance the assessment of past performance with the ongoing need to develop employee skills. Performance management has become a critical function to maintain the performance of businesses than an end of the year duty.
Lots of Data are generated, increasingly, from platforms that enable communication and collaboration and dedicated apps and tools. Feedback will be more continuous and sourced from different places and people. Employee engagement will be both an input to and output from performance management activities. This data emphasis empowers more evidence and fact-based performance management appraisals and conversations, with inputs from a variety of sources.
Given the increased diversity in the workplace, one-size-fits-all approaches to performance management will not work. Both managers and workers will get individualized perspectives on what works (well) and what doesn't. Empowerment at Manager and employee level is the key.  Digital performance management platforms will make such empowerment simpler, cheaper, and more scalable, which, in turn, will make performance management - useful and critical business function.
The case of Bank Bazaar
Bank Bazaar is growing at a fast pace, hence was looking for a scalable and cloud-based performance management solution that is really simple to use for HRs and employees.
Do an objective rating for the KRAs. Considering that the targets and achievements are clearly defined and tracked within the organization, they wanted to provide performance based on the metrics and reward their team members. Bank Bazaar strongly believes that employees need to be appraised based on their nature of work and assignments to motivate and kindle their morale. If targets and achievements are the bread and butter, they need to be rated based on the performance metrics, feedback alone wouldn't suffice.
For the capabilities (competencies/Potential) and "How to" part, they wanted their managers provide honest feedback and use the conversation instead of rating. This is actually moving away from rating and getting managers have performance conversations.
Solution
Synergita was implemented and used extensively across the organization to engage employees and manage performance. Bank Bazaar now conducts midyear reviews, annual performance reviews and once-a-year peer feedback using Synergita.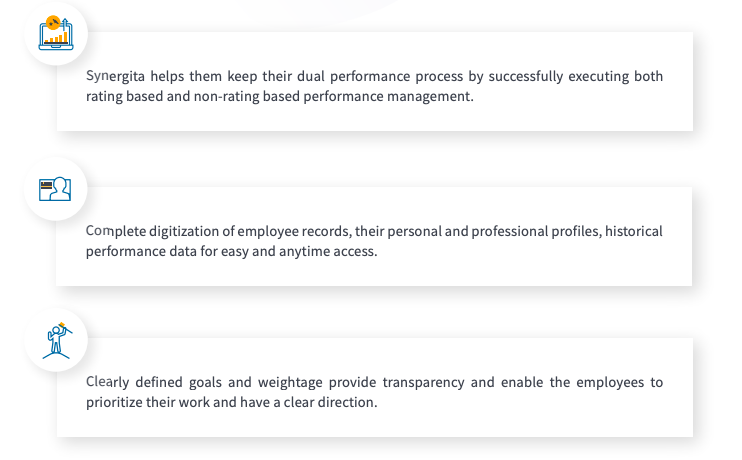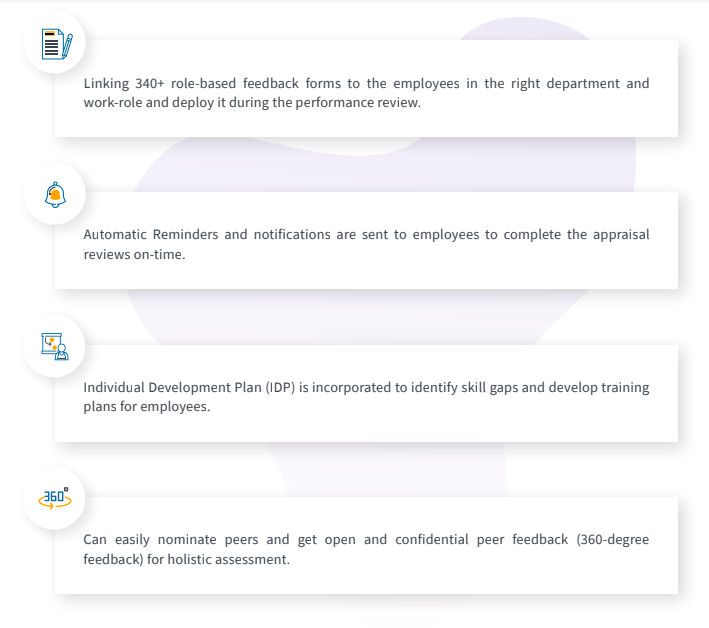 HRs and managers have complete control and visibility on the progress of the performance appraisal process. The process is standardized, streamlined and automated. Bank Bazaar now completes the appraisal process on-time. HR gets insightful key metrics, performance trends and employee reports that enables data-backed decision-making.
To know more about how you can reinvent the performance management at your organization, click here.