A Brand Reachout Initiative
Performance Management
Peek into the future of performance management for remote employees
Future-proofing performance management in a world of rising remote work depends on how companies can adapt their goals and assessment systems to the new reality. We look at how SMEs can build more impactful performance management systems.
Work from anywhere, anytime culture in many ways has become part of the workplace, posing a significant challenge to many young and fast-growing companies. One of the many workplace disruptions that harken back to the pandemic, remote work has resulted in HR leaders and SMEs revamping their people practices. 
Building new, more relevant performance management systems for a remote workforce stands at the very top of the important processes. 
The need for remote work and flexibility has been on the rise impacting employee behaviours and career choices. With a growing percentage of remote workers, companies need solutions specific to the demands of a remote workforce. Many parts of the remote workforce today are handling multiple work deliverables simultaneously all while juggling it with the realities of working from home.  
For SMEs that aim to accelerate growth, understanding the nuances of remote work and optimising their performance management accordingly is crucial. And while such an optimization from a 'distance' is challenging, it can be greatly simplified by leveraging the right tools and adapting new management styles and organisational policies. 
Plan, align, and implement 
So, if you have a remote workforce with dated performance management processes. Where do you begin restructuring and strengthening them? 
Well, one way is to get back to the basics and recreate goal formation and competency alignment for remote workforce. Remote employees today are tasked to maintain productivity in a setting usually quite different from their office experience.  By setting clearer goals, reviewing KPIs and ensuring competencies are aligned to business goals, SMEs can greatly improve their performance management process. 
Create SMART Goals: Setting clearer, more relevant goals for a remote workforce means balancing the need for them to be productive and their flexibility. One way to do this is by creating Specific, Measurable, Achievable, Relevant and Time-bound or SMART goals. Building SMART goals for a remote workforce helps introduce measurability and accountability to the entire goal setting process for emerging companies and SMEs provide a robust framework to align goals with overall productivity. This should also reflect in KPI formation. Remote employees can be made project owners and have clear KPIs that drive them. 
Align competencies with goals:  The next step to raising performance management is to look closely at how competencies link with larger business goals. Creating a framework that leverages competencies to assess how employees are selected, developed, and evaluated helps bring objectivity and rigour in the performance management process. Setting up a competency framework is a multi-step process and through it companies can anchor performance management in skills and roles critical for productivity.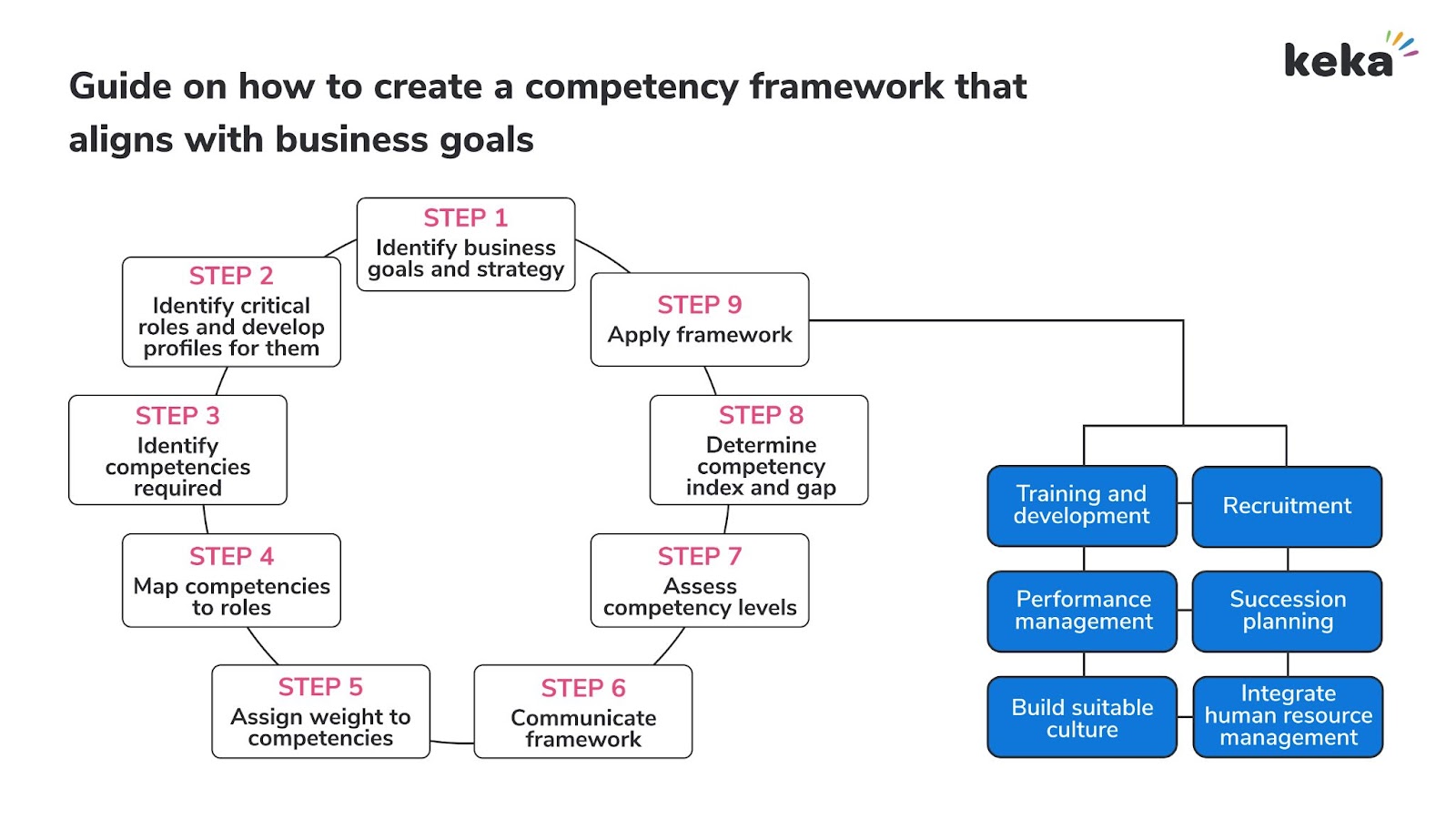 image source: Keka
Conduct periodic performance reviews and check ins
Building a more continuous performance management process with regular touchpoints is vital for systems that assess performance for remote employees. Studies like the Microsoft Work-Trend Index show that companies demand a better alignment with organisational purpose and regular performance reviews helps SMEs and young enterprises strengthen their remote workforce's alignment with business purpose and goals. 
But that is just the tip of the iceberg of what companies can achieve through regular check-ins. 
Similar to in-office employees, HR leaders can choose from a range of digital platforms—all from video calls to robust performance management softwares—to make their performance assessment cycle shorter and more regular. This assessment can easily reflect achievements, identify areas for improvement, and discuss future career paths for your remote employees. 
Conduct regular performance check-ins, ideally on a monthly or quarterly basis, to discuss progress, challenges, and future goals. These check-ins help maintain accountability and ensure that both the employee and the organisation are on the same page.
Enable managers to trust
Managers need to be equipped with the right tools and skills to be able to improve how they assess the performance of remote employees. It is also vital for managers to be able to trust their remote employees with work. User-friendly tools like Keka provide managers and team leaders with clear visibility into the work and output of their remote employees. For SMEs who have aligned their goals to business objectives, enabling managers to get a clear picture of their employee's output will be critical.
HR leaders also need to enable a shift in mindset. The lack of physical presence should not translate into micromanaging. Focusing more on deliverables and ensuring managers can adjust their management styles to the realities of a remote workforce are all key to implementing a more impactful performance management system. 
Accelerate two-way communication
Creating robust, two-way communication between managers and employees is one of the important pillars supporting remote working today. 
Studies have shown that if left unaddressed, a workplace disconnect between remote employees and companies can quickly emerge. A major role of performance management is to strengthen that connection and  ensure remote employees feel that their contributions are  visible and recognized compared to their in-office counterparts. This, inturn, impacts the engagement of your remote workers and career advancement opportunities, leading to feelings of being undervalued.
A robust communication mechanism helps keep a remote workforce aligned with business objectives and ensures participation. Every employee needs to know what is expected of them and how their contribution will be assessed and reviewed. When the situation changes, the objective should too. 
Today this can be achieved by: 
Creating regular touchpoints between employees and managers 
Having a regular feedback cycle 
Maintaining regular team hours and daily check-ins
Creating space for personal interactions and support 
Virtual town halls that help employees know more about the company's vision
Recognising accomplishments and identifying top performers early
HR tech to tie it all together
With a long list of interventions that can help you make future-proof performance management in a world of growing remote employees, it is important to have the digital tools that enable change. The right digital tools and solutions today help SMEs evolve their performance management and recreate processes for a global workforce. 
HR Tech and analytics plays a key role in ensuring goals, KPIs and objectives are updated regularly and aligned with the company's vision. They facilitate communication and ensure regular check-ins with remote employees is possible. Real-time measurement of goals can help highlight those that are at risk thus mobilising teams and resources to achieve it on time. 
By leveraging the right HR tools, emerging enterprises can 
Set department wise goals and monitor their regular updation 
Create and track At-Risk objectives for quicker response  
Ensure regular performance reviews 
Track 1-1 meetings completed and improve employee-manager communication
From detailed performance reviews that give an in-depth understanding to organisation wide feedback analytics, HR tech is revolutionising how performance management can be made more impactful for remote employees. With the future of performance management inextricably linked with how effectively it can create goals, assess, and support employee growth, the role of HR tech is only going to become more ubiquitous.