Performance Management
What is a CEO's perspective on productivity dimensions for today & tomorrow?
In this keynote session of day one of TechHR 2018, CEOs of top organizations will share their perspective on the key productivity dimensions for today & tomorrow.
The first day of People Matters Tech HR Conference will focus on one of the most important metrics for any organization- productivity. In today's dynamic world, which is witnessing digital disruption every second, organizations need to relook at employee productivity in a new light.
It is no more a secret today that engaged employees are the most productive. So organizations today are relying on everything from gamification to data and analytics to enhance employee productivity. They are looking to create opportunities for employees to do what they do best. So the focus is not alone on how to measure productivity in this digitally disrupted world but also on enhancing it with access to newer technologies such as AI, automation, data analytics.
Thus the CEOs of tomorrow face these pressing questions -how can they anticipate changes to the productivity paradigm? How can they best use technology to automate what's repetitive in order to free up employees for more productive tasks? How can they help unleash the true hidden potential of their employees?
'The new productivity paradigm: CEOs' perspectives' is one such keynote session of day one which will bring together views from a gamut of CEOs.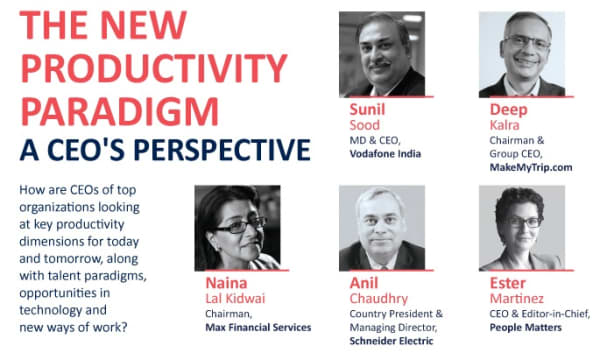 In this keynote session, Sunil Sood, MD & CEO, Vodafone India, Deep Kalra, Chairman & Group CEO, MakeMyTrip.com, Naina Lal Kidwai, Chairman, Max Financial Services, Anil Chaudhry, Country President & Managing Director, Schneider Electric, and Ester Martinez, CEO & Editor-in-Chief, People Matters throw light on how CEOs of top organizations looking at key productivity dimensions for today & tomorrow, talent paradigms, technology opportunities & new ways of work?
Throwing light on what the session will aim to achieve, Ester Martinez, CEO & Editor-in-Chief, People Matters revealed, "In the journey of digitization, organizations are transforming their DNA. Structures, capabilities, jobs- everything is changing. Hence new measures of performance and productivity need to accelerate that change as well. This panel will focus on how different industries are tackling this transformation journey to hyper-productivity."
Be a part of this interesting conversation and many more at TechHR 2018. Click here to register.