Performance Management
WNS Global Services: Ownership leading to 'outperformance'
At WNS, employees take ownership of their own career development and are co-partners in the success of their teams
Despite large-scale investments in technology enablement, the BPM industry remains a people-centric industry, and one that needs a steady supply of fresh talent. But the challenge comes while creating a framework that continuously re-invents engagement and review practices to capture the aspirations of the employees, while recruiting, developing and retaining top talent to meet the growth targets. WNS today is known for having a number of talent development, employee engagement, reward and recognition programs that have turned WNS into an organization of high performing, committed teams.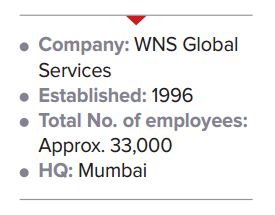 The 'Front Line Manager Development' Program at WNS focuses on developing people managers within the organization and achieves the twin objectives of preparing a strong pipeline of leaders internally and also helps employees fulfill their career aspirations. Today, 90 percent of WNS frontline managers have grown from within the organization. Similarly, Domain University (to learn industry domain skills), League of Champions (employee recognition program), WiNS (talent management and engagement program), Aspire (senior manager development program for lateral movements) and Springboard (learning program with business schools), are all innovative interventions to ensure high employee engagement and retention.
HR programs at WNS are built on the foundation of values of CIRCLE – Client First, Integrity, Respect, Collaboration, Learning and Excellence.
For creating a strong pipeline of leaders to match the company's future talent projections, WNS has a strong data analytics practice and a dedicated HR analytics team.
Last year saw the launch of a talent development program, 'Aspire', that sets out to capture the aspirations of people and matches those with future roles, including roles that require lateral movements. Another innovative program, 'WiNCUBATE', fosters entrepreneurship within the organization and encourages employees to generate business ideas can be turned into products.
At WNS, employees take ownership of their own career development and are co-partners in the success of their teams while the company's mission of 'outperformance' is deeply ingrained in its performance and talent management strategies.