A Brand Reachout Initiative
Pre-employment Assessments
How advances in English screening are a recruiting game-changer
Innovations in English language testing—like measuring intelligibility, fully automated remote monitoring, and customized benchmarking—are helping to drive new efficient, fair and reliable recruitment processes that will help to improve your acquisition efficiency and quality of hires.
As we quickly adapt to new ways of working that foster work-at-home environments, how can we ensure that the top talent for global-facing positions isn't slipping through the cracks? Consistency across the global hiring pool is one challenge for global employers when recruiting and that's why English screening becomes so important  Innovations in English language testing—like measuring intelligibility, fully automated remote monitoring, and customized benchmarking—are helping to drive new efficient, fair and reliable recruitment processes that will help to improve your acquisition efficiency and quality of hires.  
In a webinar in association with Pearson, Andrew Khan, Senior Market Development Manager – English Assessment, Pearson and Lauren Miller, Senior Researcher – English Assessment, Pearson shed light on the unique challenges of recruiting for global employees, why English screening is so important and how the Pearson Global Scale of English can help you benchmark English language skills needed and ensure consistency across your global hiring pool.
Here are some key highlights from the same.
The need for English screening in the workplace
Andrew kick-started the conversation by highlighting the need for English screening. English is the main language used in the professional world, with it being the dominant language in more than 60 nations worldwide. Employers say that 40% of global virtual teams are unsuccessful due to language barriers. Almost 90% of employers struggle with language barriers in day-to-day work.
Moreover, 81% of employees feel that their company takes interest in their professional development if it offers them language training. All the statistics point out to the fact why a uniform standard for English screening becomes important.
It is this gap the Versant test scores aim to address. Throwing more light on English screening tests, Lauren shared that the Versant test scores are reported on the Global Scale of English, a scale Pearson developed to provide a global standard for measuring progress in English language acquisition. The Versant Global Report further highlights that while South Asia is still performing strongly but is behind North America, Mexico, and Central America. Similarly, performance in the writing test in South Asia is not as strong as compared to the English test scores.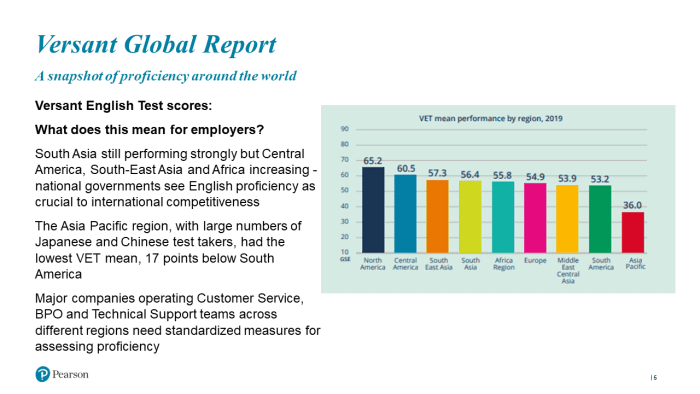 Moreover, when it comes to India, the report shows that learner skill profiles in India are not always consistent and candidates with good overall efficiency might skill struggle with one or more skills.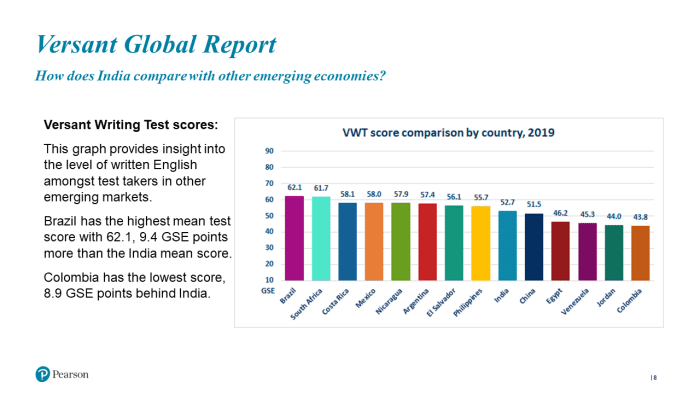 Further, some common challenges that employers generally dealt with in 2020 are applying the same standards across locations domestically and internationally, testing when offices are closed, lack of clarity over what test scores mean, selecting between candidates with similar scores, and showing the efficacy of L&D programs with existing staff. 
How can English assessments help recruiting challenges?
In order to solve the challenge of applying consistent standards across offices in different locations or in different countries, interviews suffer from one basic flaw. Conducting interviews with applicants can lead to inconsistent standards as local standards might not match company requirements. Hence using computer scoring to remove human bias and subjectivity can help in ensuring uniformity, no matter which country you are taking the test in.
Further, in order to get over the testing challenge when offices are closed due to restrictions, employers can resort to resort proctoring or AI-powered remote technology to help ensure that test-takers are not cheating.
To tide over the challenge of lack of clarity of what different test scores might mean and how they relate to skills that potential employees need to have, employers should link scores to specific tasks that the learner can achieve. So the score stops being a number but rather means what a person can do. Also, the need of the hour is benchmarking services to ensure that employers are selecting the most appropriate scores for their needs.
Another challenge that employers face is selecting between candidates with similar scores for spoken English. An overall speaking score might not always give an employer enough information to assess a candidate's strengths and weaknesses. Hence Andrew suggested looking at sub-scores to determine which are the most important for the role. Also, employers should also focus more on intelligibility or rather how well their speech is understood. Similarly, in order to get over the challenge of spiky proficiency profiles, employers can use tests across all four skills of listening, reading, and writing.
Demonstrating the efficacy of L&D programs is another challenge in front of employers. Many employers might want to improve the English skills of their existing programs but how can they show their learning programs are effective? In order to do so, using benchmarking tests designed to be taken more than once over time is one way to achieve this. This makes it easier to track the efficacy of those learning programs.
One of the ways to address these challenges is through Versant's automated scoring technology, which can help employers apply the same assessment standards across locations without subjectivity or human bias. The results of this test come within five minutes of being tested. It also comes with a new Intelligibility Index score and a detailed four-skill report with recommendations for future study and can be used for benchmarking across a program of learning.
Ultimately, English assessments should be looked upon not as a product but as a service that can help employers navigate through the many challenges of maintaining consistency in recruiting from a global talent pool, irrespective of the country or the region, to ensure a consistent consumer experience throughout.
For more information on the Versant English Tests, click here.