Recruitment
40% of a recruiter's job will vanish in the future: Pankaj Bansal
How will technology impact the recruitment and recruitment process outsourcing space? Pankaj Bansal of PeopleStrong sheds light on the same.
As robot recruiters and AI begin to bring about sweeping changes in the recruitment world, what should recruiters and HR tech companies do to adjust to these changing environs? How will technology shape processes in recruiting in the coming times? These are some of the questions staring in the face of the recruitment community today.
Pankaj Bansal, Founder and CEO, PeopleStrong, one of India's leading HR tech organizations demystifies some of these questions. PeopleStrong itself has been on the forefront of upping its prowess in AI and Machine Learning through both acquisitions such as that of Grownout and by launching products such as Alt Recruit and Alt One.
Banking on technology through Alt Recruit and Grownout
PeopleStrong started the year by announcing the launch of Alt Recruit- a matchmaking product tool powered by machine learning. When asked about what was the problem Alt Recruit wanted to address, Pankaj revealed there were mainly three challenges.
"There are three aspects of what market was looking at. The market was very clear that they needed help on sourcing people. Recruiters have seen that the overdependence on job boards hampers the quality of their candidates," he says.
Secondly, recruiters wanted help on time spent on the recruitment process, given that there is a lot of waste especially on the transaction in recruitment. So they wanted efficiency there. Thirdly, assessing a person's profile and matching him/her with a job or a role was always a tricky issue. So people wanted a reliable assessment process as well as a matchmaking process.
It is these three asks from the market that was the tipping point behind the launch of Alt Recruit. And the company employed AI and machine intelligence to solve as much as it could to solve these three challenges.
But how far has it been a success?
Pankaj cites that about across 45,000 jobs have seen 22%-23% TAT (turnaround time) reduction for a candidate. The only challenge that remains is that people are still trying to contemplate matchmaking because people don't have employee data in a structured format. So that's why the organization has to use a lot of social data that's available.
Interestingly, in the same month, the HR tech startup also acquired the referral hiring platform, Grownout to strengthen its Machine Learning offerings.
While Grownout has itself proved to be an excellent platform, but over and above with the acquisition, People Strong also brought in the CTO of Grownout. That Pankaj believes has been a great find as it's difficult to find the right kind of talent in the machine learning/ AI domain.
Additionally, Grownout has brought more visibility to People Strong, catapulting it in the league of global platforms.
Pankaj adds, "Grownout has helped us in managing or challenging the traditional recruitment platforms across the globe. So some very large customers have moved away from traditional ERPs to us-for instance WNS."
Building an open system through Alt One- India's first HR app store
A big problem in the technology world of HR is that people have this habit of keeping their system very closed.
Pankaj explains, "Look at any traditional ERP like SAP Success factor or Oracle, it's extremely tough for the corporation to integrate with other systems. Even if they do, it involves a huge cost and time factor. So the HR departments are tired of using these traditional systems and making them talk to other vendors/ partners. Instead of helping the ecosystem, these systems have become disablers."
This challenge prompted the launch of its HR app store Alt One. The whole idea was how to bring in the half a million people that People Strong has on its platform to use what they want. They might want to use People Strong coupled with different products for benefits or something else for employee commute resources or medical services. Alt One allows them to merge these different products and integrate them on that platform.
Pankaj revealed that while it did take them a long time to convince their board, nevertheless People Strong became the first platform to move to an open system through which it is connecting with multiple other partners and vendors, including some of the competitors.
The transformational impact of AI and Machine Learning on recruitment
The current technology trend of AI and Machine Learning will produce three major impacts on recruitment.
"The life of a recruiter is going to change. 40% of his/her job is going to go away, which means more than 1/3rd of the job won't be present in the future," reveals Pankaj.
The second impact would be that the dependency on job boards or data ownership will reduce as more and more social data will be scraped, multiple platforms will come up.
Thirdly, the entire candidate experience and the hiring manager experience will go through a transformation. So like we have quality scores, standard scores for mapping the satisfaction of the candidates and hiring managers will become a norm. All these things will be enabled by AI and machine learning.
But is it possible that these advanced recruiting technologies could make the job of a recruiter redundant?
Since 40% of a recruiter's job will go away, the asks from a recruiter will transform. If recruiters today spend considerable time in sourcing the candidate and managing the process, these are not going to be the skills of the future.
The skills of the future for a recruiter will be three major ones- his capacity to understand the customer's industry and job, using machine learning/ AI to find the best candidate for a job, and deciphering how to give a next level experience to the hiring manager/ candidate.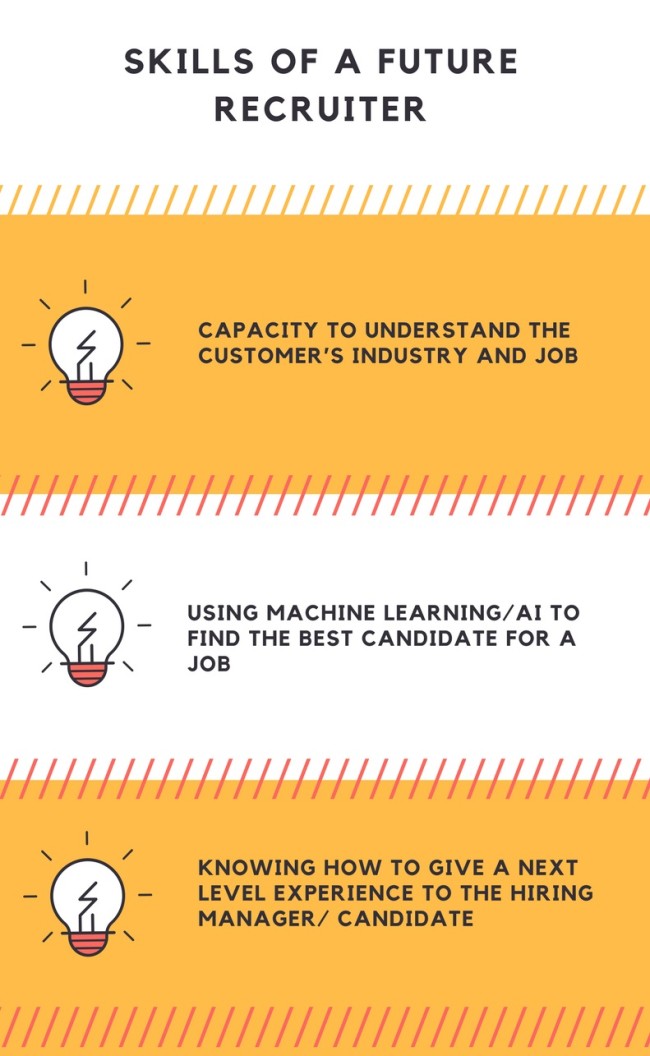 The changing RPO (recruitment process outsourcing) space in 2018
If one looks at RPOs in specific, two things are coming to the fore. One is that every RPO transaction or contract has technology embedded in it. Because every customer is looking for a tech solution rather than a pure play sourcing and placement contract.
The second thing is that mid-size companies are also exploring RPOs. Earlier, only large enterprises explored RPOs. Now mid-sized enterprises with 1000-5000 employees are also moving towards RPOs.
As a result, all these sweeping technology trends will move the Indian HR tech market from its current potential of $600 Million to $1 Billion in three to four year's times. While this is the highest growth rate for any HR tech market in the world, but at the same time, India's base is still not very big.
Nevertheless, this growth will lead to more and more investments in the HR tech space. Additionally, more regional HR Tech players will mushroom in the space to challenge the global authorities. Thus many more large companies will move away from traditional ERP in a big way in the coming years.
In all, through these small steps, the recruitment function is poised for a big leap in the coming years.
PeopleStrong is the Awards Presenting Partner for People Matters Talent Acquisition League Annual Conference 2018. Know more about such trends at the People Matters Talent Acquisition League Annual Conference 2018 on 30th May which will seek to address the most poignant talent acquisition challenges, what's next in TA, and how AI and machines are becoming matchmakers for recruiters today.