Recruitment
How Skillate leverages deep learning to make hiring intelligent
Read more to know how the AI-based platform Skillate makes recruitment easy, fast, and transparent with its cutting edge technology.
"Instead of asking 'what problem should I solve?' ask 'what problem do I wish someone else would solve for me?'"---Paul Graham
This is exactly what Bipul Vaibhav, the now Founder and CEO of Skillate found himself doing in January 2015. Bipul was working for an analytics software company in Chennai. Unhappy with the role, he contacted various companies looking for an opening. However, he seldom got a response back from them. The frustrating part was not getting rejected, but not receiving any response at all from the recruiters, which left him wondering if his applications were getting rejected, or were they simply not being noticed at all.
It's this lack of clarity that got him thinking about the lack of transparency prevalent in the recruitment process. Bipul realized that even though candidates desperately want a response from the company on their candidature's stature, large enterprises often don't have the time and bandwidth to respond to every candidate at each stage of the hiring process. With corporates receiving millions of applications every year, the unstructured hiring process keeps the candidates in the dark and deprives organizations of the best talent. And this is how the idea of Skillate came into place- an AI-based platform that makes recruitment easy, fast, and transparent with its cutting edge technology.
Founded by IIT Guwahati alumni, Bipul and Kumar Sambhav and NIT alumni Anand Kumar, Skillate now comprises a multifaceted team of 30 dynamic professionals, including technologists with deep domain expertise in the recruitment industry.
Leveraging AI and Deep Learning in recruitment
Skillate can work as both as a standalone ATS that takes care of the end-to-end recruitment needs of your organization or as an intelligent system that integrates with your existing ATS to make your recruitment easy, fast, and transparent. 
And how it does this is by banking on cutting-edge technology and the power of AI to integrate with the existing platforms such as traditional ATSs like Workday, SuccessFactors, etc. to solve some real pain points of the industry. 
However, for AI to work in a complex industry like recruitment, we need to consider the human element involved.  Take for instance the words Skillate and Skillate.com — both these words refer to the same company but will be treated as different words by a machine. Moreover, every day new companies and institute names come up, and thus it is almost impossible to keep the software's vocabulary updated.
To illustrate further, consider the following two statements:
'Currently working as a Data Scientist at <Amazon>' and,
'Worked on a project for the client Amazon.'
In the first statement, "Amazon" will be tagged as a company as the statement is about working in the organization. But in the latter "Amazon" should be considered as a normal word and not as a company. Hence the same word can have different meanings based on its usage.
To solve the above problem, Skillate uses a branch of Deep Learning known as Deep Information Extraction. A thorough analysis of the challenges posed makes it evident that the root of the problem here understands a word's context. What Skillate does is that it applies Deep Learning to solve Information Extraction which greatly helps it to effectively model every word's context in a resume. To be specific, this algorithm that applies deep learning for information extraction in resumes is called Named Entity Recognition (NER).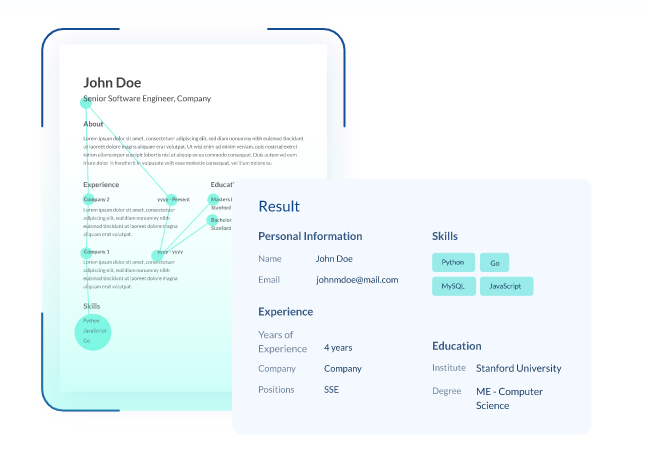 From intelligent hiring to automated resume parsing 
It is this AI technology that helps optimize the entire value chain of recruitment, beginning from creating the job requisition to resume matching to candidate engagement. Skillate's product can consistently address recruitment inefficiencies and help companies build stronger teams. It does this by offering the following proprietary tools:
Automated resume parsing: AI and Deep Learning-based model trained on 120 Million profiles to understand the semantics of each and every statement present in the resume. 
Job v/s resume matching: Persona Matching rather than Keyword Matching. Recommendation based on industry, desired skills, roles, and responsibilities to get the best candidates in a click. 
Smart Chatbots: Unique on its own as enterprises are automating the entire pre-screening conversation with the help of a bot. Some of the important questions like Notice Period, Location Preference, Flexible to work in shifts that are not there in resumes become very important for the recruiters to take the candidates forward. 
Job Description Assistant: This is to help enterprises in attracting great talent and position themselves in employer branding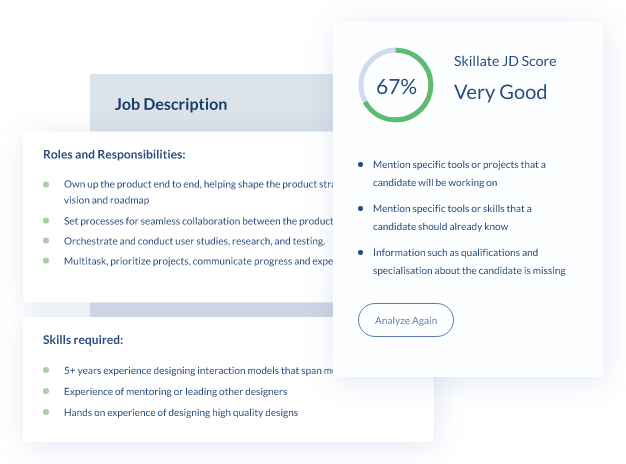 Through these solutions, Skillate differentiates itself from its competitors on the following USPs:
Intelligent Hiring: Skillate's AI automates hiring and improves recruitment efficiency and effectiveness.
Candidate Experience: Makes the hiring process more efficient and transparent to improve your organization's employer branding.
People Analytics: Skillate solutions use existing data to provide key insights and detailed reports on the hiring patterns.
Diversity and Inclusion: Skillate's automated solutions minimize human bias in the recruitment process to ensure that candidates are hired only on the basis of their merit.
3.5 Mn Resumes, 50% reduction in time to hire
Over the past few years, with the power of AI, Skillate has already processed 3.5 million resumes and this continues to increase at the rate of 10% every month. With full utilization, Skillate can reduce the time to hire by more than 50% to 65%, bring down the cost per hire by more than 30%, resulting in 40% lesser interviews and enable 2.2x conversions.
No wonder, the SaaS-based product that is industry agnostic has found takers in old and new companies alike such as Sopra Steria. Yes Bank, OYO Rooms, L&T Construction, L&T Financial Services, Saint-Gobain, Bigbasket, among others.
The way forward: From process automation to candidate recommendation
Going forward, the AI-based startup aims to shift the focus of recruitment teams "from the 'how' to the 'who', i.e., process automation to candidate recommendation. Another focus would be international expansion, especially in the US. As the startup expands, it will also work on making the product multi-lingual and more scalable to handle even more volume and work at a larger scale. 
The technology landscape in the recruitment industry is dynamic in nature. While traditional ATSs like Workday, SuccessFactors, etc. are used by enterprises promise end-to-end management of the recruiting process, there are gaping holes that need to be filled. Solutions such as Skillate that use cutting-edge technology and the power of AI to integrate with these existing platforms are fast becoming the norm. It is clear that AI is causing a major upheaval in the recruitment industry by saving time, removing bias, firing the right candidates, and ensuring a great candidate experience. 
As per a Gartner 2019 Artificial Intelligence Survey, 30% of organizations will use AI-based solutions in their HR function. By leveraging deep learning, Skillate is positioned to make the most of this swing towards AI. How it fares with respect to the rising competition in the space is something to look out for.