Recruitment
How to use Scrum to make Hiring Agile
Long-term scheduling has given way to short-term planning, rigid organizational boundaries have given way to fluid structures. Here's a dynamic new approach to hiring.
What is the single most important thing you do at work? – When managers are asked this question, their answers often reflect the company's values and culture.
When Eric Schmidt (ex-CEO, Google Inc.) was asked this question, his answer was 'HIRING'. Smart managers know that strategy is no substitute for talent. Hiring is like shaving if you don't do it every day, it starts to show.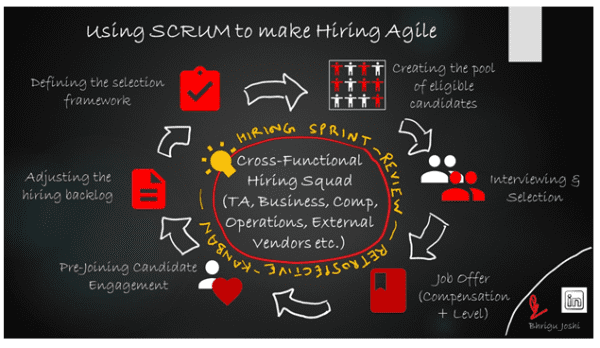 Gone are the days when organizations could predict what's coming their way and prepare much in advance. Long-term scheduling has given way to short-term planning, rigid organizational boundaries have given way to fluid structures, process efficiency has given way to relentless innovation, big bang product launches have given way to iterative and incremental product development, longer customer feedback loops have given way to shorter and frequent customer feedback loops, and finally isolated usage of technology has given way to a more holistic & integrated utilization of technology across the value chain. In simple words organizations are increasingly becoming AGILE to embrace and cut through these changes and many more unforeseen changes to come.
People practices in the organizations need to keep pace with this AGILE movement. Designing HR for agility has already emerged as a key priority for the organization leaders. Following infographic throws light on the 'Design Principles for Agile HR.'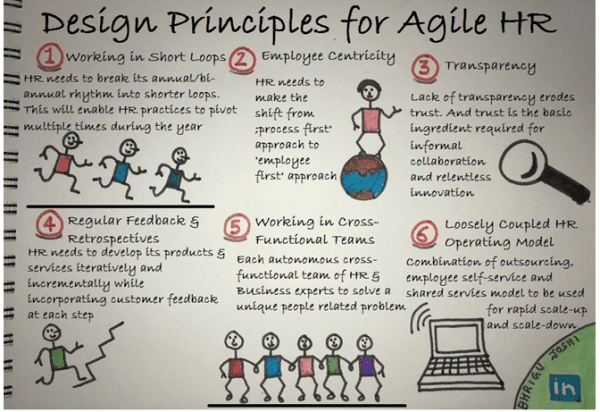 What if we apply the above design principles specifically to hiring?
How is hiring likely to change in this scenario? And how is business likely to benefit from this change? Let's figure out. But first, let us briefly understand what SCRUM is.
Scrum is a framework which is used to implement agile. It consists of sequential steps which makes product development incremental and iterative while receiving continuous feedback.
One of the cornerstones of agility is to work in short loops, also called sprints. Just as there's a product backlog with the listing of all the product features which are to be developed in the order of priority, we can also create a hiring backlog that will have the listing of all the open positions in the order of priority. Each hiring sprint will be a time-boxed (1-2 weeks) event that will close a specific number of open positions from the hiring backlog depending on the available capacity of the hiring team. There can be more than one hiring backlog depending on the roles.
The hiring scrum team will consist of members from cross-functions such as talent acquisition, business, compensation, HR operations & even external vendors. The definition of DONE for this team will be to release the offer to the selected candidates in the given sprint. This implies that this cross-functional team will do all the activities in the hiring value chain, such as creating a pool of eligible candidates, selecting the right candidates, negotiating on compensation & releasing the job offer within the sprint. Pre-joining candidate engagement can be kept outside of the hiring sprint because of uncertainty in the notice period. A typical scrum board is used to make a visible representation of the tasks which have not started, in-progress and completed. Daily Scrum Meetings (DSMs) will be conducted for ensuring team alignment and addressing potential roadblocks.
After each hiring sprint, the scrum team will huddle in time-boxed meetings to do the sprint review, in which the members discuss the outcome of the sprint, and will thereafter do a sprint retrospective, in which the members discuss the learning around people capability, process, and roles. Only outcome metrics (such as the number of offers released, candidate experience, etc.) are used to determine the success of the sprint. The hiring backlog is adjusted after each sprint based on the changing business priorities.
Another aspect of designing hiring for agility is to build the hiring machinery which can support the business in all the three phases, namely, rapid growth, stable times and downsizing. Cross-functional scrum teams will ensure that the workload is equitably distributed across team members and is not piled up only on the members from the talent acquisition team. This can help in rapid scaling-up and scaling-down without impacting any particular function disproportionately. Also based on the past trends and future projections, the capacity of the talent acquisition team can be published beforehand, and consequently business can help in prioritizing the hiring backlog accordingly.
Agile hiring practices can reduce the time to hire and candidate experience by working in short hiring sprints while ensuring that all the resources are focused on filling those positions which add maximum value to the business.
Many organizations such as IBM, GE, and Cisco have already started to experiment with the practices mentioned above. Designing hiring for agility is surely the way forward!