Recruitment
Leveraging mobile technology to enhance quality of hiring: Tweetchat
The informative Tweetchat on Sharpening the saw: Leveraging mobile technology to enhance the quality of hiring witnessed active engagement by many leaders. Lets take a peek into some of the interesting tweets:
To find the right talent pool, organisations need to reach out to candidates through correct medium. In the present age of disruption with influx of millennial workforce, organizations need to re-strategize their recruitment process. They need to be updated as technology becomes obsolete very fast.
In the present need of the hour, mobile based assessment and recruitment is the most efficient way to attract the best talent. A recent study from LinkedIn reveals that mobile assessment is the future of the recruitment industry. The mobile-enabled recruiting is set to nearly double in the next 12 months. Another study by Cedar Crestone states that 74% of HR leaders believe mobile recruiting tools help improve the quality of hire.
Talking about mobile based recruitment for quality hiring, People Matters organized a Tweetchat which witnessed a potpourri of thoughts from varied leaders.
The main partakers of the Tweet session were :
• Prashant Bhatnagar, Senior Director - People & Culture, Hike Messenger
• Susham Shetty, Regional Manager South, Pearson TalentLens India
• Unmesh Pawar, Global Managing Director - Talent Acquisition, Accenture
Following are some of the interesting tweets of the session:

Q1. What are the top reasons to have a candidate driven recruitment?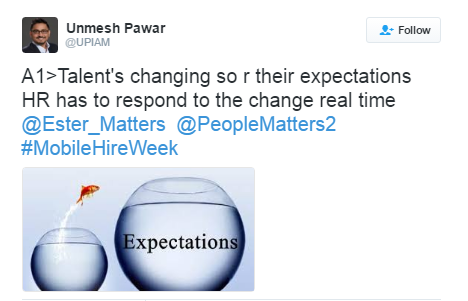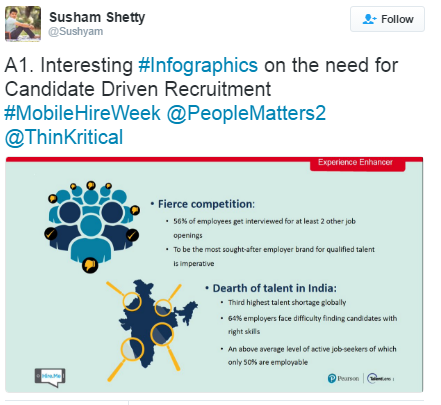 Q2. Can mobile technology impact the quality of hiring or is it a myth?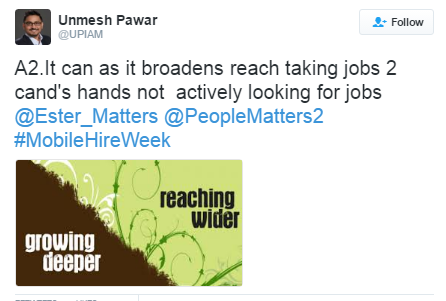 Q3. What recruitment challenges can mobile solve?




Q4. Share some of the best practices of engaging candidates through mobile?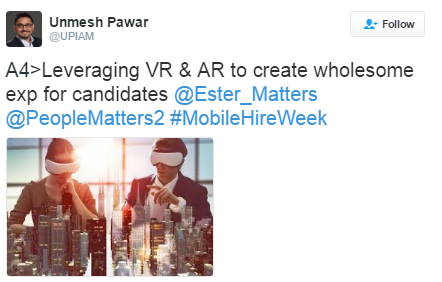 Q5. Key challenges that organizations need to overcome to imbibe mobile hiring?