Reward Services
Last-minute Diwali gift ideas for employees, all under ₹3000
As the festival of lights draws near, finding that perfect last-minute Diwali gift for your employees becomes a heartfelt mission. This collection of thoughtful gift ideas not only embraces the spirit of Diwali but also conveys your appreciation for their hard work and dedication.
The festive season is here, and the anticipation is palpable. As leaders, you're likely preparing for the upcoming celebrations. Some of you might be busy organizing the perfect Diwali activities, while others could be focused on approving leaves and managing workloads. But in the midst of all the hustle and bustle, did you forget to express your appreciation with a Diwali gift? 
If you're concerned about your budget and wondering if you should skip it this year, worry not – we've got you covered. These gifts are not only under Rs 3000 but also incredibly practical. Whether it's indoor plants to purify the air around your employees' desks or a vacuum cleaner to help them keep their homes tidy, these thoughtful gifts will bring joy and convey your gratitude for their hard work. And if one gift isn't enough, feel free to get creative by combining two gifts to create a unique hamper.
Northland Perfect Diwali Gift Hamper - ₹2,999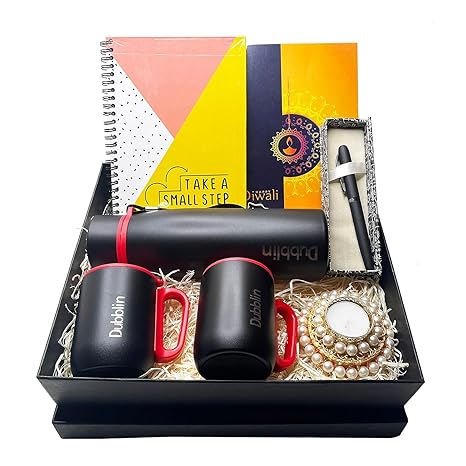 This curated hamper includes a set of 2 insulated mugs and an insulated water bottle crafted from stainless steel to help maintain beverage temperatures. It also features a spiral diary with Wiro binding for comfortable writing and a smooth-writing pen suitable for professionals. A beautifully crafted candle Diya adds a traditional touch to the collection, enhancing the ambiance of living spaces. Additionally, the hamper includes a Diwali greeting card made from eco-friendly material, making it a personal addition to your employees' festive celebration.
UGAOO Combo of 4 Indoor Live Plants - ₹799
In today's world, where the pressing concern of air pollution looms large, these indoor live plants transcend mere decorative elements. They assume a crucial role in cleansing the air and fostering a healthier environment, be it in an office or home setting. This thoughtful gift package comprises four distinct indoor plants, each offering its unique set of benefits. The adaptable and low-maintenance Spider plant not only enhances the visual aesthetics but also actively contributes to enhancing indoor air quality. 
Complementing this, the Jade plant, renowned for its Feng Shui association with prosperity and good luck, brings an aura of financial well-being to any space. Additionally, the Crassula Ovata, an effortlessly cared-for succulent, adds an inviting and decorative touch while thriving with minimal maintenance. To top it off, the Fittonia, also known as the Nerve plant, adds a layer of allure with its intricate and eye-catching foliage. These indoor plants, beyond their decorative charm, symbolise a commitment to cleaner air and well-being, making them a perfect gesture of care and appreciation for your employees.
Suzec Suz-006 Home Desktop Hepa Air Purifier - ₹1,699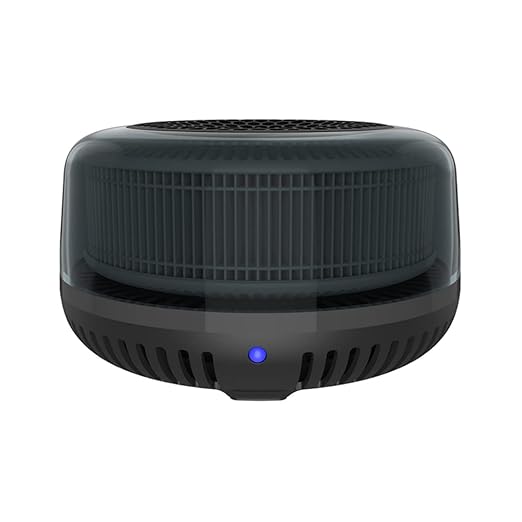 This air purifier features a 3-stage filtration system that includes a pre-filter, true HEPA filter, and activated carbon filter, effectively capturing various airborne particles. It can filter particles as small as 0.3 microns, contributing to improved indoor air quality. With a Clean Air Delivery Rate (CADR) of 80 m³/h, negative ions concentration of 12*10⁶pcs/cm³, and a relatively quiet noise level ranging from 35-50 dB, it operates efficiently while maintaining a peaceful environment. Crafted using environmentally friendly materials such as ABS, Steel, and Silicone Rubber, this purifier's compact and functional design, including a swinging air outlet, suits various settings like offices, bedrooms, and study spaces. Safety features like a 3-meter anti-falling design further enhance its user-friendliness.
LTETTES LED Glass Cup Pillar Flameless Electric Candles - ₹1,499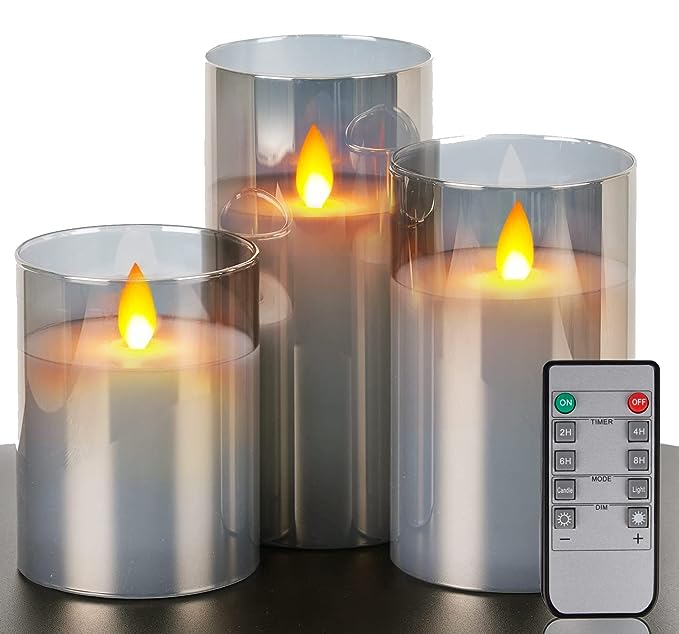 These LED Glass Cup Pillar Flameless Electric Candles offer a warm and charming ambiance to enhance any room's decor. Crafted from genuine paraffin wax with a premium glass shell, these candles provide a realistic experience with their dancing LED flames. They are versatile and suitable for various occasions, making them an ideal addition to your space. The candles are powered by 3 AA batteries, providing over 200 hours of continuous use, and the long-lasting LEDs ensure you can enjoy their beauty for an extended period.
BodyHerbals Skin Care Gift Set for Women & Men - ₹1,529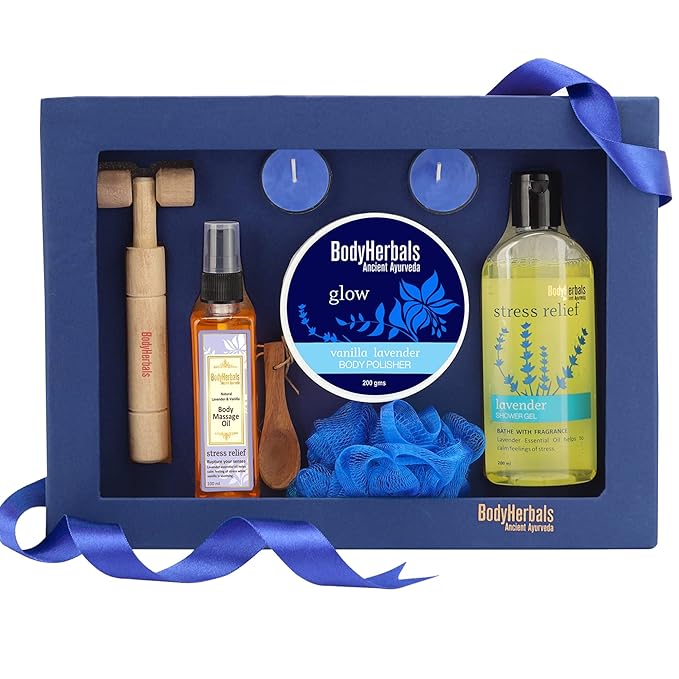 In a time when the importance of self-care and overall well-being is widely recognised, the BodyHerbals Skin Care Gift Set emerges as a meaningful and practical gift option for employees, regardless of their gender. This set encompasses a range of essential items, including the Hand Scrub, Strawberry Bathing Bar, Wooden Massager, 2-in-1 Foot Pumice & Brush, and a Bath Puff. Crafted from natural ingredients, these products promote self-pampering in various ways. 
The Hand Scrub, for instance, offers a speedy yet nourishing 1-minute manicure, while the Wooden Massager enhances body toning. In addition, the 2-in-1 Foot Pumice & Brush efficiently removes calluses and dead skin from the feet, and the Bath Puff delicately exfoliates the skin, leaving it revitalized. This gift set caters to both women and men, making it a versatile and thoughtful choice for employees who prioritize self-care and holistic well-being.
Myra Veda Wellness Gift Hamper - ₹2,876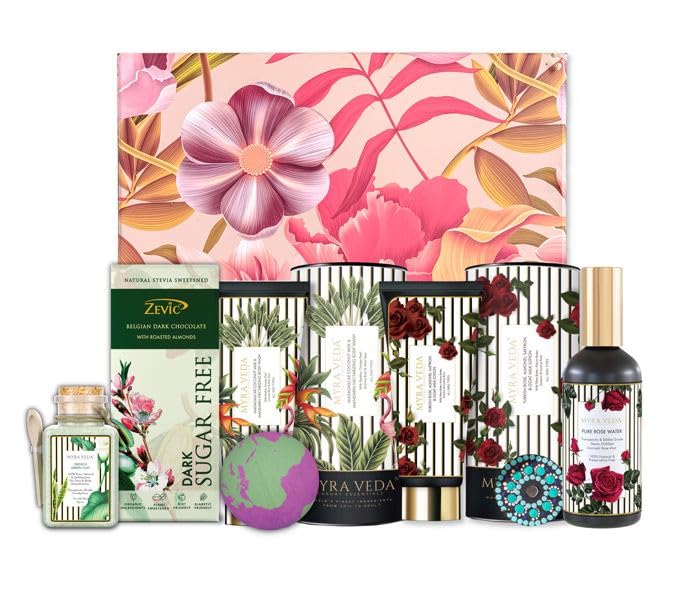 This hamper includes Pure Rose Water, a soothing skincare product with roots in Middle Eastern traditions. The package also features a scented Bath Bomb for a relaxing bath experience and French Green Clay for skin detoxification. Additionally, you'll find a moisturising lotion enriched with Turkish Roses, Iranian Saffron, Goat Milk, and Sweet Almonds for soft and hydrated skin. This wellness collection encourages self-care, making it a suitable Diwali gift that highlights the importance of well-being during the festive season.
NutriSnacksBox Diwali Gift Hamper - ₹1,599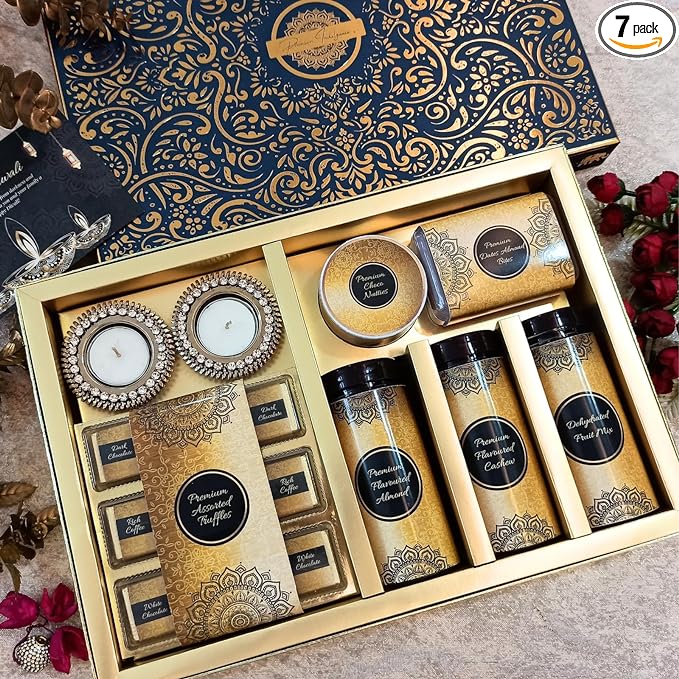 This hamper is filled with an assortment of delectable treats and gifts, including a flavored Fruit Mix, Pepper Cashews, Peri Peri Almonds, assorted chocolates, hazelnut Nutties, Date Almond Choco Fills, two elegant Metal Diyas with Stones, and a Greeting card. All these delightful items are neatly presented in an exquisite golden box, adding an extra touch of festivity to your gift.
Hyperfoods Diwali Dry Fruits Gift Hamper - ₹1,299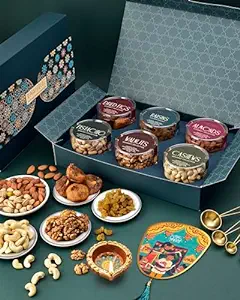 From root to fruit, their products follow a unique method with no additives or preservatives, ensuring that you enjoy premium fruits that are hand-picked from the finest farms, naturally dried, and thoughtfully packaged. This well-crafted gift pack includes a selection of premium dry fruits, featuring 125g of Cashews, Almonds, and Raisins, along with 75g of Walnuts, 150g of Figs, and 100g of Pistachios. Celebrating the triumph of light over darkness, this Diwali dry fruit gift box offers a nutritious and thoughtful alternative to the customary sweet treats, making it an ideal choice for those who appreciate good health.
Wipro Vesta 1.2 l Outer Lid Multicooker Kettle - ₹2,029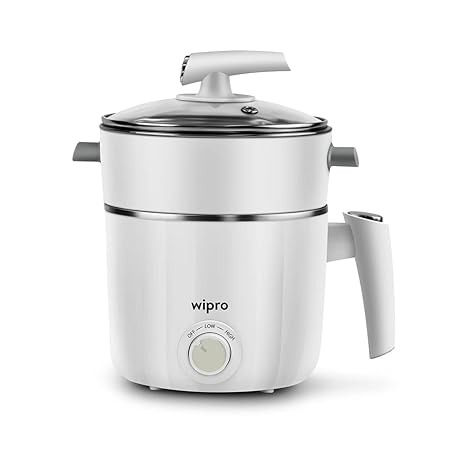 The Wipro Vesta 1.2L Outer Lid Multicooker Kettle is a versatile and practical choice for a last-minute Diwali gift for your employees. This multiutility kettle offers a range of functionalities, from boiling water or milk to cooking instant noodles or pasta, preparing tea, steaming rice, momos, or dhokla, and even boiling eggs. With its compact and elegant design, it features a cool-touch function enabled by a double wall and a rust-free SS 304 inner wall. The high-power 600-watt machine ensures efficient and quick operation, making it a convenient addition to any kitchen. This gift is a thoughtful and functional choice to express your appreciation during the festive season.
Eureka Forbes Quick Clean DX Vacuum Cleaner - ₹2,979
This canister vacuum cleaner is designed to meet daily cleaning needs, efficiently removing deep-embedded dirt and dust. With a powerful 1200 Watts suction, it provides deep and thorough cleaning, making it an indispensable household appliance. What sets this vacuum cleaner apart is its convenience and user-friendly features. 
It comes with a post-purchase virtual demo, ensuring that your employees can make the most of its capabilities. The easy-to-use foot-operated power on-off and auto cord winder switch simplify the cleaning process. Plus, the vacuum cleaner includes three free reusable dust bags, making it a cost-effective choice. Whether it's cleaning tiles, wooden floors, rugs, carpets, sofas, fabric upholstery, or more, this vacuum cleaner is versatile and suitable for multiple surfaces.
Whether you opt for a nourishing Diwali dry fruit gift box or a versatile vacuum cleaner, remember that it's the thought that counts, and your thoughtful gesture will surely brighten up your employees' Diwali celebrations. Wishing you all a joyous and prosperous Diwali!