Skilling
Bare yourself and be vulnerable: Rapid Fire with EdCast's Nishchae Suri
In an exclusive conversation with People Matters, the President – Asia Pacific, Middle East and Africa – EdCast talks about how companies can create the right culture for learning. He also shares his top recommendation on skilling related books, and leaders he follows.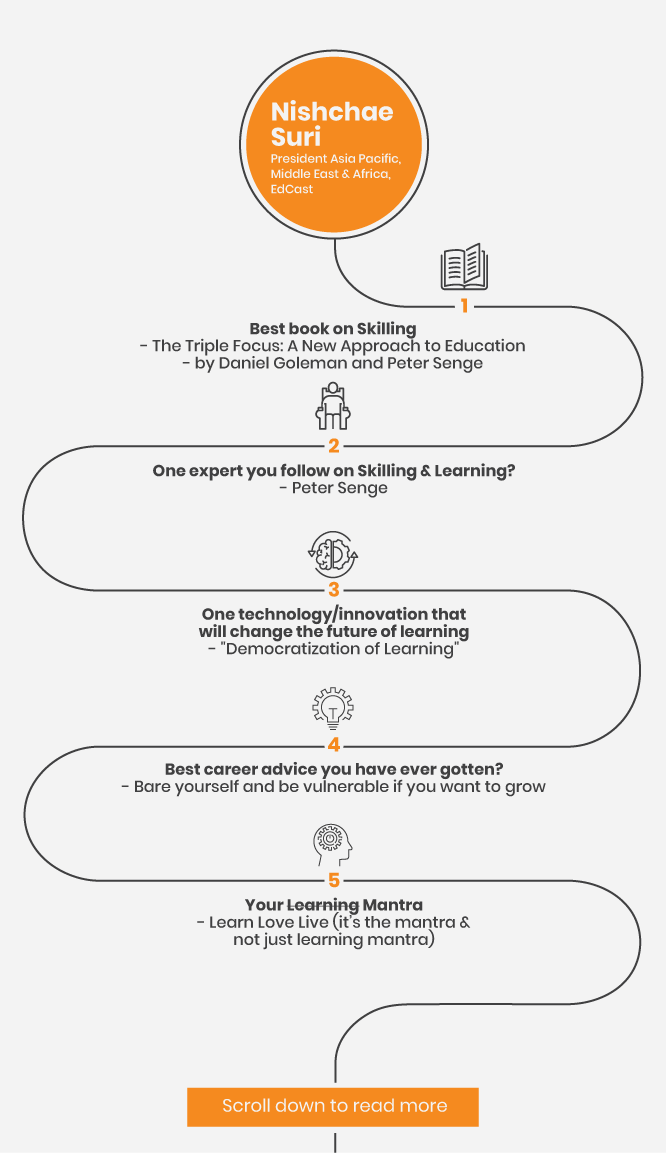 One big skill-related challenge
The speed at which skills are becoming obsolete
One technology/innovation that will change the future of learning
"Democratization of Learning"
One step employers should take on Re-skilling/Upskilling
Learning programs must be designed in a way that they not only fix weaknesses but also build on strengths. 
One tip to create a great learning culture
Create an environment that encourages people to learn "out of performance" and not "out of fear"
One advice for leaders to drive the learning agenda in their organization
Leaders must encourage holistic learning based on the wealth of knowledge in the universe and not limit learning to job requirements. 
Best book on Skilling 
The Triple Focus: A New Approach to Education- by Daniel Goleman and Peter Senge
One expert you follow on Skilling & Learning
Peter Senge
Your learning mantra
Learn Love Live (it's the mantra & not just learning mantra)
Tell us about a time you failed and how you handled it
Failure and success is part and parcel of everyday life. Reflect, accept, act with the objective of emerging stronger. 
How do you make decisions when you don't have all the necessary information?
Merit of the given information, instinct, and intuition.
Who is your aspirational leader
My mother
Best career advice you have ever gotten
Bare yourself and be vulnerable if you want to grow