Skilling
Best B-schools 2016: Ranks 11-25
A snapshot of the schools with ranks 11-25 in the 4th edition of the NHRDN-People Matters B-school Ranking 2016
Tata Institute of Social Sciences (TISS), Mumbai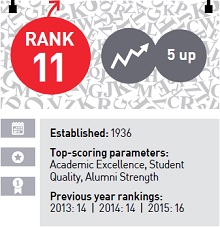 Established as the Sir Dorabji Tata Graduate School of Social Work, it was renamed to TISS in 1964. The institution enjoys a deemed university status and the institution's prime vision is to respond to changing social conditions and create a people-centred and ecologically sustainable society. It is considered among the foremost institutions in India in the field of social science studies and research.
The TISS School of Management aims to develop quality human resource professionals for a variety of stakeholder groups. It offers three M.A. programs, in the fields of Human Resource Management and Labour Studies, Globalisation and Labour, and Social Entrepreneurship
Institute of Management Technology (IMT),Ghaziabad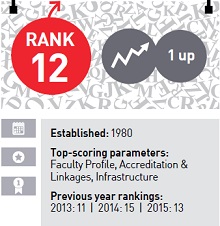 IMT Ghaziabad is a powerful brand in the business education domain. This autonomous university offers several post graduate, doctorate and executive education programs, alongside offering some distance learning and collaborative programs.
It received AACSB accreditation earlier in the year.
IMT remodelled its one year Post Graduate Diploma in Management last year, with a highlight inclusion being an international immersion program, according to which students have to spend two weeks at partner institutes in Europe.
Birla Institute of Management Technology (BIMTECH), Gr Noida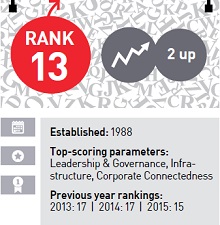 Established in 1988, Birla Institute of Management Technology has established itself as an innovative learning delivery model. Taking into account the limitations of classroom teaching, the institute has introduced the use of online resources and learning methods to increase the learning outcomes and nurture an aptitude for lifelong learning. In its endeavour to balance out theory and practical application of it, the institute has many successful courses which are practice based and demand a high level of professional interaction.
BIMTECH also offers MDPs and short duration executive programs, which are very popular amongst the industry. The institute puts in its best resources for these programs and later seeks feedback from the companies on the same. The programs in HR practices and entrepreneurship are considered one of the most sought after offerings in the country
International Management Institute, Delhi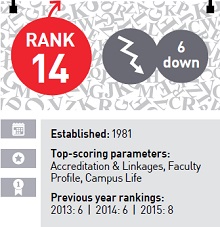 International Management Institute, Delhi, is one of the first corporate sponsored B-school in India. Established in 1981, it received sponsorship from RPG Enterprises, Nestle, ITC, SAIL and Tata Chemicals, among others. Besides offering management programs, IMI also offers Management Development Programs (MDPs) and in-company programs. The Institute also has an active research and consulting base to enhance the body of knowledge.
IMI has also received the Association of MBAs (AMBA) accreditation, and offers Post Graduate Diploma in Management (PGDM), Post-Graduate Diploma in Management - Human Resource Management (PGDM-HRM), Post Graduate Diploma in Management - Banking and Financial Services (PGDM - B&FS) among others.
Xavier Institute of Management (XIMB), Bhubaneswar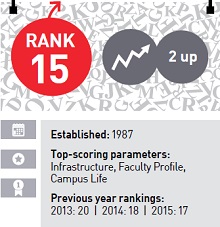 Xavier Institute of Management, Bhubaneswar (XIMB), founded in 1987, is jointly governed by the Government of Odisha and the Society of Jesuits.
The institute also has a huge repository of case studies/research of Indian businesses. The Centre for Case Research (CCR) has the role of conducting casebased research within the sphere of management and social science research. The institute has adopted the "Open Access System" in its library, which allows readers to access information easily. Besides print material, XIMB provides access to electronic databases, such as EBSCO, ProQuest and ELSEVIER.
The college has been granted South Asian Quality Assurance Systems (SAQS) accreditation, and has currently applied for a renewal. It also has tie ups with various institutions across the globe for its exchange program. Students can get admission via both XAT and CAT.
Department of Management Studies - IIT, Delhi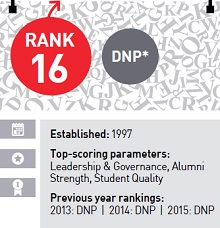 Department of Management Studies – IIT Delhi (DMS-IIT, Delhi) is the school of management education within IIT, Delhi.
The institution's forte is its research orientation, which is used to develop contemporary curricula. Inputs are taken from industry experts, business leaders, and alumni alike. DMS has been ranked second by Stanford for its research output among IITs and IIMs. To give global exposure, the institute has a popular initiative, known as 'The Global Field Study' which facilitates visits to other countries. DMS has produced 80 PhDs and the faculty has published over 70 books and 1000 papers.
Its vision is "to attain global prominence by developing thought leadership, innovative solutions, and responsible business leaders through flexible, values-based management education driven by high impact research."
Vinod Gupta School of Management (VGSoM) - IIT, Kharagpur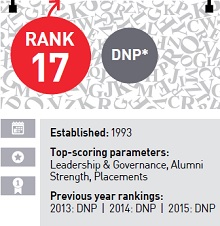 The Vinod Gupta School of Management – Indian Institute of Technology, Kharagpur (VGSOM – IIT, Kharagpur) is one of the first IITs to introduce a management program. Started in 1993, its student intake is currently at 120, as they steadily grow and move towards their mission of developing outstanding management professionals and future CEOs, who will lead organizations especially in technology-driven and knowledge-based industries, in the service of the nation and community.
The institute has also introduced a five-year dual degree course in Engineering and Management. The 2014-16 batch saw a 14 percent increase in CTC compared to last year, and the average received was Rs 14.01 lakh. Top companies from across the industry participated in the placement round and 98 percent students were placed in the first phase.
Prin. L. N. Welingkar Institute of Management Development & Research (We School), Mumbai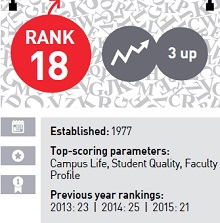 Prin. L. N. Welingkar Institute of Management Development and Research, popularly known as 'WeSchool, is a part of Shikshana Prasaraka Mandali Pune that manages 43 equally eminent educational institutes in Maharashtra and is led by Group Director Prof. Dr. Uday Salunkhe.
Apart from the regular PGDM, it offers some distinctly specialized niche PGDM programs in E-Biz, Business Design, Healthcare, Retail, ,and Rural Management. It is acclaimed for its distance learning courses as well and is one of the leading institutes with its distance learning programs.
WeSchool is the first Institute to offer a Design and Innovation program. It has set up India's first memetics lab: "innowe", and it collaborated with Centre for Creative Leadership in 2012 to deliver the 'Global Citizen Leader program', for its PGDM students. They intend to create an environment of experiential learning.
TA Pai Management Institute (TAPMI), Manipal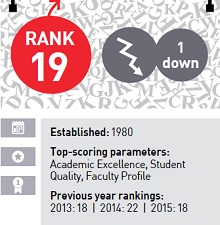 Named after its founder, the Padma Bhushan awardee late T.A. Pai, TA Pai Management Institute was established in 1980. A private autonomous business school in India, it was the second Indian B-school to get global accreditation to the Association to Advance Collegiate Schools of Business (AACSB) after Indian School of Business.
CRISIL has also graded TAPMI as A*** B-School both at national and Karnataka State levels.
With a vision to create responsible business leaders TAPMI offers a two-year Post Graduate Diploma in Management (PGDM), a PGDM each in healthcare and banking and financial services, exchange programs with global universities (like Macquarie University, Australia and Sheffield Hallam University, UK) and a PhD program. It recently signed an MoU with Emporia State University of the USA to facilitate faculty exchange, cooperation in research and joint publications, seminars and workshops.
The institute's website boasts of 100 percent placement rate for 30 years and the 2014-16 batch had a 9 percent increase in average salary offers.
Symbiosis Centre for Management and Human Resource Development, Pune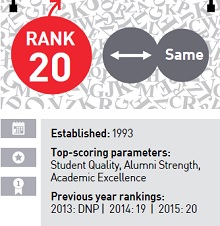 Symbiosis Centre for Management & HR Development , Pune, also known as SCMHRD, is a considerably younger institute compared to other premier B-Schools in the country, SCMHRD has significantly paced up to create a brand of its own.
The institute came under the ambit of Symbiosis International University (SIU) in 2006, post which it started to offer an MBA degree. Besides Human Resources, SCMHRD's management programs in the fields of finance, marketing, operations management, and infrastructure management are also popular among MBA aspirants.
SCMHRD follows a participatory approach to teaching. It involves group tasks, outdoor sessions, case studies, interactive lectures and projects. The SAP laboratory and Oracle Centre are examples of the institute's tie-up with the industry players. The internal processes, beginning from admissions to placements are all managed by students, which helps them understand the importance of teamwork, budget management and so on.
FORE School of Management, Delhi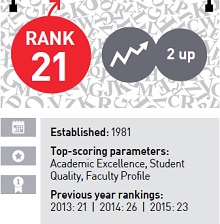 Foundation for Organisational Research and Education (FORE) was established as a non-profit institution in 1981. A key activity at FORE School of Management (FSM) has been designing, developing and conducting innovative Management Development programs (MDPs) to promote professional management in India. It offers close to 100 MDPs across functions to help working executives build domain expertise and professionalize management.
To promote foreign immersion and exchange of students, teaching and research personnel, FORE has MoUs with Northampton Business School (University of Northampton, UK), Anglia Ruskin University (UK), ESC Rennes School of Business (France), Faculty of Business (University of New Brunswick, Canada) among others.
Institute of Management - Nirma University (IMNU), Ahmedabad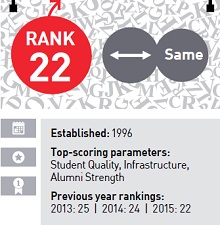 The Institute of Management, NIRMA University, earlier known as NIRMA Institute of Management, established in 1996 as an autonomous institute, became a constituent institution of NIRMA University in 2003. The integrated BBA-MBA course started by NIRMA at the undergraduate level in the academic year 2013-14, has gained popularity. This course is offered over and above the undergraduate, postgraduate and doctoral level programs in management being offered. The flagship program of twoyear MBA also offers dual specializations in the areas of Finance, Marketing, OB & HR, Information Technology, Operations and Strategic Management and includes close relationship with the corporate world in the delivery. The institute also has academic tie-up with some of the best universities in USA, UK and Germany.
K.J. Somaiya Institute of Management Studies and Research (SIMSR), Mumbai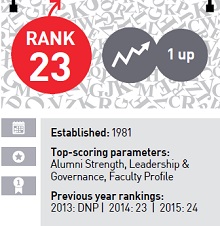 KJ. Somaiya Institute of Management Studies and Research, popularly known as SIMSR, was established by Padma Bhushan Late K.J. Somaiya in 1981. SIMSR became an autonomous institute in 2013 and is under the University of Mumbai. It has a research centre for PhD program in management of University of Mumbai and SNDT Women's University. Located in the financial hub of Mumbai, it has state-of-the-art infrastructure spread over 1.5 lakh sq.ft.
The institute has been granted SAQS accreditation and has registered for AACSB accreditation. The institute also has alliances with several universities in Europe, Australia and the United States.
Sydenham Institute of Management Studies, Research & Entrepreneurship Education (SIMSREE), Mumbai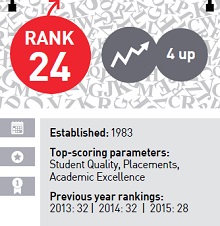 Sydenham Institute of Management Studies & Research & Entrepreneurship (SIMSREE) is an institution under the credited Sydenham College of Commerce, an institution that has built its repute over 100 years as the first college of commerce in Asia. Its proximity to corporate establishments in the commercial capital of the country serves as a great factor for SIMSREE to be among the most preferred business schools in the region. This is the only fully autonomous management program offered by the Maharashtra government and run exclusively by and at SIMSREE.
Apart from the regular management courses, it also offers a two-year full-time Postgraduate Diploma in Business Management (PGDBM) course approved by AICTE. The institution adopts modern pedagogy techniques including case studies, scenario planning, and role plays to impart education to embed knowledge to its students. In addition to practical teaching, the institute encourages students to participate in several live projects with industry partners, where faculty supports them through mentorship.
Indian Institute of Forest Management (IIFM), Bhopal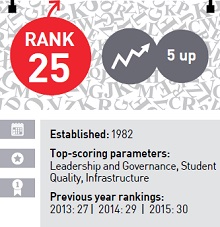 Established by the Ministry of Environment and Forests with financial assistance from the Swedish International Development Cooperation Agency (SIDA), IIFM was conceptualized and its perspective plan was prepared by a core group of Indian Institute of Management, Ahmedabad in response to the recommendations of the National Commission on Agriculture. Situated at Bhopal amidst lush green surroundings, the Institute's aim is to meet the need for managerial human resource in forest and its related sectors and providing leadership in professional forestry management. In December 2014, the Ministry of Environment and Forests has entrusted the institute with the task of steering the process to revise the national forest policy (NFP), only the third such after earlier ones in 1952 and 1988.
Disclaimer: Only the schools that participated have been ranked. This is not a comprehensive list of all B-Schools in India
Also read: Best B-schools 2016: Ranks 1-10
To learn more about the ranking process please click here