Skilling
Best B-schools 2016: Ranks 26-50
A snapshot of the schools with ranks 26-50 in the 4th edition of the NHRDN-People Matters B-school Ranking 2016
Lal Bahadur Shastri Institute of Management (LBSIM), Delhi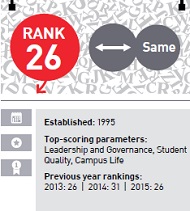 Established to commemorate the memory of India's second Prime Minister Lal Bahadur Shastri, the institute strives to impart value-based education in management and IT with a pragmatic approach towards corporate excellence. Apart from the regular PGDM courses and Executive programs, the institute also offers MCA, LBS Entrepreneurial and Incubation Centre, LBS Risk Management Centre, LBS Research Centre for Public Policy. Self-learning is given huge importance here. Students are given practical assignments and projects which help them to learn through active student industry interaction. 85 recruiters visited the institute for placements in 2016, and the highest package offered was Rs 16.5 LPA; the average package offered was Rs 8.3 LPA.
Institute for Financial Management and Research (IFMR), Chennai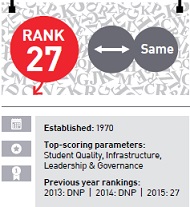 Located in the city of Chennai, IFMR wants to become one of the leading knowledge and research centers in Asia in Finance and Applied Economics. It is a non-profit organization guided by a Board of Governors comprising leaders of major companies in India such as N. Vaghul, ex-Chairman, ICICI Bank; K Shanmugam, Finance Secretary, Gvmt. of Tamil Nadu; and Rajiv C.Lochan – MD and CEO, Kasturi & Sons Ltd, among others.
Goa Institute of Management (GIM), Goa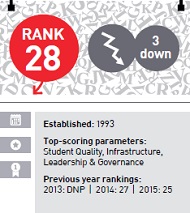 The mission of Goa Institute of Management is to create knowledge & nurture leaders for sustainable business and an inclusive society for India and the world while maintaining strong & ongoing commitment to Goa. The institute offers a full-time 2-years PG Diploma in Business Management, PG Diploma in Healthcare Management and Executive MBA. It also offers PhD programs in management for Goa University. This year about 75 companies visited the campus which is a rise of 35% with 230 offers. The highest salary offered was Rs 16.5 LPA, while the average salary was Rs 9.4 LPA. GIM calls its MBA students as Program Participants. This reflects GIM's belief that learning styles are diverse and that all learning is best sustained with active involvement by the participant.
Jaipuria Institute of Management, Noida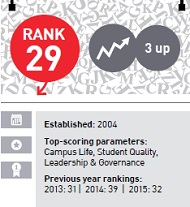 Focusing on developing graduates with entrepreneurial mindset, Jaipuria Institute offers AICTE-approved two-year full time PGDM programs in general management, Service Management and Marketing. The academic partners of the Group include HEIG-VD, Switzerland, Naresuan University, Thailand, Eastern Mennonite University, US, Kainan University, Taiwan etc. The institute organizes several conclaves to bridge the gap between academics and the industry. The Group believes that "there is more to success than a well-paying job. It is defined by the challenges that push your mind, the goals that take you higher and the nurturing relationships that give meaning and purpose to your life."
Institute of Management Technology, (IMT) Nagpur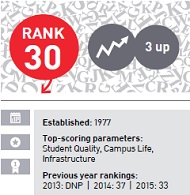 Institute of Management Technology Nagpur was established after IMT Ghaziabad. IMT has partnerships with 29 leading schools from the U.S., Europe, Australia, Asia, Africa and Latin America for exchange programs. It offers both Inbound and Outbound Exchange Programs for students to learn more about the dynamics of management in different parts of the world.
SDM Institute for Management Development (SDMIMD), Mysore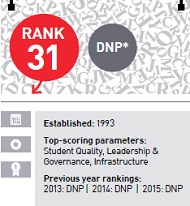 SDMIMD has featured in the list for the first time. Located at the foot of Chamundi Hills at the 'Palace City' Mysore, the institute inculcates ethics in the program. The institute offers PDGM (full time and part time), CPBM, and MDP. Student exchange programs enable students to understand each other's countries, business practices and culture.SDMIMD has Student Exchange Programs with the Mays School of Business, Texas A&M University, USA, MBA Centre, Global Management Education Institute, Shanghai University, China, British University in Dubai, University of Dubai, University of Bordeaux, France & University of Montevideo, Uruguay. Every year, students can opt to study one term at either of the above Institutes.
Xavier Institute of Social Service (XISS), Ranchi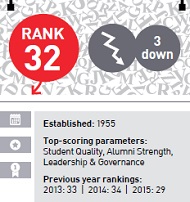 XXISS was established in Ranchi and was registered as a separate educational society under the Societies Registration Act in 1973. The institute mandates that all the students of Postgraduate Diplma in HRM and Postgraduate Diploma in Information Technology undertake social service field work. The institute offers PGDM (HRM), PGDM (RM), PGDM (Finance), PGDM (IT), and PGDM (Marketing).
Amity Business School, Noida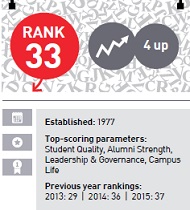 The institute, which started in 2003 with 120 students, is now a well-known business management institution offering BBA to PGDM courses of 2 years as well as 3 years. The institute also offers MBA in International Management and International Business. Amity University is India's first private university to implement reservations based on caste etc. for both faculty as well as students. It was accredited by the NAAC with grade A in 2012. A number of management programs are accredited by ACBSP. Amity University's Online MBA is EFMD CEL accredited. It also has been associated with the Directorate General Resettlement (DGR), under Ministry of Defence, Government of India. A seven-day compulsory military training is organized for all students.
PSG Institute of Management (PSGIM), Coimbatore
PSG Institute of Management is highly well-known for its ability to foster entrepreneurship among management graduates. PSGIM has joined hands with varsities in the US and Europe for exchanging faculty and students.The institute has three Academic Partners - The University of Toledo, Alliance francaise, and Hof University. While the institution offers normal MBA courses, it also offers the PSG-India Study Abroad Program. It is a 21-day program that purports to acclimatize global participants to an India of the future through lectures, visit to places of interest and learning that will help participants get a deep insight of the country. PSGIM is one of the founder members of Association of Brics Business Schools.
Institute of Finance and International Management (IFIM), Bengaluru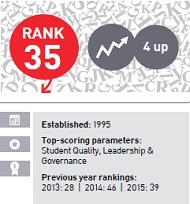 IFIM, Bengaluru offers students with PGDM, PGDM (Finance), PGDM (International Business) and also a few Executive programs, PhD Program in Management. Strategically located in the heart of the IT City, Bengaluru, the institute's core strength is the innovative pedagogy that includes Personality Enhancement Program (PEP), 4.5 month Industry Internship Program (IIP), Lab for Business Analytics, Finance lab, among others.
Jaipuria Institute of Management, Lucknow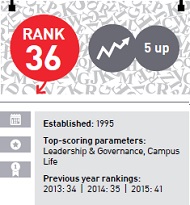 Jaipuria Institute of Management, Lucknow, believes that the student is an active participant in the teaching-learning process. The institute not just offers tools and techniques to its students but is also equally cognizant of their managerial education. The Jaipuria Group institutions are NBA accredited for all their PGDM programs. Jaipuria Lucknow is also accredited as a 'Grade A' institute by the NAAC. The PGDM programs at Jaipuria Lucknow have also been granted MBA equivalence by the AIU.The group believes in building a symbiotic relationship with likeminded and renowned educational institutions. The academic partners of the Group include HEIG-VD, Switzerland, Naresuan University, Thailand, Eastern Mennonite University, US, Kainan University, Taiwan etc.
IILM-Lodhi Road, Delhi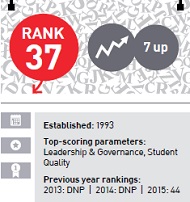 IILM offers management programs at graduate level. Both the Programs – PGDM and Executive PGDM are approved by AICTE. Some of the key features of IILM PGDM Program: Globally benchmarked curriculum, faculty with academic and industry experience, mentoring program, student exchange facilities, connect with industry through interaction with professors, industry captains and policy makers. ILM has been accorded accreditation by SAQS.
KIIT School of Management, Bhubaneswar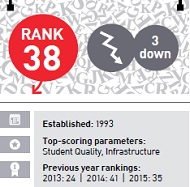 KIIT started as a modest vocational educational institute in 1992 in Bhubaneswar. By 1997, among other fields, KIIT commenced its programs in Management. The excellent academic ambience, quality faculty led to grant of A-category status to it by the MHRD. It is accredited by NAAC of UGC in 'A Grade'. KSOM believes in a strong education to employment system. The institute believes in not only providing placements through campus, but grooms students on lifelong employability. To achieve that, the institute believes in simple metrics that start with knowledge and the learning methods that impact lifelong knowledge. KSOM offers a broad-based management education where every student can pursue electives from areas other than his chosen fields.
Jagannath International Management School (JIMS) - Kalkaji, Delhi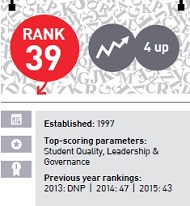 Located in the heart of South Delhi, JIMS, Kalkajiwas founded for imparting high quality professional education. The campus offers PGDM (Marketing, Finance, and Human Resource) and PGDM (International Business) duly approved by AICTE (Ministry of HRD).Recently Mandarin, the official language of China, has been introduced in curriculum so that a student placed with a multinational firm will have an edge over the others with knowledge of Mandarin.At JIMS, IB students also go for free travel cum study trip to MDIS, Singapore for a one week certificate course conducted by faculty of MDIS . This enables students to analyze and apply principals and skills of economics, finance and marketing in true global scenario.
New Delhi Institute of Management (NDIM), Delhi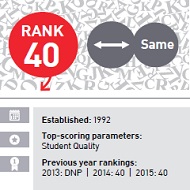 Established in 1992, NDIM offers AICTE approved 2 years full-time PGDM that is equivalent to MBA and is accredited by the National Board of Accreditation (NBA). It has been approved by the AICTE. PGDM at NDIM is 'Accredited' by the Government of India's 'National Board of Accreditation' since 2004 and is among very few internationally accredited MBA programs in India with "Premier College Status."
Fortune Institute of International Business (FIIB), Delhi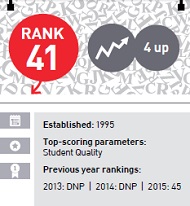 FIIB was established in 1995 and has worked towards rediscovering and reinventing MBA education. The institute facilitates an all-round development of its students through international collaborations and certifications, global immersion programs and regular industry interface. FIIB has been able to successfully achieve better diversity, be it in terms of research or industry exposure of faculty, sharper focus on an industry-relevant and futuristic curriculum and customized approach to identifying skill-gaps and better matching of aspirations with learning and employability outcomes. FIIB has recently received the 2016 Education Excellence Award and certificate for The Best Business School for Outstanding Corporate and Industry Interactions, by the Education Post jointly with CIAC-Global in Association with CIHF.
IILM College of Engineering and Technology, Greater Noida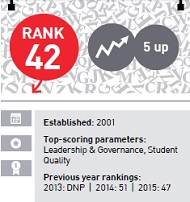 IILM College of Engineering & Technology offers PGDM and Executive PGDM, both approved by AICTE. Students are exposed to mentoring programs and student exchange facilities are also available. IILM has been accorded accreditation by SAQS. It is the only business school from India to be inducted into the group of 30 higher education institutions as a champion business school by the UN Global Compact PRME initiative.
ITM Business School, Navi Mumbai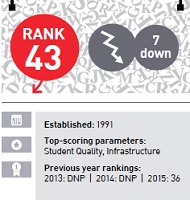 Established as a part of the ITM group of institutions under the leadership of Dr. P.V. Ramanaas the founder chairman of ITM Group of Institution, ITM-Navi Mumbai is a non-aided business school and offers 2-year full-time AICTE approved PGDM iConnect programs with over 1200 seats across 6 campuses. The ITM Group has partnerships with international universities and schools for knowledge transfer, program development and student exchanges. These affiliations help in keeping the curricula updated, bring in internationally acclaimed faculties and in developing new programs. Some of the partnerships and associations include Southern New Hampshire University, USA; Queen Margaret University, UK; Groupe ESSCA, France.
SCMS Cochin School of Business, Cochin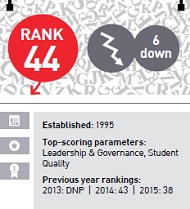 SCMS was a brainchild of the educational vision of the Prathap Foundation for Education and Training in 1976. With a vision and mission to be a leader in providing value based educationin harmony with the changing global order and developing globally competent and socially responsible business leaders through innovative education system, SCMS is only one of the eight institutions that are accredited by the ACBSP, which is a major accreditation body for business schools in the United States. It is also accredited by India's National Board of Accreditation through 2015. CMS Cochin has been ranked among the top-50 management institutes in India by MHRD, Government of India in its National Institutional Ranking Framework (NIRF).
Symbiosis Centre for Information Technology (SCIT), Pune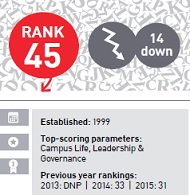 A constituent of SIU, the Symbiosis Centre for Information Technology focuses on providing education in the field of Information Technology Business Management in India. SCIT's innovative curriculum transforms the students as techno-managers and is positioned to deal with different dimensions of information business and focus areas of information security management, software solution management, IT infrastructure management and systems.
Jaipuria Institute of Management, Jaipur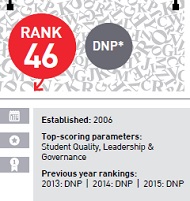 With the vision of nurturing the next generation of thought leaders through intuitive education, Jaipuria Institute of Management, Jaipur was established in 2006. Led by Dr. Prabhat Pankaj, the institute offers a unique pedagogy mix that allows 20 percent of its lectures delivered by experts from the corporate world so that the there are no crevices between theory and practice. Jaipuria Jaipur offers two year full time Post Graduate Diploma in Management with dual specialization in Marketing, Finance, HR, Operations and Strategy and a range of other innovative elective courses in Brand Marketing, Marketing Research, Project Finance, Analytical Models in Finance, Leadership and Change, Performance Management, e-commerce.
Balaji Institute of Modern Management (BIMM), Pune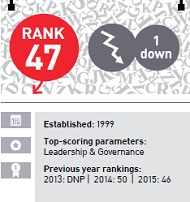 Balaji Institute of Modern Management, Pune has its course approved by the AICTE, Ministry of HRD and within a short span of time, the institute has made a mark in the business education domain and is consistently working towards providing the best-in-class experience to students and faculty. BIMM, BITM, BIIB, BIMHRD from Pune have been granted equivalence to MBA status amongst the PGDM Institutes in Pune.
Kirloskar Institute of Advanced Management Studies (KIAMS), Harihar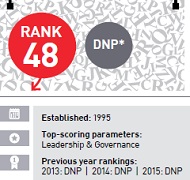 Envisioned as a training institute and knowledge hub, KIAMS was established in 1991 as a learning centerby theKirloskar Group of Companies for its Managers whoexchanged their expertise, experience and kept up with the latest concepts and movements in Management. This training and knowledge hub was opened to managerial level employees in 1995.
KIAMS has been awarded with the CSR Top Institutes of India Award for the year 2016 and is recognized among the top 40 B-schools in the country. The institute offers not just management knowledge, but also seeks to provide development and consultancy to some of the most inspired businesses across the world like Adecco, Grasim Limited, JSW Steel Limited etc.
Symbiosis Institute of Management Studies (SIMS), Pune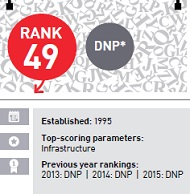 With an aim to "create leaders who make a difference", SIMS was set up in 1993 and is a constituent of the Symbiosis Institute of Management. SIMS is an apt example of the Public Private Partnership between the Government of India and Symbiosis. As an ISO 9001:2008 quality certified management institute, SIMS has also been accredited as the "Centre for Corporate Governance" of the 'National Foundation of Corporate Governance' (established by Ministry of Corporate Affairs and CII) & is also a recognized as a Centre for Entrepreneurship by Department of Science and Technology. SIMS is the only B-School in private sector with 90 percent seats reserved for wards of Defence personnel.
GITAM School of International Business (GSIB), Visakhapatnam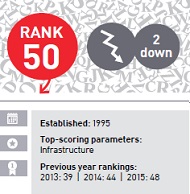 GITAM School of International Business was started with the mandate to develop professionals in international business and global entrepreneurship. The institute focuses extensively on research, consultancy, executive education and teaching in the exclusive areas of IB and Global Entrepreneurship. The school also has collaborations with three foreign B-schools.