Skilling
Manufacturing 4.0: What's next?
How is the convergence of policies, trends, and technologies promises to reshape the employment in manufacturing? Read on to know more.
During his visit to India, Nobel laureate, Paul Krugman cautioned that India might end up with mass unemployment if its manufacturing sector does not grow. He noted, "In Asia, India could take the lead but only if it also develops its manufacturing sector."
Recently India regained its position of world's fastest-growing major economy after the country's GDP growth (7.2%) overtakes China's growth (6.8%). According to experts, this growth was an outcome of robust growth in manufacturing sector.
India accounts for 1.8% of the world's manufacturing output. Manufacturing contributes around 16% to India's GDP. While manufacturing has emerged as one of the fastest growing sectors in India but with services sector picking up in the early 2000s, manufacturing saw a slump in its contribution to overall GDP.
Manufacturing Industry: Market Overview
India is anticipated to become the fifth largest manufacturing country in the world by the end of the year 2020. The Government has set up an aggressive aim of increasing the contribution of manufacturing output to 25% of GDP by 2025. This would be a 9% increase from the current level of 16%. The GDP from manufacturing in India has reached an all-time high of 5,010 billion INR in the second quarter of 2016–17. This is due to an enormous push by the Government to open up the economy by initiatives like
The foreign direct investment (FDI) limit has been increased in 15 sectors,
A push to enhance ease of doing business, along with a rapidly growing consumer base, has boosted investor confidence.
Implementation of goods and services tax (GST) to create a pan-India common market of 2 trillion USD GDP with 1.2 billion people, which again will be a big draw for investors.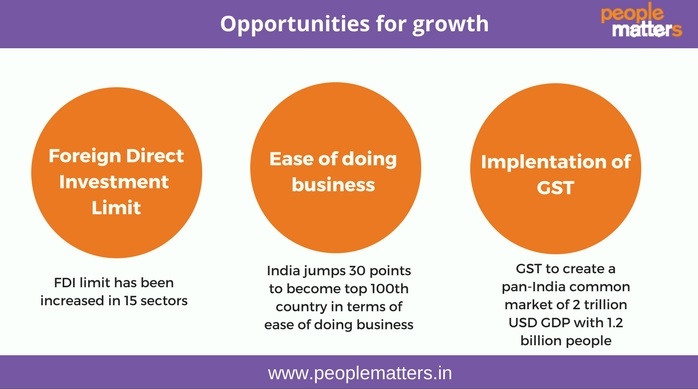 Policy design to elevate India to the status of a global manufacturing hub:
Make In India:
Increasing manufacturing sector growth to 12%—14% per annum
Creating 100 million jobs in the manufacturing sector by 2022
Creating National Investment and Manufacturing Zones (NIMZs)
Providing incentives such as 5% interest on reimbursement, 10% capital subsidy and up to US$30,000 of reimbursement on tech expenditure
National level industrial policy
Facilitating online application submission for industrial licenses and Industrial Entrepreneurs
Simplifying application forms
Increasing the validity period of industrial licenses from 2 years to 3 years
National level MSME policy
Providing up to 95% financial assistance for entrepreneurs
Providing 50% assistance in infrastructure strengthening
Offering collateral-free loans up to INR 50 lakh
Startup India
Providing tax exemptions for 3 years
Creating an INR 10,000 crore fund for investment into start-ups
Providing tax exemptions on capital gains and on investments above the fair market value
Skill India Initiative
Aims to train over 400 million people in various skills
Allocated US$ 620.85 million for Skill Acquisition and Knowledge Awareness for Livelihood Promotion programme (SANKALP) which will impart market relevant training to 35 million youth
In 2017-18, US$ 341.47 million was also allocated for the next phase of Skill Strengthening for Industrial Value Enhancement (STRIVE) which aims to improve quality and market relevance of training provided in Industrial Training Institutes(ITI's)

Challenges Faced:
According to results of the 4th edition of India Manufacturing Barometer survey by PwC, the unavailability or high price of raw materials, limited domestic demand, competition from foreign markets, and uncertainty about taxation, legislative and regulatory regimes continue to be seen as barriers to business growth in the coming year.
The rise of Industry 4.0 is another challenge that the sector is struggling with. Industry 4.0 is the rise of new digital industrial technology that makes it possible to aggregate and analyze data across machines, enabling faster, more flexible, and more efficient processes to produce higher-quality goods at reduced costs.
However, there are a lot of challenges onboard as the sector enters the fourth revolution:
a) Will it create or destroy jobs? How will job profiles evolve?
c) What kind of skills will be in demand?
Manufacturing and employment:
Today, manufacturing industry is one of the biggest private sector employers in India. Overall, more than 30 million people are employed by the unorganized and organized sector. And it is forecasted that the sector will push growth in the rural areas where more than 5 million manufacturing establishments are already running. This will be the alternative available to the new generation of farmers.
Rajesh Padmanabhan, Group CHRO at Welspun group shares, "The real challenge is not employment but employability."
Padmanabhan says, currently manufacturing contribute 12% of the employment in India. However, when we talk about the Government's plan, by 2020, the manufacturing sector has the capability to contribute 20% + of the nation's employment. However, one of the most significant challenges that we are facing and that everyone needs to address is the skill gap.
In order to contribute maximum to the nation's economy, and make the digital transformation of the sector and "Make in India program" successful, the industry requires a good amount of skilled labor. So the real gap is readying relevant skills & not employment. When I say it is not employment but employability, it means that it is not people available for employment but right skills available for employment.
Corporates, government, and education establishments will have to come together and provide an ecosystem to build a workforce that can expedite the industry growth process.
Another impact on employment that can be seen is the creation of new jobs and displacement of few job roles. According to a McKinsey report, "Jobs Lost, Jobs Gained: Workforce Transitions In a Time Of Automation," shares automation technologies including Artificial Intelligence and Robotics will generate significant benefits for users, businesses, and economies, lifting productivity and economic growth. The extent to which these technologies replace workers will depend on the pace of their development and adoption, economic growth, and increase in the demand for work.
Talking about the employment laws, Padmanabhan says, "Considerable credit has to be given to the government for managing the labor laws. The government has done a lot to digitize the entire process of compliance which has made the whole process easy to manage. For, E.g., Online portals & digital connects have been launched that lay out the regulatory requirements. A new web-based labor inspection system will do away with the current arbitrary selection of factories, thus curbing the manual rigor of scrutiny of factory processes by government inspectors. All these steps have led to high governance, high compliance, and sanitization of the entire system. We have made some strides in this journey, but it needs to have rapid forward steps by all stakeholders.
The need of the hour:
Shilpa Kabra, Vice President & Head Human Resources, National Engineering Industries Ltd (NEIL), shares that companies need to begin partnering at the academic level with institutes to co-create curriculum design, induct, and orient students at an early stage. In addition to this, specialized training and apprentice centers set up by the government and specialized universities will help to build future skills.
E.g., with the onslaught of digital, the industry will need future skills of mechatronics, cybersecurity, data analytics, sensor technologies, etc. At the heart of this initiative should be key in-house training centers and academies to help employees enhance their skills through a classroom and live application approach that intersperses class work with hands-on fieldwork in the form of operational projects.
At Welspun, we have a skill center which was primarily started to support individuals' skilling. Every year we train 10,000 people in each function- spinning, weaving, cut n sew, quality, printing, etc. The primary intention is to build skills for the industry, and some of them may join us for employment, but the bigger purpose remains, i.e., Nation Skill Building.
According to a study by BCG, 19% believes there is still a need to make reforms in labor laws.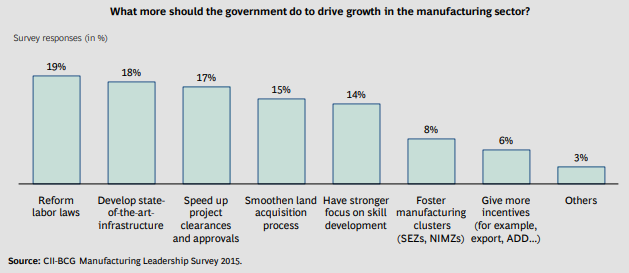 Kabra says, firstly government has to move forward from policy-making and advocacy to ensuring policy implementation. This will mean more nodal government centers that are efficient as well as effective in ensuring the adequate fulfillment of the skill gaps. Moreover, the government needs to provide thought leadership from the perspective of emerging skills and technologies. Also to promote key manufacturing roles and skills, it will be vital to establish external cross-industry training centers.