Skilling
Rapid fire with Kamal Dutta: On tackling skilling challenges
In an exclusive conversation with People Matters, Kamal Dutta, MD of Skillsoft and SumTotal India shares his ideas on impactful learning and his personal learning mantra.
In the first of a series of rapid fires as part of #SkillUp – a seasonal on reskilling and upskilling, business and HR leaders share tidbits of reflections on how companies can effectively tackle learning and development related challenges. They also share their own personal learning mantras and journeys. 
Kamal Dutta is the Managing Director of India, Skillsoft and SumTotal. Prior to Skillsoft and SumTotal, Dutta was Managing Director of Asia Growth Countries for HPE Software, which included India, SEA, Taiwan, Hong Kong, and Korea. He has held many other leadership roles, including Country General Manager of Hewlett Packard Software in India.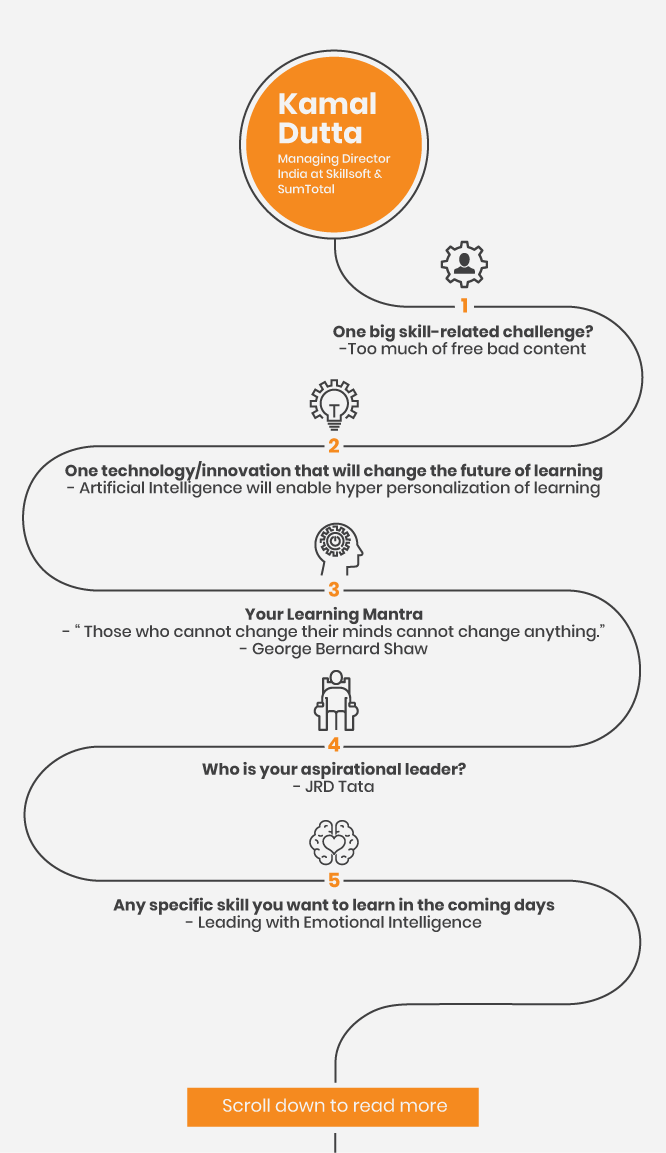 Here's what he had to share:
One big skill-related challenge according to you
There's too much of free bad content
One technology/innovation that will change the future of learning
Artificial Intelligence will enable hyper-personalization of learning
One step employers should take on re-skilling/upskilling
Building the right learning experience platform and ensuring top class content as content is the king for learning.
One tip to create a great learning culture
Build right learning engagement tools, have a learning strategy blueprint but more importantly have the right learning partners.
One advice for leaders to drive the learning agenda in their organization
Get the right resources to ensure you can develop a learning culture in the organization and it will be the best legacy that you can build.
Best book on Skilling 
Not quite sure there's any specific one, but I think my all-time favorite is "Seven Habits of highly effective people" by Stephen R. Covey, an essential book on life skills.
One expert you follow on Skilling & Learning
Mark Onisk - Skillsoft
Your Learning Mantra
"Those who cannot change their minds cannot change anything." ― George Bernard Shaw
How do you make decisions when you don't have all the necessary information?
Follow my instincts and gut
Who is your aspirational leader?
JRD Tata
Any specific skill you want to learn in the coming days
Leading with Emotional Intelligence
Best career advice you have ever gotten
If you want to be a leader, have a big heart and never forget the power of dreams.