A Brand Reachout Initiative
Skilling
Skilling is emerging as a key challenge area for HR. Here's what to do about it

Get Set Learn Read similar articles
A snap poll by Skillsoft and People Matters showed that bringing agility into learning strategies is crucial. Here's what the experts have to say.
Increasing digitization has changed how companies conduct business, how they reach customers, and how they interact with their employees. Change is the only constant. 
"We do things differently today when compared to a few years back and in the coming months, there will be more changes and newer ways to conduct business. In such a fast-changing environment it's only apt that we prepare our workforce to handle these changes" says Jagadeep Pattiath, AVP – Learning and Development, TATA AIA
To understand how the changing business context, People Matters in partnership with Skillsoft conducted a snap poll to understand the key challenges that companies face in the context of digital transformation. 
The snap poll indicated that in the next 12 months, companies were most likely to invest in 'People skills and talent development' (43 percent). This was followed by 'Transforming legacy systems and processes' (22 percent) and 'Adopting agile processes and metrics'
Consequently, the top inhibitors for adopting a digital mindset include the 'Lack of critical thinking, problem solving skills' (32 percent) and 'Data and technology illiteracy and lack of skills' (22 percent). Among the multiple priorities that companies have to navigate, skilling is emerging as one of the top focus areas. 
What explains this shift?
"People skills and talent development will be critical to the future of organizations that would thrive in the digital economy. The workforce and culture transformation is at the core to build an agile enterprise of the future" says Kamal Dutta, MD, Skillsoft and SumTotal
The agile enterprise will need employees who are open to learning and unlearning continuously.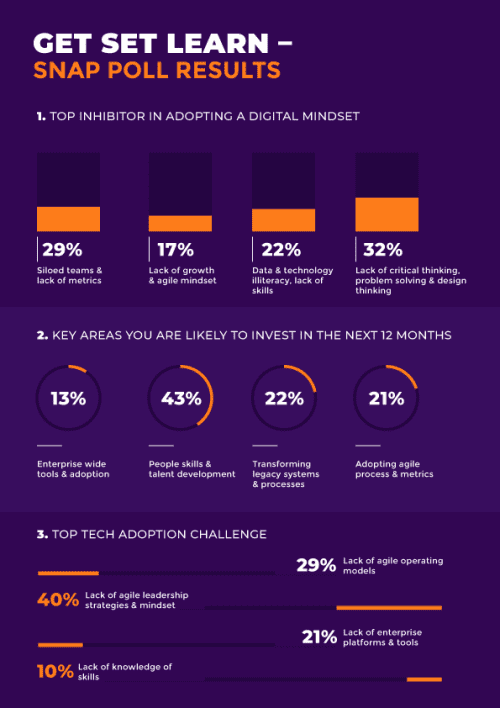 While "hiring right talent is important, hiring alone will not bridge the skill shortage. And once we have hired the right talent, it's more important to retain the talent by engaging and providing opportunities for growth and development" says Jagadeep.
So "how" should organizations take on the skilling challenge?
Identify the skills and design a roadmap: What are the top skills in the context of your organization and industry? At what levels is the need for such skills? These are a few questions organizations should already be asking. Jagadeep adds, "Rather than having a hierarchical view of how to develop employees over time, we should identify what are the four or five skills of the top calibre and make a learning roadmap and be committed to the development of the employee."
Understand adult learners: There is a lot of research on adult learning. Since continuous learning is going to become a life-long trend, companies need to invest in better understand them. Manikandan PK, Head of L&D, Equiniti India says "While you present anything to them, be mindful that they are adults and they know what they want. They are a). Autonomous and Self Directed b). Have accumulated life experiences and knowledge c). Are goal or target oriented d) Need relevancy when being taught e) Practical and focused f). Demand Respect g). Do not want anything with longer duration(Microlearning / Bite-sized learning)"
Use multiple strategies to engage and develop: There cannot be one-size fits all approach to engage and develop employees. This is because employees from different generations have different learning styles and methods. And what may work for one employee may not work for another. So companies should identify popular methods of engaging employees 
Instill elements to motivate employees: Apart from designing courses, strategy and techniques, L&D leaders need to focus on making sure that they cover elements of motivation. Here are a few takeaways from Manikandan:
Credibility –Like to learn from credible people 
Networking - Opportunity to meet new people and make associations
Interactive–Like to be engaged, do not favor the 'talk mode'
Industry knowledge –Comparative studies from industry experts 
Hands-on –Like to be hands-on and obtain feedback 
Cognitive Interest –Learn for their individual selves 
Deliver your learning offerings aligned to the above principles in various different forums. 

Ensure that your strategy has covered all different learning avenues to cover every group of learners with different mindsets. Never try to push anything you have – because they will be pushed back to you.
Leaders as role models: An important aspect required to accelerate learning would be for leaders themselves to be role models. "How are leaders working on their own development to lead thru this change, do they embrace and perhaps even encourage risk-taking as example? Are they exhibiting traits like favoring speed over efficiency in times of uncertainty in decision making? Today, there are targeted leadership development programs that can help support employees to bring about a transformative shift," says Dutta.
Need for real-time data: One of the challenges that business leaders have often highlighted is the correlation of learning initiatives to business impact. Jagadeep points out that organizations need to show real-time data that shows the outcomes or improvements that have resulted post training or development of the team. This needs to be supported with a regular feedback mechanism and effectiveness measurement metric.
The HR function will need to focus on creating immersive and engaging learning system to differentiate and more importantly have higher engagements from human capital, they will need to focus on breaking down organization silos leading to better collaboration. As Dutta notes "Our abilities to think creatively, design thinking, critical problem solving, risk taking abilities and failing fast are some of the key behavioral changes needed for the digital economy. Transactional work – whether it is technical or non-technical will lose its relevance".