Sports, Books & Movies
HR is not a product to be sold, but a process to be lived
People Matters talks to Dr. T.V. Rao and Dr. Anil K. Khandelwal about their book, 'HRD, OD and Institution Building: Essays in Memory of Udai Pareek', the legacy of Dr. Pareek, his work principles and their relevance in the contemporary world
The book is a congregation of original viewpoints of contributors, building further on Dr. Pareeks work
Dr. T.V. Rao, present Chairman of TVRLS, Founder President of NHRDN, the First Honorary Director of the Academy of HRD, has his consulting work in the domains of designing and managing HRD systems of corporations in India and other Asian countries. A compatriot of Udai Pareek, he and Dr. Pareek are credited with the establishment of the first dedicated HRD department at Larsen & Toubro. They have also co-authored multiple books on HRD, OD. Entrepreneurship, OB and Institution Building.
Dr. Anil K. Khandelwal, former CMD of Bank of Baroda and Dena Bank, was the architect of the turnaround story of Bank of Baroda in 2005. He transformed the bank by focusing on the intangibles – he demonstrated that it is the intangibles that drive long term tangible results. He has been on various government committees. Currently, he is a member of the Bank Board Bureau, set up by the Government of India for reforms in PSBs.
Tell us about the nature of the book. What was the idea behind it?
Dr. Khandelwal: Udai Pareek did a lot of work for HRD, providing seminal ideas. He was rightly called the 'father of HRD' in India. We wanted to reignite his legacy, and believed a book is the best way to do it.
Udai Pareek stood for much bigger values in HR, something he called OCTAPAC – 'Openness', 'Confrontation', 'Trust', 'Autonomy', 'Proaction', 'Authenticity' and 'Collaboration'. He talked of institution building, higher purpose and values, things that we have forgotten in this commotion of business and commoditization of HR.
Dr. Rao: HR may have become a product to be sold, when it is a process to be lived. This book describes the current state of HRD (both positives and negatives) through the writings of contributors and also highlights their journey into HRD by another few HR Leaders.
Dr. Khandelwal: So that makes the book very relevant. The purpose of the book is to revive Udai Pareek's legacy and the principles he stood for. I always felt that Udai Pareek should continue to guide the modern corporate through his work. This is not one of those academic books – the relevance of this book lies with the current India growth story. In an output-driven world, where the human factor is getting submerged in our quest to create numbers, the book carries much more meaning in terms of creating a balance in our economic achievement with a human face.
Dr. Rao: Once we decided to compile the book, we looked at the areas where Udai contributed. We identified three core areas – institution building, HRD and OD. And then we invited contributors to give their perspectives in these particular domains. So the book is a congregation of original viewpoints of contributors, building further on Dr. Pareek's work.
Who are the contributors to the book? What were the criteria of their selection?
Dr. Khandelwal: Eminent people have contributed to the book. Some names which come to mind are Pradip Khandwalla, Rolph Linton, Roland Sullivan, Vijay Vyas, Abad Ahmad and Somnath Chattopadhyay. All of them are leading scholars and practitioners – the one thing common is that all of them had known Udai Pareek in some way or the other. That was the one criterion we followed while selecting contributors – every single contributor was taught by, influenced by, worked with or partnered with Udai Pareek. They might be co-workers, students, partners, associates or even people who he consulted.
Dr. Rao: We invited around 100 selected contributors on the basis of that criterion, and 33 authors contributed. They have penned down their original thoughts, based on their own experiences and knowledge in the areas of institution building, OD and HRD. For example, Abad Ahmad has written about how he built the South Delhi Campus and Vijay Vyas has written the way he managed IIM Ahmedabad.
What is important to note is that their work may or may not have been entirely influenced by Dr. Pareek. He sowed the seeds of learning in some of them; and some were just admirers of Udai.
Tell us one excerpt from the book that really touched you.
Dr. Rao: The excerpt that touched me the most was not really from the book, but from when I invited someone for the book launch. He replied to my invite saying, "You were Udai's student; but Udai treated everyone as a friend, never as a student. You walked along with him. And the beauty of Udai Pareek is people grow without realizing they have grown."
One example from my life which relates to this is from the time when I was doing my Ph.D under his guidance. After I submitted my thesis for review, he kept it for five days and gave it back with only a couple language corrections. I felt I have a guide who doesn't even bother to look at my thesis. It took me some time to understand that this is the way to empower people. You should give people independence and make them self-reliant. He could have rewritten it, but chose not to. It made me feel I was the one who owned my thesis.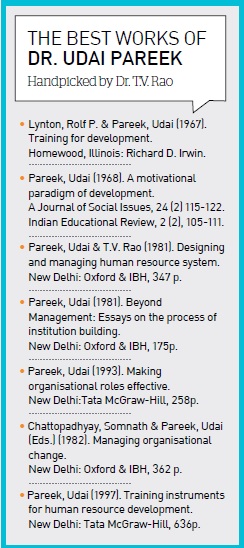 Dr. Udai Pareek was also an instrumental figure in the turn-around story of Bank of Baroda. Dr. Khandelwal, how did he influence you?
Dr. Khandelwal: I first met Udai Pareek in his program on role efficacy in 1981. He later invited me to complete my professional membership with 'Indian Society for Applied Behavioral Science' (ISABS). I often interacted with Dr. Pareek and he took immense interest in my development. Later when I was the CMD of BoB, he was engaged as a process consultant with us and helped us design HR and OD interventions for the bank's transformation.
Dr. Pareek has left a legacy behind. If there was one thing that you could highlight as the most significant contribution of late Dr. Pareek, what would it be?
Dr. Rao: Dr. Pareek proposed that it is 'extension motivation' that causes any society to develop. That was one of his many great works. The concept 'extension motivation' simply means having the motivation to help others, working for larger goals that benefit the society. It also means the ability to sacrifice one's own comforts and desires for the sake of others. In his article on 'Motivational paradigm for development', Dr. Pareek gives a simple formula: "Development = (Achievement Motivation x Extension Motivation) – Dependence Motivation." If you want socio-economic development to take place, increase achievement motivation and extension motivation and decrease dependence motivation.
What would Dr. Pareek say about the state of HR in India if he were with us today?
Dr. Rao: He would always see the positive side first. He wouldn't have been very critical. He would have agreed with our viewpoint that HR has been commercialized, but he would have urged us to look at it differently, to look at the brighter side. Even if he was pained, he would never express it.
One of the things I regret, which I think he would too, is that the original thought has gone amiss. We are far away from realizing and achieving that thought – which entails that everyone is a HR manager and everyone looks after their own human resource. The HR department's job was expected to become redundant, because the department was supposed to take charge of their HR. It is happening, but by accident. We see people read the available e-learning material which interests them. The original thought was that HR should facilitate this, but that did not really happen. Maybe, we could have done better.