Strategic HR
2021 Global Human Capital Trends: Deloitte
Deloitte has released its latest study on the global human capital trends for 2021, highlighting the five key workforce trends shaping the emerging outlook towards work and insists to make a "fundamental mindset shift: from a focus on surviving to the pursuit of thriving".
Disruption. Unprecedented. Crisis. Sustain. Survival. Recovery. Growth. Transform. Adapt.
2020 is less than three weeks away from bidding adieu. With all that the year brought, what it bids us goodbye with is the need to stay resilient, centered, and in a state of continuous learning and growth. There were a lot of unexpected challenges and losses that global economies had to pull through - health crisis, recession, unemployment, to name a few. Yet over time, a shift in perspective took place that encouraged leaders to put on the lens of opportunity and innovate, while also  prioritizing people safety and business continuity.
As we now approach 2021, we are preparing not just for the future of work, but instead the now of work, which has in itself experienced paradigm shifts. Ensuring not just survival but success in these dynamic times, it is crucial to reflect on the year that has gone by, gather our learnings, explore what's shaping the global economy, understand what the workforce needs to stay healthy, productive and engaged, evaluate technology with an open and constructive mindset, and recognize the synergies of these individual elements.
As the Deloitte survey on 2021 Global Human Capital Trends rightly captured, "As we all learned the hard way, in an environment that can shift from moment to moment, the paths and time frames to achieving one's goals must shift as well. Having a plan to deal with the unexpected, as important as it is, isn't all organizations need in such an environment. Even more necessary is to make a fundamental mindset shift: from a focus on surviving to the pursuit of thriving." 
Enabling organizations to reset, redesign, and thrive in the uncertainties that lie ahead, Deloitte's latest survey on 2021 Global Human Capital Trends highlights the five workforce trends re-architecting the human capital landscape in 2021. 
Read on for highlights from the survey.
Designing work for well-being: The end of work/life balance
The Trend: Organizations are taking well-being beyond work/life balance by starting to design well-being into work—and life—itself. 
Surviving: Supporting well-being through programs adjacent to work. 
Thriving: Integrating well-being into work through thoughtful work design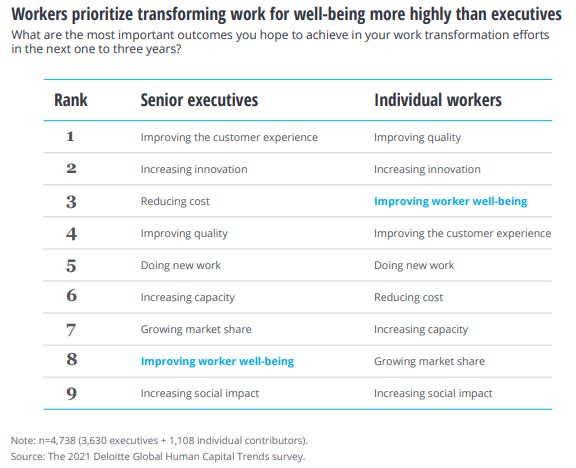 "The incorporation of well-being into work must be done symphonically, championed by leaders at every level and in every function if it is to make a meaningful difference," the report said. "As technology becomes ingrained in every aspect of how people work, technology leaders will face a growing responsibility to work with HR and the business to ensure that those technologies, and the workflows and processes that complement them, are designed and executed in a way that promotes worker well-being."
When it comes to well-being, the report encourages leaders to have a three fold approach - individual, team and organization - by bringing about a change in five environments:
Cultural: Building well-being into social behaviors and norms 
Relational: Fostering well-being in relationships among colleagues 
Operational: Including well-being in management policies, processes, and programs 
Physical: Designing the physical workspace to facilitate well-being 
Virtual: Designing new technologies and virtual workspaces for well-being
When addressing well-being, a critical factor today is to incorporate sustainable workplace practices, given the expected longevity of remote work, even in the scenario of a hybrid workplace. The Deloitte report has identified key elements, based on the responses, that are critical to designing sustainable remote work practices: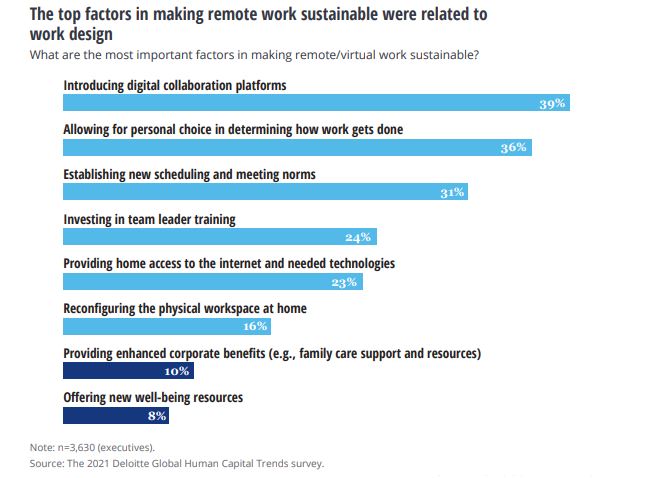 Beyond reskilling: Unleashing worker potential
The Trend: Organizations need a workforce development approach that considers both the dynamic nature of work and the equally dynamic potential of workers to reinvent themselves. 
Surviving: Pushing training to workers from the top down, assuming the organization knows best what skills workers need. 
Thriving: Empowering workers with agency and choice over what work they do, unleashing their potential by allowing them to apply their interests and passions to organizational needs.
According to the report, "In the months of extended crisis recovery, executives have reflected on the challenging road ahead as they attempt to prepare their businesses and ecosystems for an era of continuous disruption. That preparedness depends on workforce potential."
In the 2021 Deloitte Global Human Capital Trends survey, executives identified "the ability of their people to adapt, reskill, and assume new roles" as the top-ranked item to navigate future disruptions, with 72% selecting it as the most important or second most important factor.
Gone are the days when organizations suggested suitable upskilling opportunities for employees to choose from. In the present day, employees recognize the need to learn continuously, boosting their ability to comprehend, adapt and elevate their performance and contributions. Especially, allowing themselves to shift from linear growth to a more horizontal and multidimensional growth, moving away from career ladders to career passports.
As the report rightly points out, "We've lived in a world where we assumed organizations knew best what skills workers needed to bring to the table. But the pandemic taught us that potential comes to fuller fruition when workers are allowed to take more initiative. Workforce potential is not about what workers were recruited to do, or what they are certified to do, or even what organizations or leaders want them to do next. It's about giving workers more freedom to choose how they can best help tackle critical business problems as organizations and ecosystems evolve." 
Superteams: Where work happens
The Trend: COVID-19 has taught organizations that teams are even more important to thriving amid constant disruption than they might have thought before. 
Surviving: Using technology as a tool to make teams more efficient. 
Thriving: Integrating humans and technology into superteams that use their complementary capabilities to re-architect work in more human ways.
"As the world emerges from the pandemic, organizations have an opportunity to use what they have learned to multiply the value of teams even further. The next frontier in teaming is superteams: combinations of people and technology leveraging their complementary capabilities to pursue outcomes at a speed and scale not otherwise possible."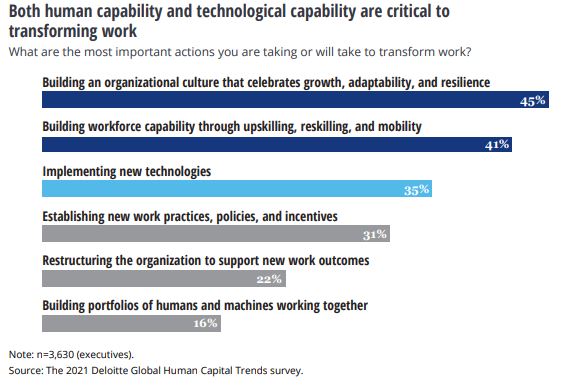 "Superteams have yet to take hold as a widespread organizational strategy, in part because many organizations still tend to view technology as a tool and enabler rather than as a team member and collaborator. Most respondents to our 2020 Global Human Capital Trends survey, for example, said they view artificial intelligence (AI) mainly as an automation tool—a substitute for manual labor—rather than a way to augment or collaborate with human capabilities. However, this view may be slowly starting to change,"  stated the report.
Executives responding to the 2021 Deloitte Global Human Capital Trends survey recognized that the use of technology and people is not an "either-or" choice but a "both-and" partnership. 
Governing workforce strategies: Setting new directions for work and the workforce
The Trend: Organizations are looking for forward-facing insights about their workforce that can help them quickly pivot and set new directions in the face of uncertainty. 
Surviving: Using metrics and measurements that describe the workforce's current state. 
Thriving: Accessing and acting on real-time workforce insights that can support better, faster decisions based on an understanding of what the workforce is capable of in the future. 
"Ninety-seven percent of respondents to our 2020 Deloitte Global Human Capital Trends survey stated that they need additional information on some aspect of their workforce. Only 11% of organizations said they were able to produce information on their workforce in real time—a statistic that was staggering even before organizations were forced to make a series of immediate pandemic-driven decisions about their workforce."
As organizations grow to realize the urgency and relevance of real-time data to carve dynamic and adaptable workforce strategies that are inclusive yet standardized, the focus on tapping into tools that provide such insights is taking center-stage. With the emergence of several players in the HR tech space globally, and the accompanying uptick in investments in this market, it goes to show how critical such services are, and not just today but for any such unprecendented circumstances that an organization is likely to face.
"As disruption becomes the new normal, organizations are being forced to constantly reassess and reimagine their work, workforce, and workplace strategies. This calls for leaders to fundamentally shift their workforce governance practices by collecting real-time, forward-looking data at the intersection of economic value and social values. But collecting data for its own sake is not the goal."
The report stressed that data-driven insights can enable organizations to constantly challenge the actions they are taking and help determine whether and how they can shift those actions at need, adding, "The challenge is to avoid getting caught up in the mechanics of collecting data when the focus should be on using it to inform meaningful action toward new outcomes."
A memo to HR: Accelerating the shift to re-architecting work
The Trend: Thanks to their handling of COVID-19's challenges, HR organizations have earned the right to expand HR's remit to re-architecting work throughout the enterprise. 
Surviving: Having a functional mindset that focuses on optimizing and redesigning HR processes to manage the workforce. 
Thriving: Embracing an enterprise mindset that prioritizes re-architecting work to capitalize on unique human strengths.
"The 2021 Deloitte Global Human Capital Trends survey showed that the proportion of HR executives who were very confident in HR's ability to navigate future changes doubled, from one in eight in 2019 to nearly one in four in 2020. Confidence in HR among business executives also increased, and the proportion that were "not confident" in HR dropped dramatically from 26% in 2019 to 12% in 2020."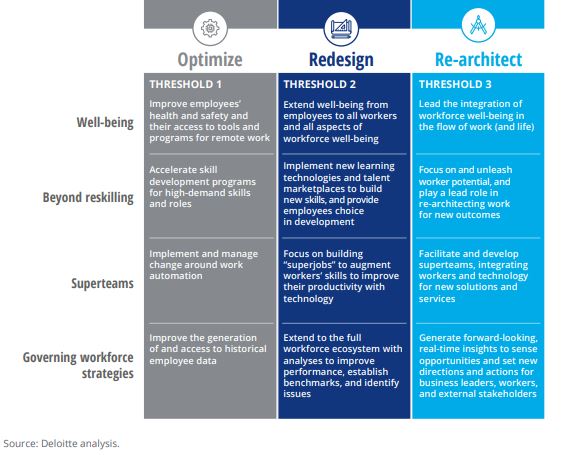 Leading forward: Leading the shift from survive to thrive
While the findings above provide a pathway, the only way to translate the workforce trends into actionable insights is through timely and informed leadership. Several leaders who responded to the survey have brought out the imperative need of leadership buy-in, advocacy and enablement to accelerate transformation. The transformation here is not only about digital transformation but work transformation in essence, which unfolds several other parameters that become key pillars to building a sustainable, inclusive, transformative and high-performing work design. In this direction, leaders are undertaking critical decisions, as listed in the figure below: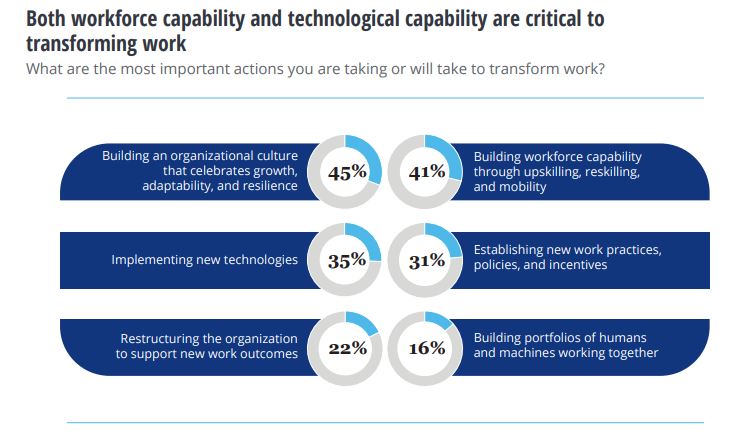 "I'm leaning in with everything I've got to reform, reshape, and reimagine the future without any interest in harvesting the past, because I truly believe we will never go back to the way things were before the pandemic," commented ServiceNow CEO McDermott.
"We're in a world now that's all about people. We're in a truly human moment where any connection that doesn't absolutely lean into people will go nowhere," added McDermott.
The transformation fuelled by the crisis isn't just limited to one segment of work, it isn't just about adopting technology to enable smooth workflows. It is about making informed decisions today to re-architect the finer nuances that hold the work, workforce and workplace together.
In his book "Atomic Habits", the author James Clear says, "If you can get 1% better each day for one year, you'l end up thirty-seven-times better by the time you are done." Tweaking this learning in the context of workspace, if we begin making those 1% changes across the pillars of work - be it culture, technology, workflows, engagement, wellness, among others - to align, adapt and co-exist with the demands of the existing circumstances, the consequent impact on the ability of an organization and its people to shift from surviving to thriving, over a period of time will be exponential.