Strategic HR
21 HR Jobs of the Future
Getting & Staying Employed in HR: Here are the HR roles that will be needed post pandemic from Cognizant Center for the Future of Work
Since 2017, Cognizant has been releasing annual reports on the future of jobs, providing data-driven insights into what the world of work will look like for a broad cross-section of industries in the decades to come. Now, the Cognizant Center for the Future of Work – along with the Future Workplace and its network of leading CHROs – have combined their knowledge to put together their list of 21 HR Jobs of the Future.
COVID-19 has altered the course of our industry forever. The outbreak has led to a large-scale reshuffling of priorities and accelerated the adoption of AI, automation, elearning, digitalisation, tech solutions and remote or virtual workflows. Predictions of what jobs will be most-needed have also shifted, with some entirely new roles emerging too.
"The common thread among all these jobs is making good – at long last – on HR's promise to connect people and business strategy to the new, exciting and lasting frontiers of the future of work," say Cognizant researchers, "all while amplifying what the greatest asset of any business (people) does best: be human."
As Cognizant researchers highlight, "this is HR's moment of truth to lead the organization in navigating the future of work and prepare workers for the next decade."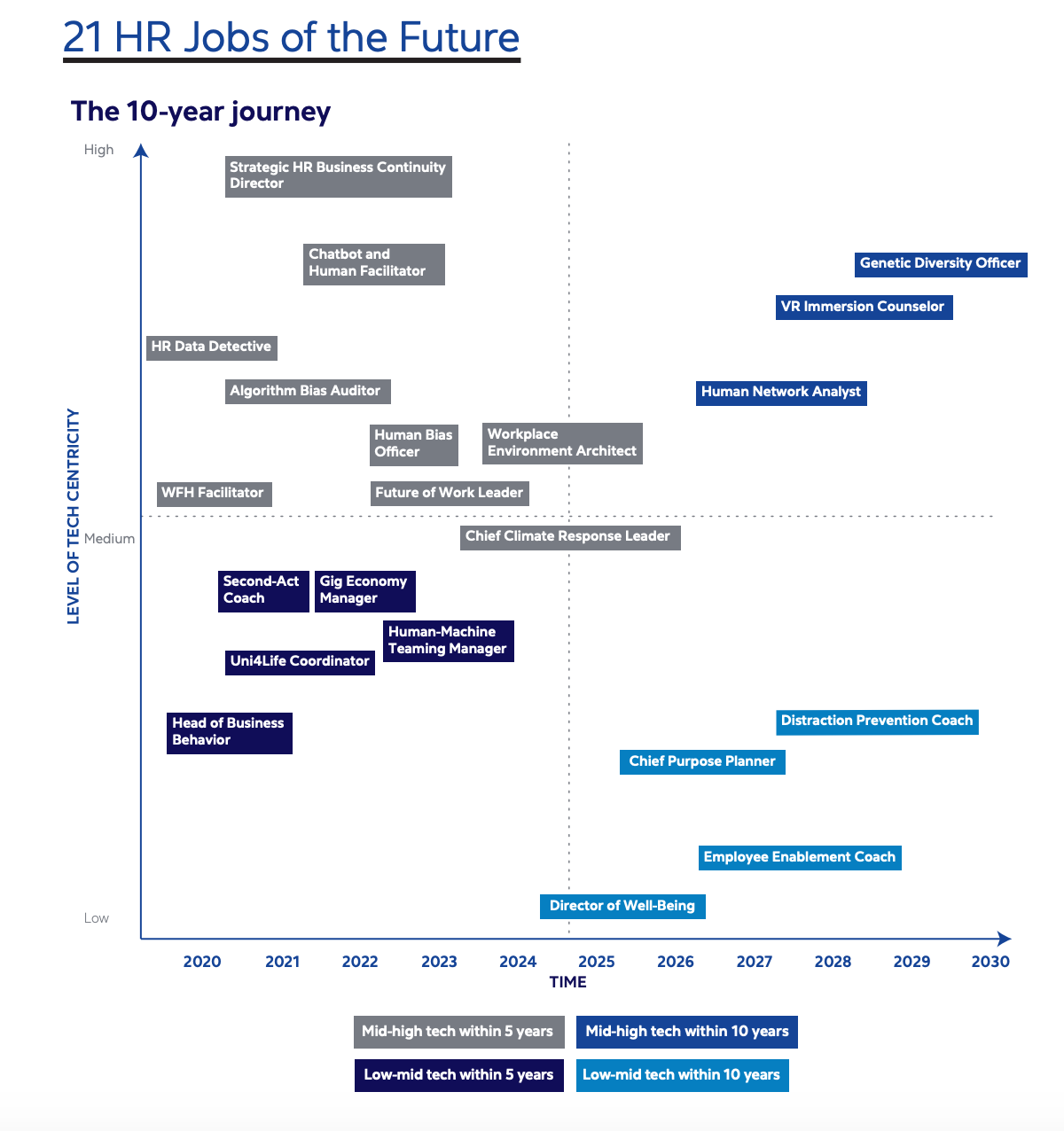 21 HR jobs of the future color-coded by their level of tech-centricity
Clearly, the world is standing on the precipice of great change and disruptions in the upcoming decade, and as People & Work professionals, those in HR have a whole suite of important parts to play in this unprecedented new landscape.
Cognizant has tracked five key themes in their 21 Jobs of the Future:
1. Well-being
As HR professionals, it's our job to make peoples' working lives better. Going forward, Cognizant predicts this motivation will crop up in a number of specific roles, such as the Chief Purpose Planner or the Workplace Environmental Architect, who will "use his or her expertise in architecture, human-centered design, wellness, and public health to carry out the company's mandate to create a healthy and nurturing workplace environment."
"With the growth of the digital economy, our "always-on" way of working, the stresses in managing work-life integration, and now dealing with the coronavirus," well-being is evermore important, says Cognizant.
2. Organizational trust
As more and more work is conducted virtually, HR will need to step in at every level to ensure trust and security remains intact between colleagues who are working remotely. "The proliferation of a "culture of data" increases that requirement, amplifying the need to create "human-in-the-loop" systems to ensure there is fairness, explainability and accountability within the senior leadership of HR," they say. That's where roles like the Algorithm Bias Auditor will have an essential part to play.
Elsewhere, roles like the Human Bias Officer will work to foster a sense of inclusivity and belonging in the workplace, ensuing all employees are treated fairly.
3. Creativity & Innovation
Already, we're living in a profoundly altered world, one that requires entirely new modes of thinking about operations. This out-with-the-old mentality will lead to a number of Future HR roles. Professionals who can think on their feet, come up with creative solutions and innovate around the usual work arrangements and keep employees engaged, performing and motivated, will be in high-demand. "In a post-coronavirus world," Cognizant points out, "everything that can go virtual, will go virtual, from meetings to training workers," and roles such as the WFH Coordinator and the VR immersion counselors will address this transition.
4. Data literacy
Data is the driving force behind many of the jobs on this list. Human Network Analysts "are expected to emerge" along with the HR Data Detective, channeling "their inner Sherlock" to "focus especially on trends with the greatest impact on business or HR goals." Furthermore, the Uni4Life Coordinator will use software that tracks data on how employees learn best then utilize algorithms to match them to courses. Gathering and using data ethically, securely and efficiently is going to form the bedrock of the vast majority of these Future HR roles. With large amounts of the working day conducted online, it will be easier than ever to gather this data. As Cognizant points out, the "highest attention to ethical best practices is essential" in order to avoid "suffering from a "Big Brother" burden" i.e. too much intervention and employee surveillance.
5. Human & machine partnerships
As Cognizant says, "more and more technology pervades the work we do inside and especially outside of the HR function. And yet humans – and the notion of "essential workers" – have never been more integral to business than today." In other words, the future of work depends on humans and machines working in lockstep. Job number 12, the Human-Machine Teaming Manager, will be central to this movement, devising "an interaction system through which humans and machines mutually communicate their capabilities, goals and intentions."
Other observations
Delving further into the list, a few more key trends emerge. Firstly, an increased eagerness to hire people who can support teams in their pivot to long-term Remote Work. In fact, the number 2 spot is occupied by a 'WFH facilitator,' an essential role that will not only deal with the day-to-day arrangements of remote work and source the best virtual work technologies, but also research and implement ways to ensure company culture and camaraderie is not lost with vast numbers of the workforce staying away from the office, at a physical distance from their colleagues. "A key metric of success for the WFH facilitator is remote workers' strong sense of belonging to the organization. In an office environment, cultural cues abound, but we can hardly ask our associates to paint their home offices with the corporate colors," say Cognizant's research team.
Lifelong learning: While training, skilling and professional development have always been crucial, this area has taken on a new resonance under COVID as people grapple with a disrupted world and look at how to remain competitive in an economic downtown. At number 7, for example, the Uni4Life Coordinator will work with Cognizant's innovative Uni4Life technology to structure a journey of lifelong learning tailored specifically for individual, relevant needs. Further along, the Second-Act Coaches will help workers define their values, refine their CVs and make the transition into a different kind of working environment.
What emerges most profoundly from this list is how deep an impression COVID-19 has already made on the HR function. The pandemic has driven an entire revolutionary reconsideration of how HR professionals think about their roles. The outbreak will continue to permanently shape these attitudes long into the future, but now is the time to start thinking about HR's critical role in this new landscape.
Here is the list in full:
HR Data Detective

WFH Facilitator

Head of Business Behaviour

Strategic HR Business Continuity Director

Algorithm Bias Auditor

Second-Act Coach

Uni4Life Coordinator

Chatbot & Human Facilitator

Gig Economy Manager

Human Bias Officer

Future of Work Leader

Human-Machine Teaming Manager

Workplace Environmental Architect

Chief Climate Response Leader

Director of Well-Being

Chief Purpose Planner

Human Network Analyst

Employee Enablement Coach

VR Immersion Counselor

Distraction Prevention Coach

Genetic Diversity Officer