Strategic HR
Architecting a business case for HR transformation
Here are few tips on building a business case for HR transformation as shared by various HR and finance leaders in Human Capital Connect 2018
In the decade or so after 1995, corporate Human Resource department went through massive restructuring, which shifted the role of HR as an administrator to HR as a strategist. This change in the way HR is perceived came to be known as HR transformation. Ever since then, technology and innovation have continued to disrupt and change the way HR functions. It is thus, safe to say that HR transformation is not a one-time event but a whole journey. Considering the recent developments and rapid innovation shaping business, "HR Transformation" needs to be redefined. After redefining and identifying this change, there comes the second aspect of implementing this transformation. And that aspect is leadership buy-in, which is a crucial component when it comes to designing and implementing any process change initiative, especially investing in HR technology. Therefore it is important to understand 'how leaders are looking at HR transformation' and 'what are the elements that enable HRs to build a case for introducing and implementing the change.'
Recently, at the event, Human Capital Connect organized by People Matters and SAP in Bangalore, a panel of HR and financial leaders shared their perspectives on HR transformation. Ritesh Rana, Head - HR, Britannia Industries Limited, Mohan Sitharam, Chief People Officer, Subex, Mehernaz Dalal, CFO, Subex and Venkatraman GS, AVP & Finance Controller, Mindtree in the panel discussion moderated by Ester Martinez shared the essentials for architecting a business case.
Here are key insights from the panel discussion:
On redefining HR transformation
Ritesh Rana: From my perspective, I would broaden the scope of the definition. When we talk about HR transformation, it's not about the transformation of HR function per se, but it's about how HR delivery gets transferred. And HR delivery signifies organizational effectiveness, organizational design and improving productivity. It is also about how organization connects best with the customer ensuring that people and processes are far more effective. A lot of change is happening as it is not just the employees who are changing but customers and vendors are changing as well.
Mehernaz Dalal: Better employee experience leads to a better customer experience. As we are in this world of things happening right away, the transformation has to be in making the employee experience real time.
Venkatraman: If you look at HR, Finance or any of the enabling function the general view is you are just enablers or supporting function. But these functions work closer to the business and provide the kind of insights that could make the business more effective. I think this is where I see HR technology transformations being useful. However, the question is how we enable technology to support businesses because that's where business will see value in HR.
Mohan Sitharam: 15 years ago we spoke about transactional transformation when almost all of us went to set up ERPs at our office and now if you look at some of the trends, by the year 2020 freelance economies is expected to be 1.3 trillion dollars. 75 percent of people may not work from the traditional workspace the way we have been working in offices. Gen Y will make 80 percent of workforce globally. This shows that the primary aspect defining talent will be flexibility.
On identifying and creating the ROI of any HR transformation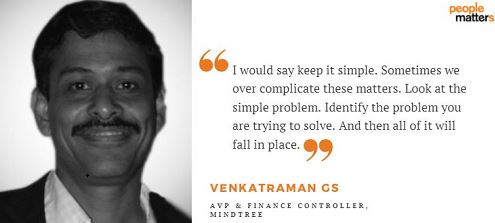 Venkatraman: Most of the time when there are HR related programs to be implemented or investments to be made the typical response received is that these are qualitative or behavioral aspects and are difficult to quantify. Most of the times, we are hesitant to take a bet on a number because we don't know how that program will perform. But I believe it is always good to have a number. It could be based on some assumptions, but you share them, and this is the ROI I see. Once you start with that, you keep on adjusting it eventually.
Sometimes you could be facing difficulty in quantifying because you have not seen a transformation or a new program of a particular nature before. In such cases, it's always good to do a POC stroke, a small proof of concept. And once this is done, then you can scale it and say that what is the investment and how do you make an ROI. Both of these models can work well because leaders are happy when someone takes a bet on a number and the moment you put that on the table the discussions are far easier.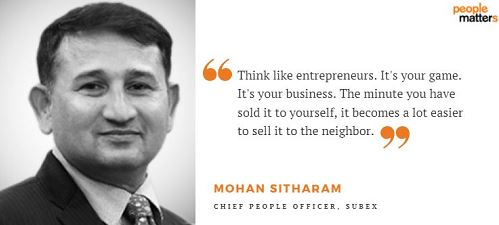 Mohan Sitharam: HR professionals should be aware of the ROI. Before starting an initiative, they must be convinced that it is going to make a difference. They must be convinced with the value the transformation will bring to the organization. The HR needs to think business and not just be business partners.
Ritesh Rana: First start with the business case and identify the problem you are trying to solve. Then see if HR technology is part of the solution. If we from HR technology and then try to justify the ROI, it will be different. But if we will start from the business problem, it becomes part of the business discussion.
On creating a business case for investment with long-term return
Venkatraman: This is always the case in any business; there will be investments you will make upfront with some bets. As long as you have made your business case fair enough and there is a revenue stream you are showing the management that there is a probability of making a profit. You are making investments today for results to come in later. Take some bets, and it will translate into results.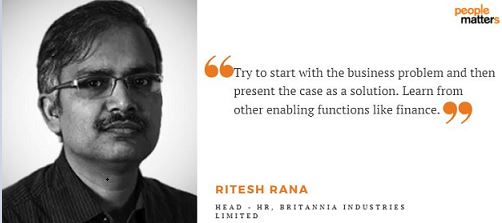 Ritesh Rana: One of the best examples can be given from dairy space, where we deal with farmers to an extent. When you invest in dairy, the first step is milk collection. And this is done by going to the house of each farmer for building a network to ensure enough supply of milk. And for that, a lot of investment with the farmer is required. This will be the first year or first two years of any dairy company. So to establish a supply chain of milk tomorrow, investment in building networks with farmers is required in the beginning. The whole business model for any business will depend on the decisions and investments taken in the supply chain of raw material or talent, whether you will buy or develop these capabilities.