Strategic HR
Immersive HR – A Key Imperative!
Applying the principles of design thinking to make work and HR activities more immersive
The theme of making work engaging has assumed centre-stage in organizations today. This aspiration naturally extends to HR, with Digital technologies emerging as an enabler.
The user experience has upstaged functionality in priority, and HR technology platforms available today are bridging the gap between the personal experience (with applications like Facebook, WhatsApp & Google Maps) and workplace platforms. Gamification has also made deep inroads into HR technology. Processes now incorporate game elements such as points, badges, leaderboards and awards. This makes the processes more engaging and increases user adoption. Gamification is especially prevalent in Learning and Recognition platforms.
While there has been considerable focus on Gamification, the central theme is still making work and HR activities immersive. This calls for applying design thinking principles holistically to all aspects of work and HR. While the endeavour is to make HR activities such as learning, performance management, and others more engaging, poorly designed processes may, in fact, lead to loss of productivity with little or no impact on employee motivation.
The following are the key aspects to consider:
Process design to make the experience immersive has to tie into organization objectives and culture. The key messages should be evident and must reinforce ways of working.
The feedback on current practices, platforms, and employee aspirations should form an important input to future plans.
A balance is required in the game elements to be introduced. Best practice is to recognize and reward credible achievements or progress.
Processes and content need to allow for a sense of novelty and change over time. After all, the excitement which people derive in games is due to participation in the unexpected.
Obtaining feedback is important, as also quick responses and evolution of processes & platforms.
HR and management team involvement is critical to supplement technology platforms.
In cases where there is limited industry experience available as best practice, user feedback from a smaller subset can be obtained initially.
The key building blocks of Immersive HR are depicted in the figure below. The technology elements need to incorporate best practices and current trends in user experience. All business processes have the potential to leverage some of the below methods or others.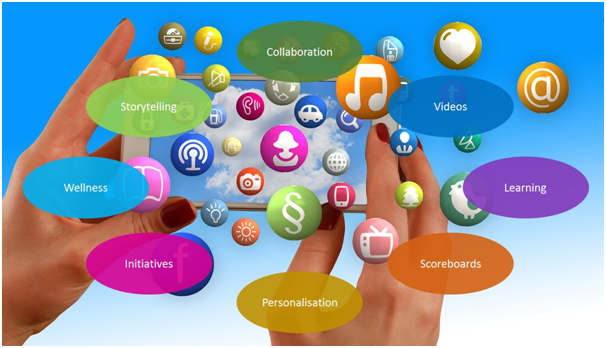 Collaboration: Working in teams is a requirement for most jobs today, and platforms which enable conversations, exchange of ideas, and collaborative work enable innovation & productivity, other than making work engaging.
Storytelling: Stories can be very inspiring and motivating. Enable storytelling sessions on significant personal or professional achievements either in person or virtually. A variety of technology options can be leveraged for this.
Videos: Videos are engrossing and can be used for a variety of purposes – company information, leadership talks, and learning.
Wellness: An area which has evolved very quickly with group initiatives for health and fitness. Wearables play a key role.
Learning: Sophisticated tools and platforms enable creation and delivery of rich programs. Program design is critical in terms of content and delivery mode.
Initiatives: Initiatives through the year are a critical element of immersive HR. Some examples could be – community initiatives, slogan/poster contests, team building games, inspiring stories, book review sessions, quizzes and others.
Scoreboards: Scoreboards which summarize activities, achievements and recommendations leveraging analytics & game elements are a good way to keep reminding employees on where they stand.
Personalisation: Every employee, team, and group have different needs. Technology should be leveraged to deliver a personalized experience incorporating user choices.
The above building blocks are representative under broad heads. There are several creative ways to approach the aim of transforming HR activities to make them immersive.