Strategic HR
Preparing for roadblocks on HR's digital transformation journey
To gain insights on HR's digital transformation journey and learn about the roadblocks HR leaders face on it, People Matters and Darwinbox hosted exclusive Roundtable Discussions. Read here some key insights from the discussions.
According to a report, the HR technology market place is expected to be a $34 Bn market by the year 2021. Almost $3.6 Bn worth of that business is expected to come from Asia including India. A sizable chunk of almost $20 Bn will be commanded by existing solutions largely in Human Capital Management.
While the advancement in HR technology is accelerating, the ongoing pace of progress of these technologies is transforming how people carry out their work, and how HR supports employees. Hence, HR will need to have a solid grasp of the possibilities and limitations of technology and be active participants in looking for opportunities to leverage it. 
HR teams have to strategize for their own digital transformation journey. To gain insights on HR's digital transformation journey and learn about the roadblocks HR leaders face on it,  People Matters and Darwinbox hosted exclusive Roundtable Discussions in Gurgaon, Mumbai, and Bengaluru. CHROs of companies from diverse sectors came together to deep dive into the challenges and solutions regarding HR's digital transformation journey. 
 "Smart integration of digital technologies to create new or modify existing - business processes, culture, and employee/customer experiences to meet changing business and market requirements," said Chaitanya Peddi, Cofounder Darwinbox as he kickstarted the CHRO dialogue.
As per research by People Matters on the State of HR Technology 2019-20, while organizations have kickstarted their HR digital journey, only three processes namely, HR operations, performance management, and communication & collaboration are automated more than 50 percent. The report reiterated that although there is a need to digitally transform HR function and although there are many technologies available in the market, the HR teams majorly are still far behind in their digital journeys. 
When asked about the top challenges in HR's digital transformation journey, a room full of CHROs highlighted some interesting roadblocks. Later, they also discussed some solutions to overcome those challenges and ensure a smooth digital transformation journey for the HR function. 
When questioned about the stage of digital transformation they were in, 71% voted that their digital transformation journey is ongoing.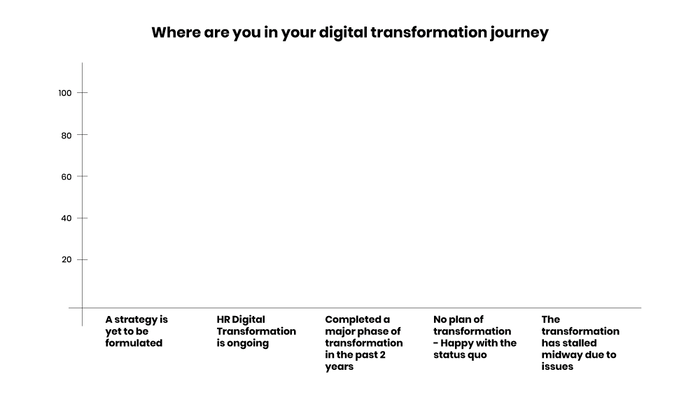 Here are some of the top challenges in strategizing a digital transformation roadmap, which were highlighted by a total of 64 respondents-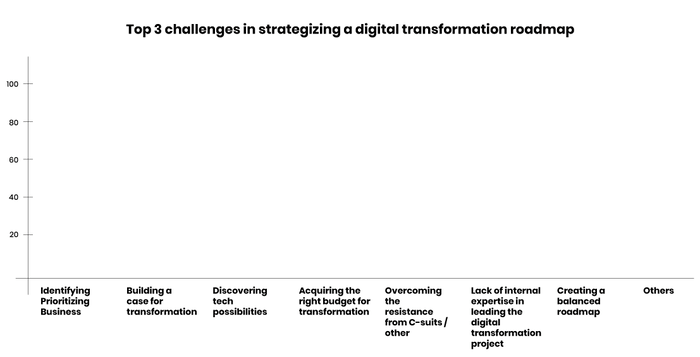 Here are some key insights from the discussion: 
Roadblocks in the digital transformation journey
Lack of tech-savviness among leaders & HR teams
The biggest roadblock in HR's digital transformation journey is about having the mindset and skills and capabilities required to implement technology. The new era of digital which has now been here for some time requires the HR leaders to finally take the responsibility to upskill themselves. 'Digitization' can no longer be confused to be a fad. It is indeed the need of the hour for businesses to ensure that they are ahead of the curve when it comes to responding to rapid changes disrupting the world of work. 
As a digital HR Leader, HR professionals need to have a detailed and up-to-date overview of the HR tech landscape. They must be curious and should be able to learn quickly about how new technologies work. 
Inertia: From known comfort zone to uncomfort zone
While the change is inevitable, resistance is only natural. Leaders and employees across all levels are too comfortable in existing processes and too comfortable to move away from them. The reason for this is that they're comfortable in their routine and anything that breaks that routine may bring along a lot of uncertainties. 
However, comfort can no longer be an excuse as an inability of both business and talent to respond fast to change can lead to discomfort in the long run. 
Approach towards transformation
Digital transformation is slowly becoming a nice thing to do for businesses and HR teams. And they often tend to get into it without much context and enough research about their own business needs. As many HR leaders in the roundtable discussion highlighted digital transformation should be a well thought out strategy. The HR teams should be thorough with their research. After gathering enough insights from internal analysis and market analysis, they must identify the objective of digitizing the process and choose the most relevant technology accordingly. 
The fear of increased transparency
Interestingly, it was shared by some of the CHROs that leaders often resist digitization as they fear it could introduce more transparency and dilute their authority. It could be true to some extent as most traditional leaders value their power and the ability to influence decisions. However, the use of technology brings many conversations to the large forum and urges the leaders to be more transparent with their decisions. It could be true that many are not comfortable with that level of transparency, thus, resisting digital transformation. 
Preparing for the roadblocks: Ensuring a smooth digital transformation journey
The importance of preparedness: Leverage data  
As Rattan Chugh, EX-Chief People Officer, Times Internet shared from his experience, to get leadership buy-in and make them realize the need for digitization what is required is data. At Times Internet, Chugh and his team presented a business case and showed them data and insights from surveys. 
The CHRO dialogue made it clear that the need for HR professionals to understand the HR tech market and their business and talent need to digitize is fundamental. 
Future-proofing HR teams
As the People Matters' study showed, "The efforts or investments in future-proofing HR teams are largely sporadic or haven't even started, which is a red flag for the community."
The CHROs in the room couldn't agree more. While some progressive organizations have started taking positive steps towards this, wherein, largely the efforts on making HR future-ready are centered around investing in exposing HR team members to HR technology, digital & other future-focused events and investing in access to content, membership. 
The leaders must empower their HR teams and invest in their learning so that they can make most of the available HR tech solutions in the market. It is not only technology but several other elements disrupting the world of work that they need to understand. 
What's in it for me?: Taking inclusive decisions 
The end-user, the employees who would be ultimately using and experiencing the digital solution should be taken on board from the beginning of the process. HR and business leaders have to communicate and articulate the value they would be getting from the new solution. 
It is not only the leaders who become comfortable with one solution but the users are also not often fans of change. They are in the habit of filing reimbursements in the same way, of applying for leaves or tracking their performance and mapping their growth. Before introducing them to the solution, they should be made aware of the need and the importance of such a solution. 
Having the employees' input from the beginning of the process guarantees that there are no surprises and also helps the HR teams get relevant insights from the end-user of the solution they are building or buying for. 
Hire specialists
Peddi shared that for many of the clients of Darwinbox, hiring specialists for digitization worked well. With an experienced and well-equipped person on board, the process becomes much simpler. The specialist understands the technology well and can assist the HR teams through the entire transition. 
Challenge the mindset & create a digital-ready culture
In his keynote, Chugh shared, "Digitization of HR is not an IT or HR project. It is a corporate initiative." The HR and IT team can support the entire process by bringing in their expertise, however, the entire initiative has to be driven by everyone in the organization." 
Hiring specialists and getting the best of the best technology is not enough if the culture of the organization is not ready for digitization. The CEO has to drive the change and along with HR leaders have to help change the mindset of people. 
Investing in technology alone might not equate to complete transformation success. 'People' is the most important element to attend to when strategizing for HR's digital transformation journey. 
Digitalization is like a race but plan it at your pace
Ravi Gupta, who leads People Practice at Cure.Fit shared the Cure.Fit's transformation roadmap at the Bengaluru session. He highlighted three major milestones a roadmap should have:
Identifying and prioritizing business objectives:  Ravi noted that digitalization strategy/ objectives vary by organization. They could be solving for control/ efficiency/ employee experience.
Building a case for the transformation & securing stakeholder buy-in: When building a case for transformation, it is important that metrics should be driven by objectives.
Benchmarking & choosing from unlimited tech possibilities: The important thing to remember is that no one size fits all. Hence organizations should choose from tech possibilities on the basis of the organizational context.
Transformation with a purpose
Ultimately, transformation fails if it does not have a defined purpose. Presenting a CEO's perspective on strategizing the digital transformation map in the Mumbai leg of the discussion, Tapan Singhel, MD & CEO, Bajaj Allianz General Insurance shared that transformation should not be done just for the sake of transformation and CEOs should not be carried away by fancy words or technologies. Technologies and tools should not be confused with the purpose of transformation. Every transformation needs to have a clear purpose or a vision that justifies the need for it and has a well-articulated outcome attached with it. 
Without a clear purpose, any transformation undertaken will not give the business any edge. Also, employees, who are the most important stakeholders in the transformation, will be excited to adopt any kind of transformation only when it has clear cut objectives and is solving a problem. Otherwise, the transformation journey will fail and will only be a sinking cost for the business.