Strategic HR
Rapid-fire with Josh Bersin: Best advice you ever got?
Josh Bersin, the founder of research and advisory firm Bersin & Associates, throws light on work, life, learning, tech, and more in a rapid-fire chat.
Josh Bersin is a world-known industry analyst and founder of Bersin by Deloitte, a leading provider of research-based membership programs in human resources (HR), talent and learning. Josh is a public speaker, and writer on the topics of corporate human resources, talent management, recruiting, leadership, technology, and the intersection between work and life.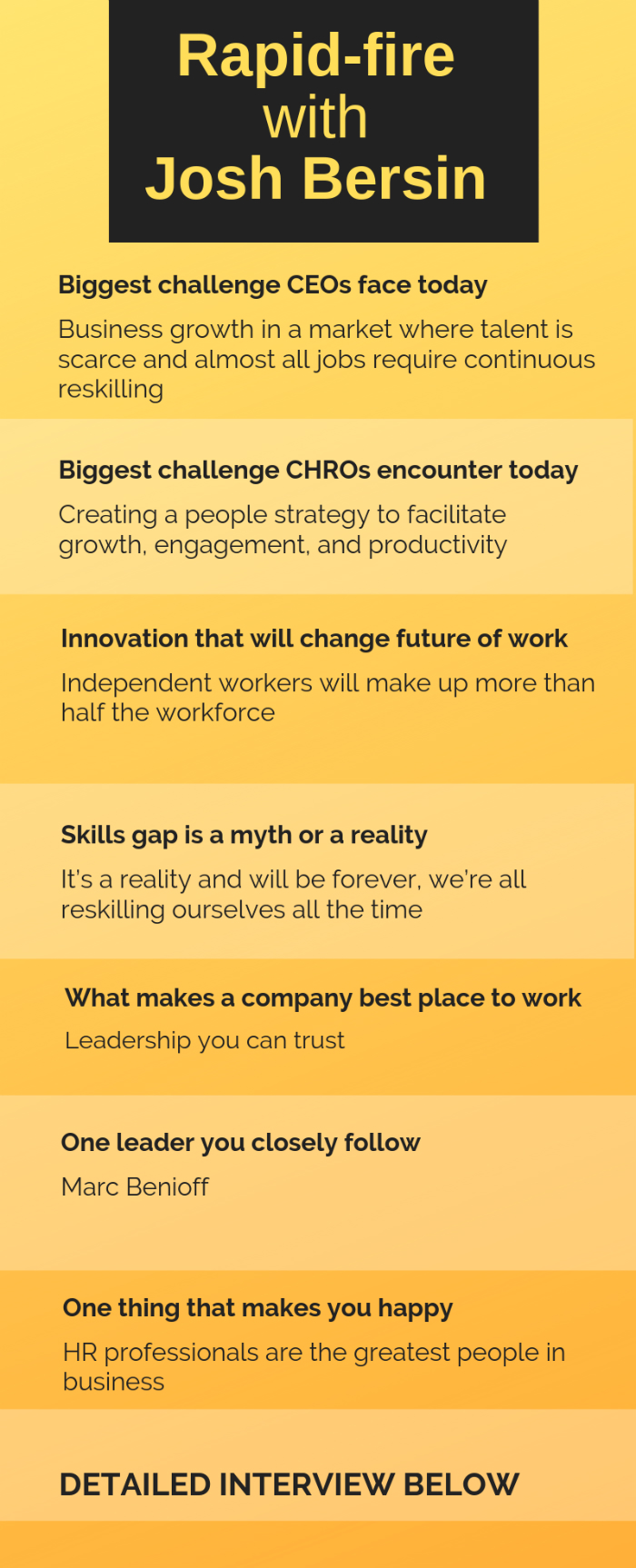 Biggest challenge CEOs face today
Business growth in a market where talent is scarce and almost all jobs require continuous reskilling.
Biggest challenge for CHROs encounter today
Creating a people strategy to facilitate growth, engagement, and productivity in a world where trust and political instability concerns employees and independent workers.
How future HR department will look like
More like a consulting firm with more automated and self-service, and less like a team of service representatives and administrators.
One thing HR pros aren't doing right
Trying more experiments with different modes of pay.
One innovation that will change future of work
Independent workers will make up more than half the workforce and we need to better optimize for this type of talent.
Best thing we can expect about future of jobs
Invest in training, culture of learning, growth mindset, and internal academies for career and functional growth.
Skills gap is a myth or a reality
It's a reality and will be forever, we're all reskilling ourselves all the time. Its just the nature of business.
What leadership means in the new world of work
Good leaders have followers, they lead through influence and growth, not position and authority.
One thing that distinguishes a great leader from a good leader
People follow them during good times and bad.
One message to women leaders to make it big in their domain
Hang in there, the world is getting fairer every day.
One thing women should learn from the #MeToo movement
It's important and empowering to speak up.  If your organization won't listen then it's time to move on.
What makes majority of employees disengaged at work
Distractions and clutter that gets in the way of the real job they want to do.
Biggest roadblock employees encounter in the workplace today
Not being sure where to spend their time in a workplace of ever-increasing distractions.
One advice for employers to improve employee experience
Read Marie Kondo's book about uncluttering your life and apply it to your work and HR.
How employers can ensure better work-life balance for employees
Let people set their own hours.
One tip to create a great work culture that people will love
Constantly think about what you can do for each other. Create a culture of helping each other.
One advice to employers to manage employees' stress
Give them time off and recognize them for their hard work.  Give people surprising rewards to show that you care.
What makes a company best place to work
Leadership you can trust. 
How highest-performing companies shortlist candidates
Managers know the keys to success in the job.
One way AI and robotics can transform talent problems
Recommend the next role for people based on experience and growth trajectory.
What needs to change about performance management
Keep it simple and focus on teaching managers how to coach their teams.
One step employers should take on diversity and inclusion
Measure where you are and hold yourselves accountable for steady progress.
Best way to create an L&D program that impacts company results
Focus on empowering people with a culture of learning and a wide range of learning options.
How companies can make continuous learning a part of culture
Ask more questions.
One must-read book for CHROs and HR leaders
The Progress Principle by Teresa Amibile.
Best book you ever read
Too many to list.
One leader you closely follow and one hallmark of that leader
Marc Benioff.
How you keep yourself abreast of the latest in HR
I read everything I can get my hands on, and I constantly talk with HR professionals.
One thing that makes you happy about what you do
HR professionals are the greatest people in business.
Next book you're writing about
Irresistible: Seven management keys to business growth ahead.
Best advice you ever got    
Slow down and pay attention to detail.
Meet Josh Bersin at TechHR India on August 1st & 2nd at The Leela Ambience in Gurgaon. Register Now!