Strategic HR
The changing workforce experience
What is the difference between employee satisfaction and employee experience? How do we analyze the role of HR? Is strategy as important as ROI? Read on to know more.
In a recent panel discussion at Human Capital Connect 2018 organized by People Matters and SAP in Mumbai, Harsh Bhosale, CPO, Essar Oil, Rajkamal Vempati, Head HR, Axis Bank and Madhavi Lall, Managing Director, Head-HR, Deutsche Bank explore the ideas of changing workforce. With evolving, talent management approaches many factors influence this change.
Here are few insights from the panel discussion:
Moving from employee satisfaction to employee experience:
Madhavi Lall explains the difference between the two. Employee satisfaction has an end to it while employee experience is a dynamic process. It can keep improving. While designing a robust talent management process, one needs to remember that there's no one size that fits all. People look for personal value additions, but the definition of value differs for each individual. Hence, the key is to design a unique plan for each in order to retain the critical employees in the organization.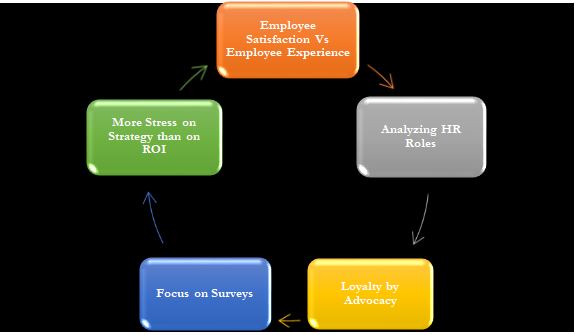 Rajkamal Vempati talks about workforce experience being a series of experiences as the HR decides and provides. It stems from their view of the world, like the concept of work cubicles are a being of the Renaissance Era. It is important to note if HRs see themselves as the ultimate beings taking care of the workforce or employees as equal partners? The experiences for the team are also designed based on this idea.
Secondly, there's an urgent need to assess whether line managers are capable of establishing continuous communication with staff and provide the desired employee experience. Hence, it is imperative for organizations to upgrade and incorporate new technological processes. The speed of technological transition is so high along with learning agility among employees that if you don't adapt, people will move.
Advocacy is the new currency of loyalty
In today's time, the question shouldn't be why employees need to stay? But instead, why should they advocate? Employee satisfaction is not just asking and assessing the factors that will make them stay, but what will make them advocate for the organization and other employees. It is imperative for the organization to understand that employees have to contribute more than just doing their own tasks and collaborate and contribute over and above their designated tasks.
Surveys are essential in gaining more in-depth insights from existing employees as well as the alumni employees. Some regular surveys that'll help gauge the employee experience in detail are candidate lifecycle surveys that capture the employee experience from onboarding process to incubation, product-service survey that capture all the feedback about all the products and systems deployed for training and other purposes. Though all technology is implemented to track all the employee data, there needs to be some human touch to understand the individual. The challenge is leveraging technology with a human touch to maintain a connection with the employees.
Focus more on designing the right strategy than ROI
The art of crying and cribbing is essential for HR personnel to understand the factors that affect the employees and to ensure that new processes are incorporated-- Harsh Bhosale, CPO, Essar Oil
Investment in learning is a long-term gain. The biggest challenge lies in assessing whether the investment is in right kind of experience. Digital transformation is not just about automation, but about digital learning and deploying digital transformations doing what you were not doing earlier. The overall focus needs to be more on the design and the user experience than costs and ROI.
Having analytics team is vital in HR as it will help to gauge insights from the passive data to design further processes. There is always a need for strong propellers to ensure swift operations in any phase of transition. The ownership of the processes by senior HR leaders is essential because leadership alignment and involvement is the primary instigator in change management.
As said by Harsh Bhosale, CPO, Essar Oil, "The art of crying and cribbing is essential for HR personnel to understand the factors that affect the employees and to ensure that new processes are incorporated." Hence, the hustle to bring about a change in the processes in the mindsets and processes is inevitable.