Strategic HR
Why HR needs to have high level of EQ
Here are some of the ways HR's Emotional Intelligence can create value for an organization.
Human Resource is a people's function. Emotions and people are inseparable which need to be dealt with utmost sensitivity for employee and organizations' benefit. We may have the best of HR Tech trends as a facilitator to improve productivity and performance but at the same time, we are dealing with humans too and not robots. Understanding one's own emotions as well as others is what keeps the ball rolling through Emotional Intelligence, also known as EQ – Emotional Quotient.HR is associated with some of the most emotionally charged moments in an employee's life cycle starting from the first day in office, discussions around compensation or promotions or grievances or training, or even the last working day. Observing, understanding and interpreting employee's reactions during these critical junctures is important to provide the required support.HR can be a flag bearer in incorporating emotional intelligence in an organization's culture which will be beneficial to retain top talent and help in achieving the organization's goal with effective leadership. 
According to LinkedIn Learning 2020 Workplace Learning report backed by a Global survey - Emotional intelligence is one of the top 5 in-demand Soft Skills in 2020 in addition to creativity, collaboration, persuasion, and adaptability. This gives a clear indication that post-Covid era, organizations are attracted to talent with strong people-oriented skills to deal with uncertainties in near future.
Why HR needs to have high level of EQ
Post Covid-19, companies are effectively using the lens of EI while making key decisions around hiring, performance and talent management. This is possible if HR themselves are equipped with high EQ to make informed decisions across the employee life cycle. They along with leadership support can build a workforce that is happy, engaged and productive even in remote setups. High performing individuals and successful leaders have a generally high level of EQ. While IQ and personality may not change much in adulthood, EQ can be built upon and nurtured through learning and practice. EI is vital to deal with all sorts of emotions arising in employees out of setbacks, difficult clients or bosses, stress, conflicts, anger, frustrations, challenges, etc. According to Daniel Goleman, an author and psychologist, five components of Emotional Intelligence are – Self Awareness, Self Regulation, Internal Motivation, Empathy, and Social skills. These elements when used in various permutations and combinations by HR can do wonders to enhance employee and candidate experience. 
Here are some of the ways HR's Emotional Intelligence can create value for an organization - 
Hire prospective candidates with high EQ 
EI of HR can be instrumental in elevating candidate experience which is a key to build employer brand too. HR Technology will ease the process but adding a personal touch for candidates in the pipeline by showing empathy while communicating will attract candidates to join the organization. Candidates can be assessed on Emotional Intelligence skills through behavioral interview questions and general observation on how calmly they answer difficult questions or how they respond to non-verbal clues (eye contact, body language, tone, etc.) during the hiring process. Questions like how did one resolve a conflict with the reporting manager or how did one deal with a difficult client or in fact a reference check may also give a slight indication of EQ level. Recruiters trained on EI assessment can help to identify prospective candidates with high EQ who are generally high performing individuals. These candidates know how to deal with stress, find solutions to problems, work with teams, show empathy, and inspire others to work towards common goals. This would attract the right talent and reduce the cost of a bad hire.HR team's EQ through effective communication can act as a lever for internal branding too among employees and hiring managers to gain trust and confidence. Cognitive empathy i,e. think and understand another person's perspective, shown by HR during the onboarding process of new joiners make it easy for them to settle fast.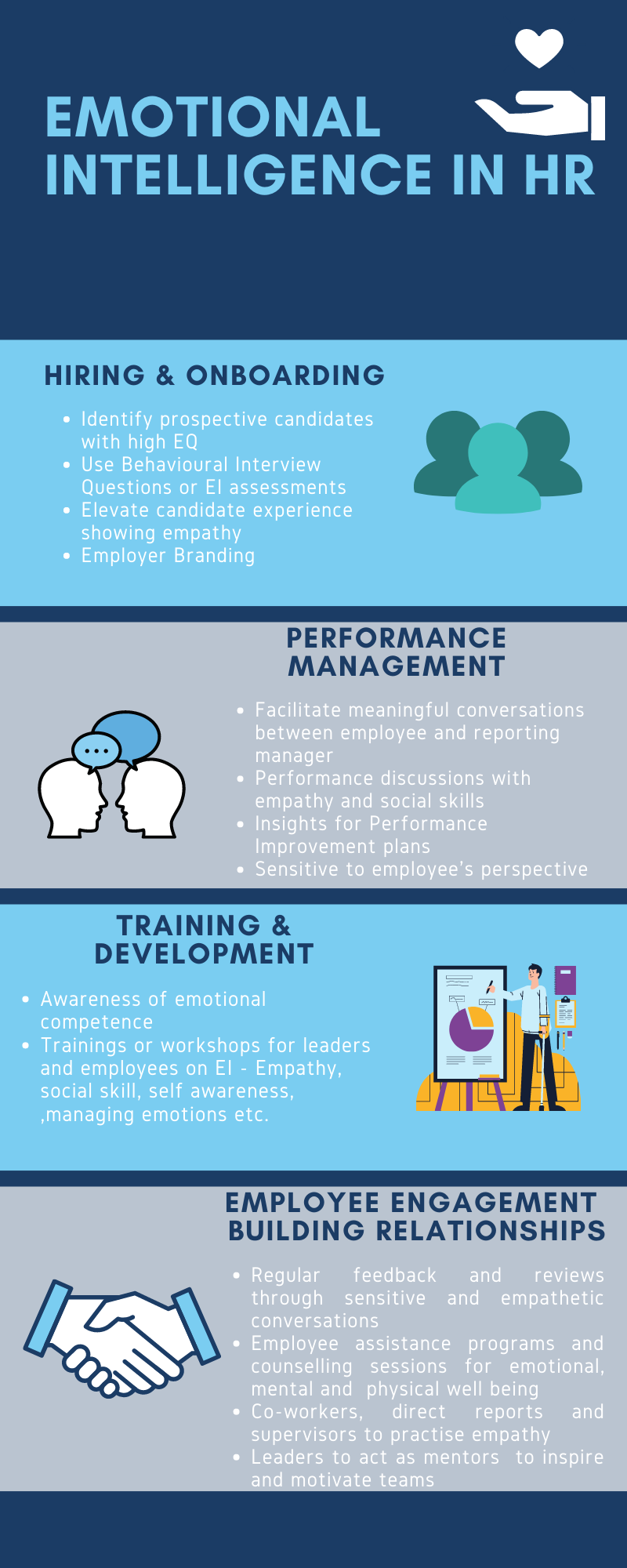 Meaningful conversations for Performance Management
HR can facilitate meaningful discussion between employee and reporting manager at the time of performance management or appraisals. Empathy and social skills can help to handle difficult conversations even for non-performers too. Conversation with the right questions, a right approach that encourages employees to speak up on issues and the right affirmations will help to learn what matters the most to each employee, what motivates them, what work they like /not like, what hurdles they face while performing, performance issues etc. The more HR knows, the more the performance improvement plans they can work on to retain employees and work on management style to manage the team better.
Especially during Covid – 19 pandemic, it's important to understand the pulse of employees working from home through regular feedback and reviews. An empathetic approach of acknowledgment, validation, or even simple gratitude for a good performance certainly needs to be highlighted even in remote set up to boost the confidence of employees. Reward and recognition should resonate that company values efforts. When cost-cutting measures are on priority, the organization's HR has to be extremely sensitive and exhibit a supreme level of EI when they break the news of layoffs to its valuable employees and be ready with answers to a bunch of questions. The emotional reactions of employees like denial, non-acceptance, anger, fear, anxiety need to be well responded to while controlling one's own emotions too and still staying in the conversation to answer complex questions like why me, who took the decision, what's the next scope for me and more.
Promote imbibing EI through Training & Development 
Well EI trained HR professionals can encourage employees to understand the importance of emotional competence and work towards building or improving the same through the right training programs or workshops across the levels. Fortunately, EI is a skill that can be learned and nurtured through practice.HR can facilitate interpersonal, empathy or social skills training which may help strengthen a relationship between juniors and managers/leaders. Employees with a high level of EI are more open to feedback, criticism, conflict resolution, and channel that in a positive direction instead of getting affected negatively. Through training need identification discussions, HR's EI can help to identify current and future desired soft or hard skills of employees and support their career development plans. Leaders can be trained on EI to polish their skills of motivating employees, listening, showing empathy, and promoting a positive work culture that promotes openness to ideas or change, empathy, fairness, collaboration in teams. They can be like mentors or coaches who help employees in navigating through difficult situations or emotions and drive transformation efforts leading to changes. 
Act as retention lever through Employee Engagement
Happy and motivated employees are generally the ones who know how to manage their own and other's emotions in all situations and are committed to work and organization. Apart from engagement surveys which are one-time activity, HR in collaboration with supervisors can decipher about engagement levels of employees at regular intervals by showing empathetic concern through feedback and reviews. Employees want purpose and meaning in their work, they want recognition and a mentor like relationship with managers to learn and grow. An effective conversation with employees showing interest, listening carefully, paying attention, acknowledging what they have to say, and asking questions to elaborate with a positive tone and affirmations will definitely help to get more information on what employees think and feel. This comfortable and safe environment may also lead to employees sharing more information and more ideas. Summarizing the whole conversation and coming up with takeaways or actions to be taken post this constructive interaction with follow-ups will instill confidence in employees. All humans are motivated and engaged by different things and different ways. Empathy is instrumental in understanding each employee and inspires them to put more effort into their work. Creating a culture that welcomes open communication and values the ideas of employees is bound to foster innovation.
Care about Mental Health of employees
Employees are struggling a bit personally and professionally due to this uncertain pandemic which seems to not have any end date for now. With work deliverable, there are concerns around health, family, job security which can impact the mental health and well-being of employees resulting in myriad emotions like stress, anxiety, fear, depression, etc. to deal with. HR can use EI and social skills to gauge emotional and mental health issues of employees at an individual level owing to their personal circumstances and provide personalized support before the situation becomes worse for productivity and employees themselves. Employee assistance programs and counselling sessions can be used as tools to help manage the mental health issues of employees for self-awareness and self-regulation of their emotions. This will give an assurance that organizations do care and share an emotional connection with their employees.HR needs to lead this with the support of leadership.
Build strong relationships with empathy
HR can be instrumental in building up relationships between employees and supervisors. If both have a mutual understanding of each other's emotions, how they feel or think, what is their perspective on different topics, what are their strengths or weaknesses, how they react, their work approach, what motivates them etc. this may multiply the benefits of this productive working relationship. There will be more constructive solutions, free flow communication, mutual support for each other's goals, and a positive environment to work in. Co-workers, direct reports and supervisors, everyone in the organization should practice empathy to evolve the relationship. Leaders can be mentors to develop subordinates professionally in hard and soft skills to grow effectively in these unprecedented times.
Now when remote work is the new normal, an empathetic approach is quintessential to support employees and make them as productive from home as they are in the office. Provide them clear and open communication on project, process, tools, resources, training, and deliverables. Also, gather information through open ended questions on how and what are their productive hours, how comfortable they are with work assigned, regular progress, any hurdles in completing a task, any personal issues affecting the work, any support required for mental well being, etc. Use this information by taking an empathetic approach to understanding each employee, their capabilities, experiences and if required adjust for individual circumstances if need be. This is the time when employees expect maximum positive emotional support from the organization to stay productive and sail through this pandemic.
Conclusion 
We are witnessing a big revolution in HR through Tech trends of AI, ML, RPA which can be facilitators but when dealing with employees who are humans and possess emotions, Emotional Intelligence is indispensable. EI practiced by the organization as a whole can act as a retention lever for people's sustainability and a competitive advantage to stay ahead in the industry. Post-Covid, the importance of EI driven organization has been talked about like never before. This in-demand soft skill has emerged as one of the prerequisites for leaders to collaborate effectively with their teams, build relationships, and create an effective workplace.